997 Views
Take Your UTV's Storage Space to the Next Level
November 7th, 2023 10:38 AM
Share
We're committed to finding, researching, and recommending the best products. We earn commissions from purchases you make using links in our articles. Learn more here
The new Upper Deck system from Moose adds usable storage space and organization to your UTV.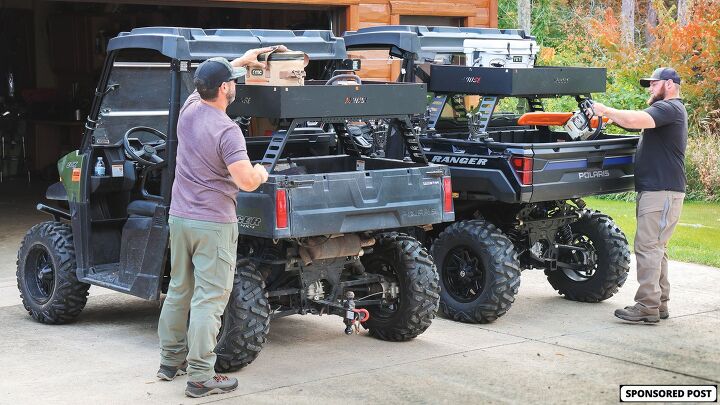 Moose Utility is well known for making some of the best accessories on the market for UTVs and ATVs. Moose tests every product thoroughly to ensure that it is durable and functional - two characteristics we all look for in an accessory. Two of the latest products, the UTV Phone Mount and Universal Upper Deck with Cargo Rack, work well to make the most of your space while letting you use your UTV to its fullest capacity.
UTV Phone Mount
Most of us use our phones for more than just calls. They contain our maps, music, entertainment, and more. We use them so much that it makes it difficult to put them away when we get behind the wheel of our UTVs. After all, half the time we use them for navigation. So what do you do with your phone? You can set it on the dash, but that opens the door to it sliding off and winding up outside of the machine. It could get lost in the brush, or worse - find its way under the tires to be crushed into oblivion. Luckily, Moose Utility makes an accessory to help.
Moose Utility's UTV Phone Mount securely holds onto the A-pillar of your machine's roll cage, placing your phone in a position that you can easily see while driving. This helps you use the parts of your phone you need to while keeping your hands on the wheel and your eyes on the trail.
The Moose UTV Phone Mount uses a Custom Clamp System that includes mounts for all profiled and round tube roll cage configurations. This means it will mount on a round cage, like you'd find on a Honda Pioneer or Yamaha Wolverine RMAX, or a profiled cage, like a Polaris Ranger.
The Phone Mount works on either the driver's or passenger's side of the machine. It makes for a cool way to use your phone for trail-riding videos, with built-in vibration isolation. You can use any phone, too, thanks to the spring-loaded tension clamp that tightly grips your phone. You can also adjust it for both portrait and landscape screen viewing, depending on what serves you best with an adjustable arm and cradle. This lets you get some cool video, use your phone's navigation and mapping, play music and, of course, see who's calling or texting so you can pull over to take the call if need be.
The Upper Deck System and Cargo Racks
Most of us use our UTV cargo bed all the time. It is handy for hauling stuff and it often fills up pretty fast. It sure would be helpful if there was a way to expand the cargo-carrying capacity of a machine, while still retaining full use of the cargo bed, right? Well thanks to Moose Utility, you can do just that. The Moose Upper Deck system adds a cargo rack and box for storing your gear above the cargo bed. It is designed to help you maximize your cargo space.
The Upper Deck is very tough and durable, thanks to being constructed from 14-gauge HRPO ASTM A 1011 steel. The system is rigid enough to use for bolt-on racks and/or brackets that mount to the sides to store and secure cords, tow ropes, straps, fuel jugs, water cans, and more. The cargo rack is CNC-formed and welded, and has integral strap mounting points around the entire perimeter to secure your stuff. It is Made in the USA, too.
To get the full effect, you will need to order the Upper Deck brackets and the Cargo bed rack. The rack comes in large and extra-large sizes, so you can fit it to your machine and needs. If you are installing it on a Can Am or Polaris, use the Moose lock and ride plugs to match your bed's mounting system. If you are installing it on other UTV manufacturer models, use the hardware supplied for installation. Note there may be some drilling required. The end result with be a sturdy addition to your usable cargo space. They look pretty cool, too.
For more information, go to Moose Utilities. Published November 7th, 2023 10:37 AM
Top Brands
Popular Articles