1 View
2016 Honda Pioneer 1000 vs. Polaris Ranger XP 900 - Specs Shootout
March 15th, 2021 12:29 PM
Share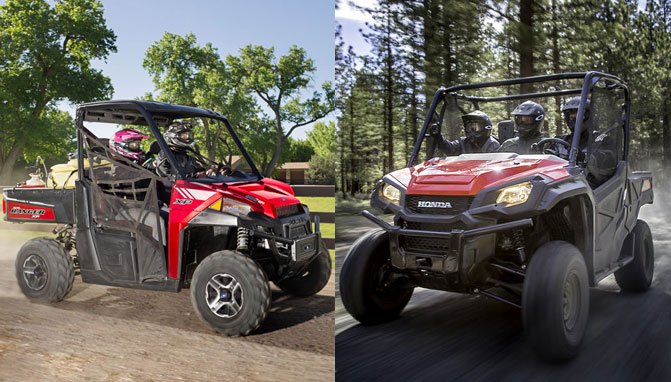 Honda steps up to challenge the industry's heavyweight
While the rest of the UTV world is buzzing over factory turbo chargers and unthinkable horsepower numbers, the Utility segment is experiencing tremendous growth of its own. Where Polaris has had a virtual stranglehold on the pure Sport Side-by-Side class, the American manufacturer has some stiff competition when it comes to Utility purpose Side-by-Sides.
The Honda Pioneer is the most recent working class side by side to receive a major overhaul and the first of the big four Japanese manufacturers to offer a 1000cc displaced off-road vehicle. Its upgraded 999cc engine puts out 77 horsepower and the industry first, steering wheel-mounted paddle shifters on the EPS model prove that this machine certainly wasn't built with an "all work and no play" attitude.
Big Bore Utility Side-by-Side Specs Comparison
Polaris Ranger XP 900
Honda Pioneer 1000
Price
$13,499
$13,999
Engine
875cc Fuel Injected Twin
999cc Fuel Injected Twin
Valve Train
DOHC (Dual Overhead Cam)
Unicam (Single Overhead Cam)
Horsepower
68
77
Transmission
Automatic PVT H/L/N/R/P
Automatic DCT (Dual Clutch Transmission)
Wheelbase
81.0 in
80.2 in
Overall Dimensions (LxWxH)
116.5" x 60" x 76"
116.8" x 62.9" x 76.1"
Weight
1,318 lbs (dry weight)
1,519 lbs (curb weight)
Front Tires
25 x 10 x 12 Carlisle 489
27 x 9 x 12 OTR HP 009
Rear Tires
25 x 11 x 12 Carlisle 489
27 x 11 x 12 OTR HP 009
Ground Clearance
12.0 in
12.9 in
Fuel Capacity
10.0 gal w/Reserve
7.9 gal
Suspension Travel Front/Rear
Dual A-Arm 10"/ Dual A-Arm IRS 10"
Independent Double Wishbone 10.55"/10"
Brakes
Hydraulic Discs with Dual Bore Front Calipers
Hydraulic Dics
Lighting
55w Low/60w High
LED
Instrumentation
Digital display featuring Speedometer, Odometer, Tachometer, Tripmeter, Clock, Hour Meter, Gear Indicator, Fuel Gauge, Hi-Temp, Coolant Temperature, Voltmeter, Service Indicator, Seat Belt Reminder
Digital display featuring Speedometer, Tachometer, Gear Indicator, Clock, Fuel Gauge, Seat Belt Indicator, Hi-Temp, Trip Meter
Towing Capacity
2,000 lbs
2,000 lbs
Drivetrain
Shaft drive
Shaft drive
Bed Capacity
1000 lbs
1000 lbs
Bed Dimensions L x W x H
36.5″ x 54″ x 11.5″
36.1″ x 55.2″ x 10.8″
Power Steering
No
No
DC/Accessory Outlets
2
1
Seating Capacity
3
3
If you're going by the numbers, brand loyalty is probably going to be a major factor for most consumers as the two vehicles share much in common. From a workhorse perspective, both feature 1000-pound bed capacity and can tow up to 2,000 pounds in those instances when the bed just isn't quite big enough. Speaking of beds, both machines have large beds with a tilt feature to make dumping a load of rock, mulch or whatever you happen to be moving around the farm or job site a cinch.
Honda Unveils 2016 Pioneer 1000 and 1000-5 The Pioneer features a ¾-inch advantage in ground clearance over the Ranger's 12 inches, due in part to its larger 27-inch tires. Suspension travel is almost identical on both machines at 10 inches, with the Pioneer featuring an extra 1/2 inch of travel in the rear.
As far as dimensions go, the Pioneer is definitely the larger of the two vehicles at almost three inches wider. However, the Ranger features a slightly longer wheelbase at 81 inches verses the Pioneer's 80.2 inches. If you plan on loading it into a toy hauler and are worried about space, neither vehicle provides much of an advantage as both are less than an inch apart in overall length and height. The Ranger has a listed weight of 201 pounds less than the Pioneer, but the Pioneer is a curb weight (full of fuel and all fluids), while the Ranger's weight is dry. Just filling the Ranger with fuel would add about 60 pounds, not to mention all the other fluids. The Ranger will still be lighter, but it's much closer than these numbers indicate.
2016 Polaris Ranger XP 900
Where these two machines start to look different is under the engine. Honda outfitted the Pioneer 1000 with a new 999cc engine and Dual Clutch Transmission (DCT). Honda claims its new belt-less gear-to-gear transmission featuring six drive gears provides a more consistent transfer of power to the ground. The Ranger makes use of its same PVT (Polaris Variable Transmission) found in many of its Side-by-Side vehicles. Overall the Pioneer offers nine additional horsepower over the Ranger (77 vs. 68). If you're looking at making this a recreational vehicle as well as a workhorse, the extra power will come in handy.
2013 Polaris Ranger XP 900 Review - Video When it comes to fuel capacity, a bigger tank can come in handy on the jobsite on a long work day. Polaris gets the edge here, with a large 10-gallon tank, compared to 7.9 gallons of capacity for the Pioneer.
Both vehicles are capable of carrying three people and feature digital displays which display a pile of information, including speedometer, tachometer, trip meter, coolant temperature, drive indicator, and more.
Base models of both machines lack electronic power steering, but both manufacturers offer an EPS version. The Ranger EPS model will set you back an additional $1,000 and the Pioneer EPS upgrade is a little steeper at $1,200 over the base model, but it includes the paddle shifting manual speed transmission upgrade and a Sport mode for more performance-oriented driving.
2016 Honda Pioneer 1000
One thing we love about both machines is the price point. With only a $500 difference between the two, price doesn't have to be the deciding factor. At $13,499 for the Ranger and $13,999 for the Pioneer, the end user can really choose the vehicle that best suits their needs without having to sacrifice what they really want solely based on what they can afford.
We get excited any time we see a manufacturer bringing something new to the table and that's exactly what Honda has done with the new Pioneer 1000. We actually held off on publishing this story until after Polaris revealed its new 2016 lineup in the event that we saw a Ranger 1000 version. We'll have to wait until 2017 to find out if Polaris answers the challenge, but in the meantime both the Ranger XP 900 and Honda Pioneer 1000 are machines worthy of your attention if you happen to be in the market for a Utility-focused Side-by-Side.
Published August 14th, 2015 10:48 AM
Top Brands
Popular Articles