702 Views
Best Polaris Ranger Battery Choices
September 22nd, 2021 2:31 PM
Share
We're committed to finding, researching, and recommending the best products. We earn commissions from purchases you make using links in our articles. Learn more here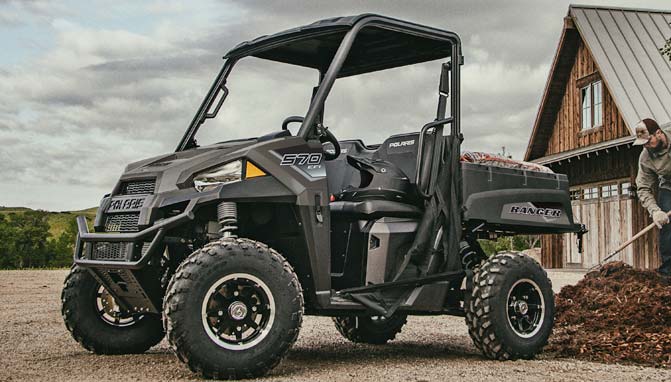 Get your Ranger running right with a battery upgrade
If you're in need of a new Polaris Ranger battery, we've put together a buyer's guide to get you on the right track so you can get up and running again.
The battery on any internal combustion vehicle serves two main purposes: to provide a heap of cranking amps at startup to get your engine spinning, and to buffer the inconsistent flow of electricity from your recharging system during operation so that your ignition, fuel injection, lights, and other electronics all have steady power. Simple enough, but there are a number of different technologies on the market to accomplish those goals, from flooded batteries to absorbent glass mat ones and more recently, lithium-ion starter batteries.
What's more, when it comes time to replace the battery for your Polaris Ranger, you'll also have to consider your replacement battery's size, capacity, and peak current rating. The latter two are relatively straightforward: capacity, expressed in Amp hours or Watt hours, is a measure of how long the battery can provide juice before going flat, and peak current is the "cranking current" – the greatest number of Amperes it can provide for startup. That has to be matched to the engine you're trying to start; getting a big, heavy diesel V8 to turn over takes a lot more effort than spinning, say, a tiny V-twin. But with so many Polaris Ranger batteries on the market, picking the right one can be a bit more complicated, by relying on the obscure, unintuitive "Group Sizing" standard whereby batteries are all lumped into one of myriad groups based on physical dimensions, terminal location, and terminal polarity.
If that all sounds like a lot to take in, don't worry; that's exactly why we've put together this helpful list of the best Polaris Ranger battery options, full of some of the best replacement Ranger batteries on the market today.
1. Editor's Choice: Odyssey Extreme Powersports Battery
Here it is: the Cadillac of lead acid starter batteries. Odyssey has long been revered in the off-road community for its outstanding commitment to durable, long-lasting batteries, and you can get that same uncompromising performance in your next Polaris Ranger battery. Sure, the upfront cost is greater with Odyssey than most other brands, but you're getting a lot for your money: Odyssey's unimpeachable reputation for quality, its first-rate customer service, and an industry-leading 3-year warranty against defects.
2. Best Value: Mighty Max Sealed Lead Acid Battery
Representing one of the best values in the powersports battery market, this Mighty Max Sealed Lead Acid battery is the clear choice of Polaris Ranger batteries when you'd just as soon spend your hard-earned cash on other upgrades. It's an absorbent glass mat (AGM) battery, meaning it's sealed and maintenance-free, and despite the low price, reviews are overwhelmingly positive. It even ships with a 1-year warranty for peace of mind, and one of the most popular versions – YTX30L-BS – is compatible with Ranger models from the 425 all the way up to the 800.
3. Best AGM Option: Energizer AGM Motorcycle and ATV Battery
Want to stick with a big, household name brand with countless decades of experience in battery technology? Energizer's AGM Motorcycle and ATV battery might be the Polaris Ranger battery upgrade you're looking for. These AGM batteries are spill-proof and rated to provide plenty of starting current, with just the sort of outstanding longevity you've been looking for. Each one ships fully charged, ready to drop in and go – no messing around with carefully mixing and filling the electrolyte, and then slowly charging up before your first use. It also boasts an excellent ability to hold up to deep discharges with no degradation, and a very low self-discharge rate.
4. Best Lithium Ion Battery Option: MMG Quad Terminal Lithium Battery
The only lithium-ion starter battery to make our list also happens to be the most expensive Polaris Ranger battery upgrade we are looking at: the MMG Quad-Terminal Lithium ATV/UTV battery. Batteries rarely rise to the level of performance upgrade, but thanks to its feather-light design and lithium-ion chemistry, this one actually manages to deliver an appreciable weight reduction relative to your average lead-acid battery, and with around 25% more cold cranking amps than most comparable AGM batteries, you can look forward to faster, more reliable starts, as well. Toss in a longer life cycle and superior resistance to deep discharges and you have one of the best Polaris Ranger batteries anywhere.
5. AJC Powersports Replacement Battery
Only slightly more expensive than the cheapest Polaris Ranger battery on this list, this AJC powersports replacement battery relies on tested, proven AGM technology and exclusive materials to deliver plenty of starting current and solid longevity for a lot less coin than some of the competition. Boasting a special grid design that withstands some of the harshest vibrations a starter battery is liable to experience, and a strong, impact-resistant case, this Polaris Ranger battery is ready to undergo some serious abuse out on the trail.
Additional Resources
Updated 9/22/2021: Updated product descriptions, ranked products, added FAQ questions, added additional resources.
Become an ATV insider. Get the latest news first by subscribing to our newsletter here.
We are committed to finding, researching, and recommending the best products. We earn commissions from purchases you make using the retail links in our product reviews. Learn more about how this works.
What size battery does my Polaris Ranger need?
The easiest way to figure out what sort of battery your Polaris Ranger needs is to read the labels on the one currently installed. This should tell you the Group Size – usually a two-digit number, possibly with a letter following (i.e. 30L, 40R) – and give you an idea of how many cranking amps (CA) and cold cranking amps (CCA) any replacement should be able to provide. When in doubt, go with a known, reputable brand, match the Group Size, and find something that meets or exceeds your current battery's amperage ratings.
Which type of Polaris Ranger battery is best?
As for which type of battery technology to opt for, the vast majority of Polaris Ranger battery options you'll find will be AGM batteries. These are sealed, maintenance free lead acid batteries that feature fiberglass mats to soak up the liquid electrolyte, rendering them spill-proof and better able to hold up to bumps, dips, and vibrations. That alone makes them perfect for ATVs and UTVs, but there are other advantages, too, like a lower internal resistance for superior starting current, improved resistance to sulfation, and the ability to hold up to deep cycling – i.e. discharging the battery past 50% of its total capacity. If it were our money, we wouldn't even bother with a flooded lead acid battery. But then, there are also lithium-ion starter batteries. Based around newer, superior technology, lithium-ion starter batteries are more expensive than their AGM peers, but that extra cost upfront unlocks a longer life cycle, even more resistance to deep discharge, and significantly reduced size and weight. If you can absorb the price delta, you might just find that a li-ion Polaris Ranger battery is the better choice.
How do you charge the battery on a Polaris Ranger?
Charging your battery used to be as simple as getting a generic charger, plugging it in and let it build up a charge over time. With the popularity of Lithium batteries, you need to make sure that you have an appropriate charger for your battery. Why? Lithium batteries can easily be damaged by overcharging with a conventional charger, whereas lead acid batteries can handle being overcharged with a little loss of life. If you're looking at purchasing a lithium battery, some come with built in battery management systems to prevent damage that can happen with conventional chargers, but they also come with a higher pricetag.
How long do Polaris Ranger batteries last?
There are many factors that play into the lifespan of a battery for any vehicle. If you regularly (weekly/daily) drive Polaris Ranger, it's possible that you'll see years of life out of the battery that you have. From our experience it's when vehicles are left to sit without being started or with accessories being left on that allow the battery to completely discharge, sacrificing battery life. If you don't use your Polaris Ranger on a regular basis, we'd recommend getting battery maintainer like a Battery Tender, which will cycle (charge/discharge) your battery to simulate use and keep it at peak performance. These maintainers usually have leads that you can permanently mount to your battery allowing you to plug right into the unit when you've decided to park the unit. Aaron Brzozowski
Aaron is a freelance writer, videographer and car enthusiast based out of the Detroit area. He has a special affinity for the Porsche 944 series, and once owned a Volvo 240 sedan with a Weber carb in place of the factory EFI system. His work has appeared on AutoGuide, GM Authority, /Drive, and VW Vortex, among other sites.
More by Aaron Brzozowski
Published March 4th, 2021 12:19 PM
Top Brands
Popular Articles