173 Views
Battery Tender Plus - Everything You Need To Know
May 25th, 2021 12:09 PM
Share
We're committed to finding, researching, and recommending the best products. We earn commissions from purchases you make using links in our articles. Learn more here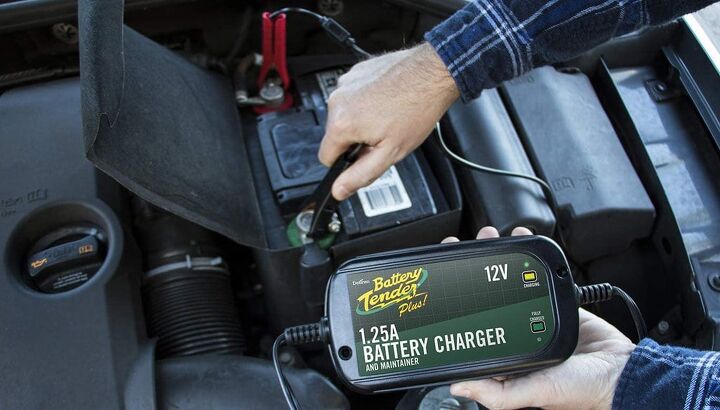 Keep your ATV and UTV batteries properly maintained
In this guide, we take a look at the features, specs, user reviews, and alternatives for the Battery Tender Plus powersports battery charger and maintainer.
There's nothing that says you can't ride your ATV or UTV year-round though the rain, snow, or whatever else Mother Nature can throw at you. But for a lot of off-roaders, your four-wheeler spends at least part of the year in storage. If it isn't hooked up to a battery tender or maintainer, you likely know what happens next: the battery slowly discharges, and when you try to fire it up the following season, very little happens. That's when it's good to have a "smart" combination battery charger and maintainer.
As the descriptor implies, those units are capable of performing double duty: recharging your ATV battery when it's too drained to start the engine, and maintaining it with a slow trickle of current throughout the off-season to keep it topped-off until spring. "Smart" electronics monitor things like the voltage and ambient temperature to provide optimal current flow in all conditions, and to switch between recharging and maintenance modes automatically so that all you have to do is plug it in and hook it up – no engineering degree required.
To help you zero-in on the right battery charger and maintainer for your needs, today we're looking at one of the most popular options on the market – the Battery Tender Plus – in another installment of our "Everything You Need To Know" series. We'll explore its features, specs, real-life user reviews, and potential alternatives.
Table of Contents
1. Battery Tender Plus Features
The Battery Tender Plus was one of the first true "smart" battery chargers on the market, delivering a reliable charge with minimal risk of damage to the battery courtesy of its adaptive ISM microcontroller. "ISM" stands for Infinite Sequential Monitoring, and it means that the Battery Tender Plus is constantly monitoring the battery's state and updating the charge sequence, transitioning smoothly between steps as the battery regains charge. That allows the charger to deliver the optimal current and voltage throughout the charging process without risking overheating or overcharging the battery, from Initialization to Bulk Charge Mode, to Absorption mode, all the way down to a charge-maintaining Float Mode.
Float mode allows the Battery Tender Plus to supply just enough current to offset any self-discharge, meaning users can leave the unit hooked up to the battery throughout the off-season to keep it topped-off – something that comes with a significant risk of overcharging on lesser battery charger units.
The Battery Tender Plus even includes a temperature compensation circuit, allowing it to optimize voltage and current for the ambient temperature at the time of charging, and intelligent reverse polarity protection, which keeps the electronics safe from current spikes in the event the battery is inadvertently hooked up in reverse. Green and red indicator lights, which typically communicate whether the battery is charged or still in progress, blink to alert the operator that the polarity has been switched. Both quick-connect ring terminals and alligator clips are included, and the Battery Tender Plus is compatible with flooded and sealed maintenance-free lead-acid batteries alike, whether they be Absorbed Glass Mat (AGM) or gel cells.
Every Battery Tender Plus comes with a 10-year warranty to guarantee against manufacturing defects.
2. Battery Tender Plus Specs
The Battery Tender Plus is recommended for recharging the batteries typically found in most ATVs, PWC, dirt bikes, and other recreational vehicles, but the manufacturer claims it's also adequate for maintaining batteries like those found in cars, light trucks, SUVs, and boats. If you need to recharge a car battery from mostly depleted, you should seek a unit capable of supplying more current, but it can be used to keep a car battery topped-off while it's in storage.
| | |
| --- | --- |
| Charger Current Max. | 1.25 amps |
| Nominal Charger Voltage | 12 V |
| Charging Modes | 4 (Initialization, Bulk Charge, Absorption Mode, Float Mode) |
| Weight | 3.0 lbs |
| AC Power Cord Length | 6 ft |
| DC Output Cord Length | 6 ft |
| DC Accessory Cord Length | 1.5 ft |
The Battery Tender Plus may be one of the original "smart" powersports battery chargers, but it's far from the only option today. One of the most popular alternatives is the NOCO Genius 1 – an incredibly compact, 1-amp battery charger, maintainer, and desulfator available at a little more than half the price. It's compatible with a wider range of batteries, including lithium-ion cells and batteries rated at 6 volts instead of 12. One of the larger boasts made by the manufacturer is that the NOCO Genius 1 is capable of restoring batteries with its desulfation function and even bringing back dead ones, and like the Battery Tender Plus, it's both a charger and maintainer. If there's anything working against the NOCO Genius 1 apart from its marginally lower amperage rating, it's that the warranty is far shorter at just three years, and NOCO is a less vetted, well-known brand.
Another alternative is the Battery MINDer 1215C. It's more expensive than the Battery Tender, and similarly restricted to 12-volt lead-acid batteries, whether flooded or sealed, but it boasts a higher 1.5-amp current rating, plus a couple of features the Battery Tender Plus doesn't have. The Battery MINDer 1215C can maintain up to four batteries at a time, according to the manufacturer, and it features an automatic full-time desulfation function to remove sulfate crystal build-up and extend battery life. One of its only downsides is the shorter warranty period, which is five years from most vendors.
To give you a sense of what actual owners are saying about the Battery Tender Plus's features and performance, we've scoured the internet for customer reviews, taking in the good, the bad, and the ugly and looking for common trends among real-life users.
For starters, reviews for the Plus are, by and large, outstanding. Out of the more-than-ten-thousand ratings on one Amazon listing, a full 85 percent of reviewers gave the battery charger and maintainer a perfect five-star rating, for a final score of 4.7 out of 5 stars. In one review we came across, a customer noted that they've been using the same Battery Tender Plus for seven years, without fault.
Apart from the longevity of the unit, one of the other common positive refrains is that the Battery Tender Plus is adept at bringing batteries back from near-death – something that rival products list prominently as a feature, but that the manufacturer, Deltran, tends to keep quiet about.
But something to note is that Deltran does not advertise the Battery Tender Plus as a suitable unit for recharging car, truck, SUV, and boat batteries, although it's adequate to maintain a charge in those applications. Light vehicle batteries tend to be much higher in capacity and current output than your average ATV battery, which could explain one of the most common complaints among Battery Tender Plus users: that the unit's electronics can be prone to burning out.
That said, there exist some negative reviews and allegations of failed units among dirt bike and ATV owners, as well, at least some cases of which might be explained by the unit's built-in limitations. Deltran is careful to note that the Battery Tender Plus is NOT intended to revitalize completely dead or near-dead batteries, and the unit will refuse to function if the detected voltage is below 3 volts, communicating a fault state by blinking red and light alternately.
Ultimately, such reviews represent a slim minority, and the vast majority of reviewers note that so long as the product is used as intended, to recharge small powersports batteries or maintain larger light vehicle batteries, it's a perfectly reliable, long-lasting unit.
We are committed to finding, researching, and recommending the best products. We earn commissions from purchases you make using the retail links in our product reviews. Learn more about how this works. Aaron Brzozowski
Aaron is a freelance writer, videographer and car enthusiast based out of the Detroit area. He has a special affinity for the Porsche 944 series, and once owned a Volvo 240 sedan with a Weber carb in place of the factory EFI system. His work has appeared on AutoGuide, GM Authority, /Drive, and VW Vortex, among other sites.
More by Aaron Brzozowski
Published January 20th, 2021 12:18 PM
Top Brands
Popular Articles