27 Views
Fox V3 Helmet - Everything You Need To Know
August 5th, 2021 3:52 PM
Share
We're committed to finding, researching, and recommending the best products. We earn commissions from purchases you make using links in our articles. Learn more here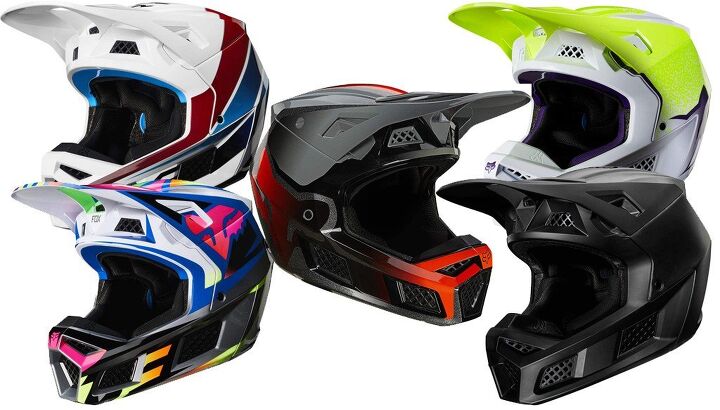 We look at the features, sizes, user reviews, and alternatives for this premium off-road helmet
When it comes to your safety, no piece of powersports equipment in your arsenal will ever be so important as your helmet. Scrapes and scratches can ruin your ride, and broken bones can leave you down for the count for a season, but a head injury is much more serious than that. Given how high the stakes are, you would be wise to think carefully about the piece of equipment you're entrusting with the task of protecting your noggin from damage. Read reviews, pay special close attention to specs, and when in doubt, stick to well-known, reputable brands. If that all sounds like a Herculean effort, we're here to help ease the pain with our "Everything You Need To Know" series, which aims to arm you with all the information you need to find the right helmet for you. In this article, we're taking a look at the Fox V3 helmet, examining its features, designs, available sizes, possible alternatives, and real owner reviews.
Table of Contents
1. Fox V3 Helmet Features
Historically, the Fox V3 helmet was Fox Racing's most advanced powersports helmet – a flagship product aimed at professional racers and those hardcore enthusiasts who simply had to have the best. But those bragging rights now go to the V3's new sibling, the V3 RS, which Fox calls "the most technologically advanced helmet out there. The Fox V3 helmet is still available even as the V3 RS starts to reach more retailers, but Fox appears to be phasing the V3 out.
The Fox V3 helmet has exactly the sort of protection features you'd expect from a helmet aimed at serious racers. It boasts Fox's advanced "Fluid Inside" technology, which uses fluid-filled polyurethane pods to absorb energy from rotational and linear impacts, with a dual-density EPS liner to distribute impact forces across a wider area, and a Magnetic Visor Release System that allows the helmet to shed its visor in a crash, reducing the amount of rotational energy transferred to the head. The shell is as space-age as the rest of the helmet, utilizing a combination of carbon and fiber-reinforced plastic resins to yield a helmet as tough as it is light; Fox's V3 is comparable in weight to other far less feature-rich helmets.
The Fox V3 RS is even more advanced, with Fox's next-generation Magnetic Visor Release System, and a cutting-edge Multi-directional Impact Protection System (MIPS) replacing the V3's fluid pods. MIPS mimics the way that cerebrospinal fluid functions in the human body, providing a low-friction layer between the head and the helmet to better manage rotational forces. The shell uses essentially the same advanced carbon and fiber-reinforced plastic resin construction, containing a dual-density EPS liner, but the V3 RS takes things a step further with a next-generation EPP chin bar, liner compatibility with the "Eject Helmet Removal System," and carbon-fiber D-rings.
Both the Fox V3 helmet and the newer V3 RS feature removable, washable antimicrobial "X-Static" cheek pads that wick away moisture and help manage odors, plus the best ventilation designs in Fox's portfolio.
Being aimed primarily at pro riders, the Fox V3 and V3 RS offer just a few color graphics options, the styling of either helmet taking a back seat to functionality. That said, each helmet offers four different, unique design and color-combo options – enough that most customers ought to be able to find something that fits their individual sense of style – and additional, discontinued V3 graphics designs can still be found on sites like Amazon.
The V3 Honr is a limited-edition version of the Fox V3 helmet, with a design as sharp as it is simple. Most of the surface area is plain white with big, contrasting white-and-black ventilation ports, but the sides and top gradually fade from white to solid highlighter yellow from back to front, with random splashes of color giving the graphic some visual complexity.
The Durven design is a bit bolder, with dark red, blue, and black bands curling across the helmet sides against a white backdrop. Those color bands are all drawn into sharp points on the helmet back and top, and the solid black ventilation ports are more well-disguised on this colorway, slipping inconspicuously in with the black bands along the chin bar.
The loudest and most bombastic design in the Fox V3 helmet lineup, the Idol is available in two color palettes. One is a bright hunter orange color, with an arrangement of crisscrossing, pointed dark blue stripes and enclosed white geometric patterns. The other available Idol colorway is a bit more vibrant and wild, with a psychedelic mix of fading orange-to-white, pink-to-orange, orange-to-yellow, and green shapes all divvied up by crisscrossing blue stripes and a mostly-black chin bar.
The Solids colorway for the Fox V3 RS is as simple as it gets, with a plain matte black finish over virtually every square inch, interrupted only on the top and back of the helmet by gloss black Fox Racing graphics. It's the epitome of understatement, letting the helmet's design speak for itself.
For the buyer who wants a bit more pizzazz, the Wired design takes a fairly standard, classic approach to dressing up the new Fox V3 RS, with color-fading sections colliding over every surface, interrupted only by contrasting Fox Racing graphics. There are four color palettes available: Flo Yellow, with navy blue and highlighter yellow; Flo Orange, with a lighter blue gradient and hunter orange; Flame Orange, with light blue and orange-red; and Steel Grey, which features a mix of gloss black and metallic charcoal gray but for a few subtle splashes of red.
3. Available Helmet Sizes
| | |
| --- | --- |
| Size | Head Circumference |
| Small | 55-56 cm / 21 5/8 – 22 in |
| Medium | 57-58 cm / 22 ½ – 22 7/8 in |
| Large | 59-60 cm / 23 1/4 – 23 5/8 in |
| XL | 61-62 cm / 24 – 24 3/8 in |
Helmet weight: Approx. 3.2 lbs. ± 0.3 lbs.
4. Alternate Options: Shoei VFX-EVO
For around the same price as the Fox V3 helmet and the updated RS version, the Shoei VFX-EVO is a compelling alternative. It's a bit heavier than the Fox, but Shoei's reputation for innovation alone is almost enough to overshadow the weight penalty. It features a similar dual-density EPS liner and an effective, well-engineered ventilation system, but where it really shines is with Shoei's proprietary Motion Energy Distribution System, or MEDS, providing protection from rotational crash forces. We have yet to see whether that system is more effective, however, and choosing between the Fox V3/V3 RS and Shoei's VFX-EVO might just come down to styling preference and brand loyalty.
5. Troy Lee Designs SE 4 Carbon
Another alternative – albeit a more expensive one – is the Troy Lee Designs SE4 Carbon. It's Troy Lee's lightest helmet design to date, and one of the lightest on the market, with a durable carbon fiber shell and dual-density EPS liners. It's also one of the best-ventilated, with an astonishing 32 ports – 20 intake, and 12 exhaust – to keep your head cool and dry. Like the Fox V3 RS, the Troy Lee SE4 also features MIPS, and there's an array of busy, loud designs to choose from. Ultimately, though, the extra cost of the SE4 Carbon is only worth it for those who simply must have the lightest helmet they can get their mitts on.
One of the best ways to get a feel for how a product performs in the real world is to look at real, candid reviews from owners. We've done just that, scouring the internet to see what users liked best about the Fox V3 helmet, and what aspects left them wanting for more.
Reviews of the Fox V3 are largely positive, with owners praising the field-of-view and light weight. One reviewer noted that the helmet can tend to feel a bit tight until properly broken in, but once the pads have worn in sufficiently, it's a perfectly comfortable fit.
We did manage to find a couple of reviews from customers who claim the helmet's sizing skews a bit smaller than advertised. That's something to be aware of if you'd rather not go to the hassle of returning a helmet should yours end up being too small, or if you find the helmet on clearance and aren't given the option to return it.
One reviewer especially loved the Fox V3 helmet's removable, washable liner elements, which help to keep the helmet feeling and smelling fresh after every ride. Another claimed that the Fox V3 "saved" his son's head in a crash, demonstrating the superiority of its construction and safety measures.
Overall, owners enjoy the fitment, comfort, and features of the Fox V3 helmet, and it earns top marks in safety, to boot. So long as customers are aware that the sizing tends to run a bit small, the Fox V3 comes with very little risk of leaving buyers disappointed.
How do you measure your head to get a properly fitting helmet?
To ensure the best fit for your new helmet, your first step is to get a cloth tape measure or a long piece of string that you can use to wrap around your head. Start by putting the end one inch above your eyebrow line and centered between your eyes, then wrap around the circumference of your head. Do this a couple of times at varied angles to get the largest possible measurement and start from there. If you used a string, put that string up agains a yard stick or metal tape measure to get your needed measurement.
Once you have this done, you can compare your measurement to the sizing chart of the helmet(s) you're looking to purchase as a start. Because all heads aren't shaped the same, you may need to change some of the padding in the helmet for a proper fit. Ultimately you want the helmet to be comfortably snug all the way around your head, including the cheek pads providing firm, comfortable pressure.
Additional Resources
We are committed to finding, researching, and recommending the best products. We earn commissions from purchases you make using the retail links in our product reviews. Learn more about how this works.
Updated 8/5/2021: Updated product descriptions, added FAQ, added additional resources, separated descriptions for alternate options. Aaron Brzozowski
Aaron is a freelance writer, videographer and car enthusiast based out of the Detroit area. He has a special affinity for the Porsche 944 series, and once owned a Volvo 240 sedan with a Weber carb in place of the factory EFI system. His work has appeared on AutoGuide, GM Authority, /Drive, and VW Vortex, among other sites.
More by Aaron Brzozowski
Published November 23rd, 2020 11:48 AM
Top Brands
Popular Articles