2 Views
May 3rd, 2021 5:29 PM
Share
We're committed to finding, researching, and recommending the best products. We earn commissions from purchases you make using links in our articles. Learn more here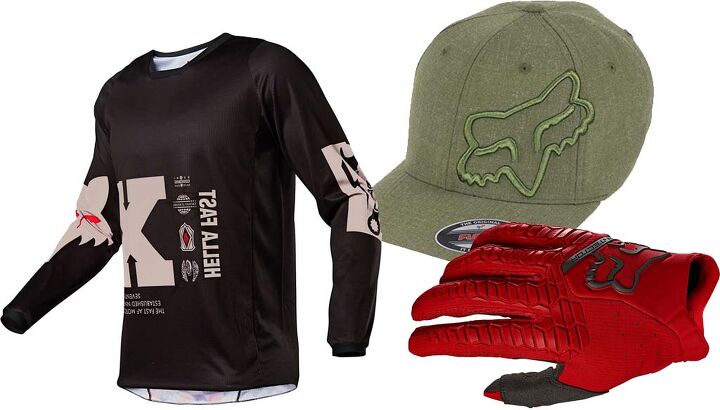 The latest designs from the iconic brand don't disappoint
Fox Racing grew from motocross racing in the 1970s when Geoff Fox formed a team of riders to compete against the factory teams. These riders used Fox's engine and suspension components, and to make them look the part of a team, Fox created Team Moto-X Fox riding gear using bright red, yellow and orange colors. This was the birth of the Fox Racing gear clothing brand as it was a huge hit. From those beginnings, the company branched out into more Fox Racing gear, and eventually started working with riders from other teams.
Where things really took off came when they started working with a young motocross racer named Rick Johnson. Johnson had the attitude and the style that fit what the company needed. That's how I came to love Fox riding gear. While I was just a goofy kid riding a Yamaha Banshee at speeds my mother would not approve of, I was a huge MX fan and any extra money I could muster from various jobs went to gas, oil and new gear.
Why Fox Racing gear? I'll admit, it was hero worship that got me wearing it in the first place. It was the quality and function that kept me wearing it. Today, Fox has worked overtime to make some of the best looking and best performing riding gear on the market with new styles and colors coming every year.
Table of Contents
Man, have things changed since I first started wearing Fox riding gear. Those early jerseys were basically heavy T-shirt material and if it was hot; you either suffered, or you cut holes in your jersey. I was not in favor of cutting holes in my gear, but I ended up doing it a couple times. Today, you don't have to do that. The latest Fox Racing Flexair jerseys allow for complete airflow and moisture wicking thanks to TruDri main body fabric. Active-fit sleeves offer increased airflow and improved breathability. Other features include a bonded collar for reduced chaffing and sublimated main body panels with logos designed to hold their color wash after wash.
On the lower end of the pricing scale of Fox Racing gear are the 180 series jerseys. Despite the lower price point, the Fox 180 jerseys feature a moisture-wicking fabric and a soft, lightweight fit. The fabric and graphics are fade free, so it'll look good for a long time. Throw in a drop tail design that says tucked into your pants and you've got a great jersey at an even better price. Pictured is our personal favorite looking jersey this year - the Fox 180 Illmatik.
My first pair of Fox Pawtector gloves were day-glow pink, because that's what RJ wore. Hey, it was the 80s, don't judge. I never got blisters, though, which is the best thing about Fox riding gear – it works. Today's Fox Pawtectors are more advanced than ever, with double-layer palms and injection molded protection. Plus they look sweet.
The Pawtector is offered in seven different colors and are built with Stretch Cordura ripstop with a double layer Clarino palm. Other features include stretch mesh finger gussets, fully articulated TPR knuckle coverage, and silicone print on the fingers for improved grip.
Want something a little cheaper? The Fox Dirtpaw gloves have been around for a long time, and like other Fox riding gear we are featuring, they have evolved to be pretty darn awesome. The sweet thing about the latest version is, it's touchscreen compatible, so you can check our text messages without needing to take them off. Just make sure you pull off the trail first!
Available in seven different colors, the Fox Dirtpaw gloves feature a compression molded neoprene cuff, durable nylon at the top of the hand with direct inject TPR knuckle coverage, and stretch mesh finger gussets.
So, you already know I had pink gloves. You might as well also know I had the zebra-striped pants to match. It looked cool back then! Today's Fox riding gear is subtler and still every bit as stylish and functional. One of our favorites is the Legion LT EX pants. These over the boot pants are durable, protective and look great.
Features include 850D polyester main body with screen-printed logo, heat and abrasion resistant leather knee panels, TruMotion 4-way stretch panels for improved mobility, and zipper thigh vents to help keep you cool on hot ride days.
6. Fox Legion Downpour Jacket
When you're on the trail and the clouds open up, you will be happy you have the Fox Legion Downpour jacket. Made for riding, this waterproof jacket will keep you dry while not restricting any of the movement you need to make while riding at any pace. That's a key part of Fox Racing gear – it's designed to be used by real riders.
As for features, the Legion Downpour boasts a TruSeal 10K/5K waterproof and breathable membrane, seam-sealed construction to keep the elements outside, water-resistant pockets at the waist and chest, and water-resistant zipper vents on the main body and bicep to help regulate temperature.
I remember my first Fox Racing t-shirt. It had the classic Fox logo with a splash of day-glo colors, all on a heavy-duty white shirt. It looked sweet and was completely fashion-forward, like most of Fox Racing's designs. I wore that shirt all over the place before a bit of mud from the Red Bud MX track permanently stained it after I got too close to the track while watching the national MX race one 4th of July weekend. Today, Fox Racing tees look every bit as good, including this classic Fox Shield shirt, which is offered in six different colors.
I met my wife while I was wearing a Fox Racing hoodie. Coincidence? I think not. I'm not saying you will meet the significant other of your dreams while wearing one of these 80% Cotton / 20% Polyester fleece hoodies, but I'm not-not telling you that either. It certainly can't hurt your chances. The classic Fox Head logo is soft-printed across the front of this pullover, which comes complete with handwarmer pockets. Hoodies are good to have anytime, too. Perfect for chilly mornings at the track, or for going to class.
When I was in college I wore a Fox Racing hat to a party. This absolutely beautiful girl walked up to me and commented on how much she liked my hat. She took it and started wearing it around the party. Every few minutes, she'd come over and flirt with me so I let her wear it. When her slightly drunk boyfriend showed up with his hockey teammates and loudly asked who's hat it was, I did what any sane moto-head would do – I bailed. Better to buy a new hat and save my teeth. This hat is Flexfit 2.0 and will stretch to fit your head. It is made from 90% Polyester / 7% Rayon / 3% Spandex and looks as sweet as you'd expect.
Recent Updates
May 3, 2021: Added new colors and styles to the featured gear. Added some Fox Racing casual gear.
Additional Resources
We are committed to finding, researching, and recommending the best products. We earn commissions from purchases you make using the retail links in our product reviews. Learn more about how this works. Derrek Sigler
Derrek's love for all things ATV started when he was a mere 11 years old, growing up on his family farm. His mom gave him and his sister a choice - get a horse, or a three-wheeler. The sister wanted the horse, and Derrek wanted the ATV. Luckily he won out, and was soon burning up the trails on a Yamaha Tri-Moto 200. By the time he was 14, he had saved enough of his own money by working on the farm and in his folks restaurant to buy a new 4-wheeler. That happened the day he and his mom were driving past the dealership and saw 1987 Banshee. His mom had no idea what he was buying, and he never looked back. He's been riding ever since, and been writing professionally for many years. He has ridden all over North America and been behind the controls of just about every machine out there. And yes, he still has his 1987 Yamaha Banshee.
More by Derrek Sigler
Published August 15th, 2018 4:34 PM
Top Brands
Popular Articles