259 Views
August 4th, 2022 3:19 PM
Share
We're committed to finding, researching, and recommending the best products. We earn commissions from purchases you make using links in our articles. Learn more here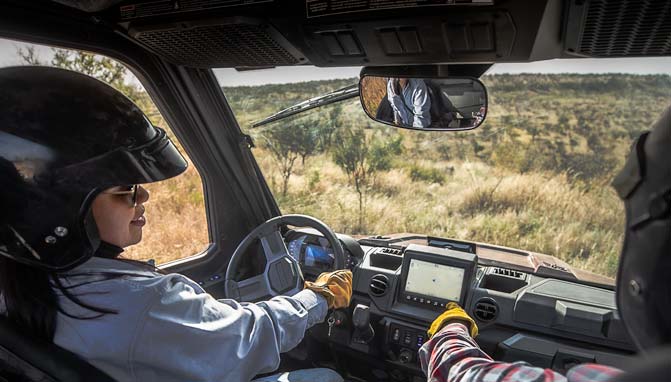 Because seeing what's behind you is as important as what's out front
You can only drive as well as you can see, and a set of UTV mirrors can be the difference between a fun, trouble-free outing and a day-ruining crash.
Like with any light passenger vehicle, there are basically two different families that all UTV mirrors fit into: UTV rear view mirrors, which mount high-up in the center of the cabin and supply a view of what's directly behind the vehicle, and UTV side view mirrors, which mount to either side of the roll cage up front so that you can see rearward to either side. Apart from helping you see where you're going in reverse and alerting you whenever you're about to be overtaken by another vehicle on the trail, UTV mirrors such as these – especially the side mirrors – are required if you ever plan on taking your UTV out on public roads. In countless counties across the US, side mirrors are even a legal requirement for on-road use.
With all that said, the good news is that there's an enormous number of well-built, well-designed UTV mirrors on the market, with prices to suit almost any budget. Here, we've rounded up the very best mirrors available today, including both side and rear view mirrors.
Lead photo by Polaris Industries
1. Editor's Choice: Assault Industries B2 Bomber Side Mirrors
When it comes to aftermarket UTV parts, Assault Industries has quickly become a leader in the industry and their B2 Bomber UTV mirrors are one of those products that has gotten them to the top. The B2 Bomber side mirrors feature a stylish, ultra-thin, light weight, low profile design that instantly adds some style to your UTV. The housings are constructed from 6061-T6 aluminum that has been black anodized and are complimented by front and rear bezel inserts that come in a standard raw aluminum finish, but are also available in a variety of colors to compliment your UTV. In addition to a variety of colors, they include Assault Industries rugged cage clamps that allow for mounting on roll cage tubing from 1.5" to 2" diameter.
Another great feature you'll find about these UTV mirrors is that they are completely rebuilt in the event they get damaged or broken, and come with a limited lifetime guarantee. With all these features, it's no surprise that these mirrors won the 2017 SEMA Global Media Award.
Promoted Product: Kemimoto Side View High Impact Convex Mirror
One of the most important accessories you can add to your UTV is some form of rear-view mirror. Having proper mirrors can help you see what is behind you, whether you're backing up, or if you're out on the trail and someone is coming up behind you. Side mirrors are a great accessory and Kemimoto has an amazing set that works with most UTVs. These big 4-inch by 7-inch mirrors come with a mount that works with any UTV with a roll cage that measures 1.6 inches to 2 inches in diameter. They are made from durable ABS plastic and have stainless steel mounting bolts. The mounting clamps have rubber isolation strips to keep the mirror from vibrating loose and moving on you at the wrong time. The long design combined with a convex mirror gives you a great field of view to the side and behind you, so nothing escapes your vision while on the trail. These value-packed mirrors come backed by a six-month warranty, making the decision to buy them an easy one.
Kemimoto is extending a special 16% savings on your purchases when applying the unique code ATV during checkout.
2. Best UTV Rear View Mirror: Chupacabra Offroad Deluxe
Want a broad UTV rear view mirror that gives you a comprehensive view of the trail behind you? The Chupacabra Offroad Deluxe UTV Rear View Mirror is ready to deliver. It measures a whopping 16 inches across, with 3 inches of vertical height, and the mirror glass is convex to squeeze as wide a view as possible into that area without excess distortion. The mirror attaches to most 1.75" diameter roll cages using dual 10mm aluminum brackets, and once installed, it offers tool-free micro-adjustment, with vibration-isolating rubber to keep the mirror steady even off-road. Some of the more popular models this mirror will fit include the Polaris Ranger 400, 500, 700, and 800, as well as the 2015 John Deere Gator XPX and XUV.
3. Best Rearview Mirror for Night Xprite 13" UTV Rear View Mirror w/ Interior Lights and Switch
It's great when you can find a product that does a great job at it's primary function but can also bring more to the table making it even more useful. Xprite has done just that by adding bright LED lights to their convenient and easy to install rear view mirror to illuminate the cab of your favorite UTV. The Xprite rear view is available in 9, 13, or 17-inch widths and can be easily attached to roll cages varying in diameter from 1.75 to 2-inches making it the perfect addition to most popular UTV models. The mirror glass is a specially designed convex mirror that provides 180° wide angle viewing when compared to flat mirrors.
Beyond being a quality way to see what's going on behind you, the mirror kit features high-intensity COB LED lights that are easy to turn on thanks to a labeled and backlit rocker switch and wiring harness that make installation a cinch.
4. Best Illuminated Side Mirrors: Rigid Reflect Lamp Side Mirrors
As one of the leaders in the lighting industry, Rigid Industries is constantly looking for new and innovative ways to light up your nights. Their Rigid Reflect side mount UTV mirrors allow you to not only see what is going on behind you, but also what is ahead and off to the side. While your headlights and light bars allow you to have great visibility in front of you, their Side Shooter Optic provides a wide beam of light that is perfect for cornering and drifting. Built-in amber LEDs on the outer edge of the mirror can also be used as turn signals or auxiliary running lights.
Both light and mirror are independently adjustable and these UTV side mirrors can be easily installed on tube sizes ranging from 1.75" to 2" with the fully adjustable mount. While some of the pricier illuminated side mirror lights, they're backed by Rigid's limited lifetime warranty.
5. Best Side Mirror Runner Up: Chupacabra Offroad UTV Side Mirrors
If you're a fan of the Chupacabra Offroad Deluxe UTV Rear View Mirror listed above, you'll be thrilled to know that the brand also offers this excellent set of UTV side view mirrors. At 4" across and 7.2" tall, they provide a massive viewing area, with a convex shape to fit even more into your field of view, and they're as durable as you could want, with impact-resistant ABS housings and shatter-proof tempered glass mirror lenses. On top of that, they offer a near-universal fit, with clamps suitable for roll cage tubing ranging from 1-5/8" to 2" in diameter, and they ship with a lifetime warranty against manufacturer defects. Couple that with a safe, convenient breakaway design and effective vibration-insulating measures and what you get is two truly solid, well-priced UTV side mirrors.
6. Best High End Looking Mirrors: Axia Alloys Rearview Mirrors
For those that want more elegance than edgy style out of their UTV mirrors, Axia Alloys delivers. These are the mirrors that you used to only find on high end sand cars, but as more people started customizing their UTVs, Axia Alloys mirrors have found a place there as well. The mirrors are available in widths from 9" to 17" wide and feature a machined billet aluminum housing that is available in either raw aluminum, silver anodized, or with a black E-coat finish. The shatterproof glass insert in their mirrors feature a slightly curved horizontally providing maximum visibility with minimum distortion.
Mounting can be done with either a welded nut capable of accepting a 3/8-16 thread stud, or the more popular aluminum clamp adaptors from Axia Alloys that come in a variety of sizes to fit just about any roll cage tube size you can think of.
7. Best Budget Rearview Mirror: ISSYAUTO RZR Rearview Mirror
Another rearview mirror option comes from ISSYAUTO. This mirror, however, is only compatible with a 1.75" roll bar, so keep that in mind before purchasing. This mirror uses shatter-proof glass for a non-distorted and clear view of what's behind you. It offers up 15 inches of convex viewing area, providing a wide field of view so you can keep an eye on other machines behind you and help with backing up onto and off of a trailer. Getting the mirror into the optimum position is a snap, thanks to three adjustment methods. As you would expect, installation is about as easy as it gets with a butterfly clasp design.
This mirror is designed to fit a variety of Polaris RZR models, as well as the Honda Pioneer 1000 and Arctic Cat Wildcat X. Just be sure to measure the diameter of your roll bar before purchasing to make sure it will fit your machine.
8. Kolpin UTV Side Mirrors
Kolpin is a big player in aftermarket ATV and UTV parts and accessories, so it should be no surprise to see the brand's UTV side view mirrors on this list. Taking after some commercial truck mirrors, these UTV mirrors feature an upright "portrait" orientation, with two mirror surfaces on each unit: one regular field-of-view piece for ordinary use, and one smaller, super-wide piece that almost allows you to "see around corners," giving you a big-picture look at what's around your vehicle. The mirrors also feature a rugged fold-in and break-away design, and low-profile mounting clamps that fit well with most UTV windshields and fit roll cage tubing from 1-5/8" to 2" in diameter for a near-universal fit.
If there's one thing that sets these ATV TEK UTV mirrors apart in a crowded segment, it's their versatility; these mirrors will fit any roll cage tubing from 1 to 2-1/2 inches in diameter, with a low-profile mount design that's compatible with most UTV windshields, and they boast four-way adjustability so you can achieve the perfect mirror angle no matter what. They even let you choose between "landscape" and "portrait" orientation, depending on what sort of riding you do and where you need the extra field of vision the most. Just as impressive, they boast a "break-away" design meant to fold-in upon impact with a rock or tree branch, and a "return-to-home" feature that allows them to be folded right back out, not to mention sharp aesthetics that look right at home on any modern UTV.
Why should I have mirrors on my UTV?
For the same reason you have them on your daily driver. You should always be aware of your surroundings when you're driving and when you're off-road there are more chances of vehicles coming at you from every direction. Having mirrors helps you be aware of vehicles that might be coming up on you from anywhere behind. There's no guarantee that other drivers are paying attention to where they're going or what's in front or around them, so being able to see them come up on you makes you better prepared to take evasive action if necessary. Additionally, if you're riding in a group you have the ability to keep track of your friends that are trying to keep up with you.
When it comes to rearview or side mirrors, is one better than another?
Rearview mirrors are perfect for seeing what is directly behind you, while side mirrors help you see what is behind you on your sides and even in your blind spots. If you have the ability to run both, we feel it never hurts to have maximum visibility, but if you have a spare tire or another kind of rack to hold cargo or a cooler, you likely aren't able to see directly behind, so a rearview mirror won't do much for you.
Is there any information I need to know when ordering my mirrors?
Aside from style and color, the most critical piece of information you need to know is the tubing diameter of your roll cage where you want to mount your mirrors since most brands use some kind of clamping system to get the job done. The tubing diameter used for safety cages varies by manufacturer and where it is used on the structure. If you know where you want to mount your mirrors, measure the tubing diameter so you get the right size mounting clamp for a quick and easy installation.
How do I mount mirrors on a UTV with a windshield?
Accommodating both a full set of mirrors and a windshield on any UTV can be cause for concern, but it's worth noting that most manufacturers design their products with the assumption that a large percentage of their customers will want to have both. That said, when shopping for a set of UTV mirrors, keep an eye out for phrases like "low-profile mount" and "windshield-compatible" in order to have the greatest chance of success.
To install, with the windshield in place, first try test-fitting one of the mirror clamps in the preferred location, seeing whether there's sufficient clearance between the windshield and the roll cage bar for slipping the clamp into place. If there is, you're golden; just remove the windshield to give yourself maximum space to work the mirrors into place without having to risk scratches or impacts, tighten the mirror mounting clamps down in the preferred spot, and reinstall the windshield. Some adjustments may be necessary to ensure that everything goes back together without interference.
If there isn't sufficient clearance between the windshield and your mirror mounts, it might be time to get a little creative. The brand Seizmik, for one, manufactures side mirror mounting brackets for certain Polaris models that use two of the factory roll cage bolts. Depending on the design of your mirror mounts, you might be able to jerry rig your own similar solution, or you might even consider taking a rotary tool and carefully cutting small notches out of the windshield to accommodate the clamps.
Additional Resources
Recent Updates
November 7, 2023: Promoted product recommendation added.
August 4, 2022: Removed promoted product recommendation.
May 25, 2022: Updated product descriptions and FAQ questions.
We are committed to finding, researching, and recommending the best products. We earn commissions from purchases you make using the retail links in our product reviews. Learn more about how this works. Aaron Brzozowski
Aaron is a freelance writer, videographer and car enthusiast based out of the Detroit area. He has a special affinity for the Porsche 944 series, and once owned a Volvo 240 sedan with a Weber carb in place of the factory EFI system. His work has appeared on AutoGuide, GM Authority, /Drive, and VW Vortex, among other sites.
More by Aaron Brzozowski
Published April 19th, 2021 3:32 PM
Top Brands
Popular Articles