126 Views
June 1st, 2022 2:26 PM
Share
We're committed to finding, researching, and recommending the best products. We earn commissions from purchases you make using links in our articles. Learn more here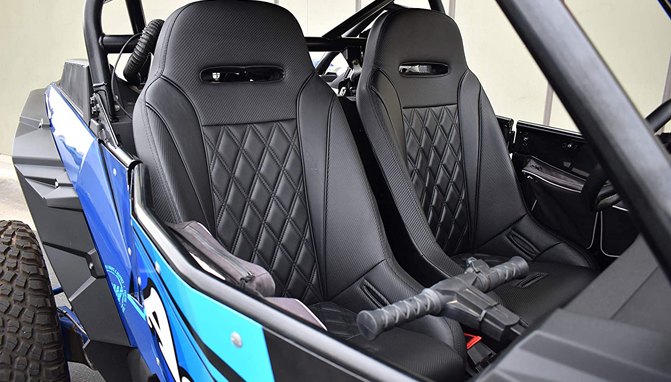 Add some comfort to your UTV with a new seat
"Why would I ever need to upgrade my UTV seats?" you might wonder. "Aren't the factory seats in my vehicle perfectly good?"
It's a fair question, but as the only part of the vehicle that your body is in constant contact with whether you're driving or riding shotgun, your seats play a more crucial role than you may realize. Having the right UTV seats is of the utmost importance for performance driving, where maintaining proper posture makes all the difference in your ability to hammer on the pedals and chuck it into every corner, and having a seat that can hold you in place under hard cornering is critical. Of course, even if you're not thrashing your UTV at every opportunity, seat upholstery wears over time, and cushions break down. Give it a few years and those factory UTV seats will start showing their age, with all the tears and sags that come with it.
And then, there are those UTV owners who are still perfectly happy with their factory seats, but who might want to add a spot or two for the occasional extra passenger. For them, UTV rumble seats, which sit in the bed and face out toward the rear of the vehicle, might prove a prudent purchase.
Here, we're taking a look at the best UTV seats available on the market today – both replacement front seats for the discerning performance UTV driver, and bolt-in UTV rumble seats for the owner in need of a few more passenger spots. Going off of this list, you can outfit your ride just right to carry you and your passenger(s) in comfort and style.
Table of Contents
1. Editor's Choice: Beard Seats Torque V2 Seat
Want a pair of performance UTV seats for less? Check out these Beard UTV seats. At hundreds less than the Simpson UTV seats listed above, the Beard Torque V2 seat is a bargain and punches above its weight in terms of quality. Aggressive and yet comfortable, the Torque V2 is a full-suspension containment seat with high bolsters and a bold, angular design that would look right at home in some of today's hottest performance UTV models. It's upholstered in marine-grade vinyl that's made to hold up against the elements for years, even without doors or a windshield, and with the right mount (sold separately), these Beard UTV seats can fit the likes of the Polaris RZR, Can-Am Maverick, Can-Am Commander, Arctic Cat Wildcat, and Honda YXZ1000.
2. Pro Armor Suspension Seat
One of the more comfort-focused performance UTV seats out there, the Pro Armor LE suspension seat is a full-suspension seat with extra built-in lumbar support – more than the brand's G2 seat, at least. It doesn't cradle the driver quite so much as some of the other performance UTV seats on the market, but it's still a proper performance seat, with deep, cradling side bolsters and a pass-through for a 4-point safety harness. It's also very well-built for the price, with a steel frame powder-coated in black to fend off corrosion, weather-resistant vinyl upholstery with k-tax reinforcement to resist tearing, and making up the seat's suspension, military-grade parachute cord. The Pro Armor LE is made especially to fit the Polaris RZR model line, including RZR XP and XP Turbo models, but with the right seat base, it can be fitted to the Can-Am Maverick and Maverick X3, as well.
The popularity of 4-Seat Sport Utility UTV machines, like the Polaris General-4, increased demand for improved cab features. Let's face it, your passengers deserve a little bit of comfort too. The UTVMA rear bench seats feature a nicely stitched, durable vinyl cover on a firm, yet comfortable seat foam that is the perfect fit for your UTV. The model shown is for the General-4, but is also offered for the most popular 4-seat UTV models. The nice thing about their products is that the seats already come with the harness cut-outs built into the seats that are 4-point harness ready, and 3 are supplied with the bench seat.
4. Aces Racing Suspension Seats for Polaris RZR
Aces Racing may not have the same level of brand recognition as the likes of Simpson or Pro Armor, but if you're shopping Polaris RZR UTV seats on a budget, these suspension seats are well worth a look. They're designed to fit 2014+ RZR models right out of the box, with no extra mounting hardware required, and they're "some of the most comfortable seats on the market today," with a full-suspension design, high-density foam, and attractive, diamond-quilted marine-grade vinyl upholstery that won't mind the occasional brush with rain or sand. But the coolest part? These UTV seats are available as either a pair of conventional performance bucket seats or a sporty, high-bolstered split-bench seat.
Do you occasionally find yourself hauling more passengers than your UTV was built to accommodate? Expand your seating with minimal effort with the Great Day Rumble Seat. These UTV rumble seats bolt right into the bed of your vehicle, instantly adding another two passenger spots with built-in lap belts and soft, cushioned pads. Better still, any time you want to take the seats out to reclaim your UTV bed space, you don't have to completely unbolt them; a pair of quick-detach brackets allow for easy installation and removal in just seconds. These UTV rumble seats feature a durable, powder-coated 1" square aluminum alloy frame, with cushions upholstered in PVC-coated 600 denier polyester, for years of dependability.
A competitor to the Great Day Rumble Seat available at a much, much lower price point, the QuadBoss Jump Seat provides extra rear-facing seating for another two passengers in the bed, keeping its price low with a steel frame instead of an aluminum one, and 300 denier nylon fabric upholstery instead of 600 denier PVC-coated polyester. Depending on how frequently you plan on actually using these UTV rumble seats, the trade-offs might just be worth it; you still get quick-release brackets that make installation and removal a breeze, and a similar max. weight capacity of around 300-plus pounds. Better still, the seat bottom on this unit flips up when it's not in use, so you don't even have to take it completely out to regain some lost cargo space.
Which UTV Seats Are Most Comfortable?
Which UTV seats are going to be more comfortable in your vehicle depends on a lot of different factors. Generally speaking, most replacement driver and front passenger UTV seats are designed and built for better containment – that is, to better hold you in place with their big, steep side bolsters – under hard cornering, and not necessarily for more cushiness.
That said, all seat cushion foams break down over time, the material compacting and losing some of its "spring" as the void areas are squeezed out. If your seats are well-worn, any replacement – even a firm, supportive performance-oriented seat – might be a comfort upgrade.
If you're looking for the most comfortable UTV seats of all those listed here, we might recommend the Pro Armor LE – a full-suspension seat with built-in lumbar support. The bolsters are tall enough to contain you in the seat under cornering, but not so steep or constrictive as to be uncomfortable.
How Do You Replace A UTV Seat?
Replacing any UTV seat should be a fairly straightforward un-bolt, bolt-on affair, although unless the seat you've purchased was made specifically for your UTV model, some extra mounting brackets will be required. These brackets are usually sold separately and typically cover only one or several different model lines.
The exact procedure necessary to remove the factory UTV seats will vary depending on the model. For model lines such as the Polaris RZR, a quick-release tab between the seat back and bottom can be pulled to release the seat from the floor for removal. After the factory seat is out, replacement is as simple as unbolting the base from the seat by loosening a few fasteners and mounting the base to the new seat using the appropriate mounting brackets.
For models such as the Can-Am X3, removal of the factory UTV seats are a bit more involved, as there's no quick release. Instead, you must unbolt the mounts directly from the floor, lift up the bottom seat cushion to gain access to the rear bolts, and slide the seat forward to gain access to the safety harness retaining bolts. With the seat and harness out of the vehicle, the harness and seat mounting bracket can then be transferred to the new replacement seat.
If I'm replacing my stock seats with one of these aftermarket pieces, do I need to purchase anything else?
If you're going to replace your stock seats with some aftermarket ones, we'd recommend replacing your stock seat belts with some 4 or 5-point safety harnesses at the same time. The new seats you're putting in likely won't allow the stock seat belts to work properly and aftermarket harnesses just increase the safety factor by offering better restraint in the cockpit of your UTV. Additionally, if you're replacing the harnesses you might be required to purchase some special jumper plugs to bypass the seat belt alert system in many modern UTVs. These will limit the performance of the UTV if the driver's seat belt isn't properly secured. If you're removing the OEM seat belts to replace them with some kind of safety harness, you'll need this plug.
Can I install a jump seat into a Polaris RZR or Can-Am X3?
It's not something that we'd recommend. Aside from not really having enough space to install a jump seat, these seats weren't designed for the high-performance UTV market. These seats are best suited for larger UTVs like the Polaris RANGER or Can-Am Defender, which have larger bed boxes with intended use on large properties for work or hunting to carry extra passengers at lower speeds. If you do install a jump seat into one of those machines, be sure that you also install seat belts to hold those passengers in.
Additional Resources
Recent Updates
6/1/2022: Updated product links, updated product descriptions, added 2 FAQ questions
We are committed to finding, researching, and recommending the best products. We earn commissions from purchases you make using the retail links in our product reviews. Learn more about how this works. Aaron Brzozowski
Aaron is a freelance writer, videographer and car enthusiast based out of the Detroit area. He has a special affinity for the Porsche 944 series, and once owned a Volvo 240 sedan with a Weber carb in place of the factory EFI system. His work has appeared on AutoGuide, GM Authority, /Drive, and VW Vortex, among other sites.
More by Aaron Brzozowski
Published June 8th, 2021 9:54 AM
Top Brands
Popular Articles