184 Views
Best Polaris Ranger Seats
April 20th, 2021 1:52 PM
Share
We're committed to finding, researching, and recommending the best products. We earn commissions from purchases you make using links in our articles. Learn more here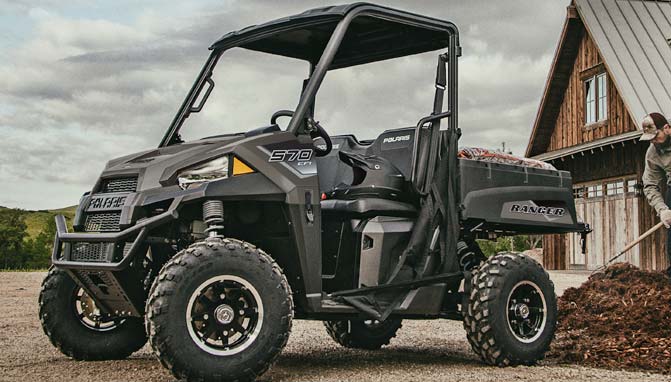 Update your Ranger's seating situation
The need for replacement Polaris Ranger seats can stem from any number of reasons. Perhaps you don't like the color of those factory seats, maybe Fido has shredded the stock chairs after jumping in and out of the machine a gazillion times, or maybe you're simply uncomfortable in the seats that have been in the thing since new.
It isn't the world's easiest task to find a set of model-specific aftermarket seats for the Polaris Ranger – or for any UTV, in fact. Blame any number of safety regulations, plus the scourge of accountants bleating into corporate ears about profits. We've assembled a few options below, plus some seats which will require customers to choose their own adventure in terms of brackets and mounts. However, those particular seats look very comfortable, meaning it's probably worth the effort.
Table of Contents
1. Editor's Choice: Great Day Rumble Seat
Fun fact - the term 'rumble seat' dates back to the days of horse-drawn carriages, back when servants were relegated to the rearward facing seat that was hung out behind the vehicle. That explains the 'rumble' part of its name with great clarity. The servants might be gone but the term remains, generally applied to seats like this that are installed as a Polaris Ranger back seat.
Accommodating two extra adults, this rear-facing seat features quick-detach brackets which allow quick installation and removal to accommodate the changing needs of riders and Polaris Ranger owners. Safety straps insure stability and the frame is constructed of 1-inch powder-coated aluminum. Sadly, any bed tilting function is disabled when this seat is installed, robbing us of potential YouTube hilarity (and infamy).
2. Hunter Safety Products Tiny Seat
As any parent knows, trying to get kids involved in the type of activities the parents enjoy generally means getting them started early. Standard-sized Polaris Ranger seats aren't always appropriate for very small kiddos, making this off-road only booster seat a fantastic option for taking along the entire family.
The seat features lap belt slots at the correct angle, plus a couple of leg strap points. The seller markets the thing as 'super comfy', with high side bolsters that help provide the best support and containment possible. Recent reviews from real-world customers praise the way this seat snugly fits into machines like the Polaris Ranger, calling it a 'way better' option than the typical car seat that is intended for automotive use.
3. Polaris Replacement Seat Bottom
If you prefer to use OEM parts, Polaris has you covered with a variety of components for Polaris Ranger seats. Pictured above is a replacement seat bottom. This will be an exact replacement, so don't expect anything new or different here. As with a lot of OEM parts, it will also cost you a pretty healthy chunk of change.
If you want to protect your Polaris Ranger seats or cover up some unsightly seat damage without doing a full replacement, the Carhartt seat saver is worth investigating. Designed for a precise fit on all Ranger XP 1000/Crew 1000 models, the seat saver will fits snug and stays wrinkle free so it won't bunch up and you don't go sliding all over the place. It protects both the seat bottom and the backrest and has a Carhartt logo stitched onto the back. It is also machine washable, so you can clean off the funk now and again.
5. QuadGear UTV Seat Cover by Classic Accessories
Instead of firing that previously useful bench in the nearest dumpster, a cover might be just the ticket to either hide tattered factory upholstery or simply give your Ranger a new look. This product is made from heavy-duty Protek fabric, a material that features water-resistant backing and exterior coating for maximum weather and abrasion protection.
Stretch foam panels, an elasticized hem, and handy attachment straps provide a quick and custom-like fit. This means the thing won't bunch up like a pair of cheap socks. It includes covers for both the seat back and seat bottom, giving fresh surfaces to both areas. This product has excellent reviews on Amazon and is rated highly by nearly 500 real-world customers.
6. Universal ATV Seat Heater Element
This product ranks up there with the Man Step found on Ford pickup trucks. A lot of people made fun of the thing ... until they realized just how useful it is. The same goes for heated seats on a recreational vehicle. Not every machine has this feature as even an option, so the aftermarket has stepped in to provide some solutions.
It includes high and low settings to help you dial in the ideal comfort levels and is said to be engineered so it works great in the type of conditions one is likely to encounter on their Polaris Ranger. Maximum temperature is 158F, if you're wondering.
We are committed to finding, researching, and recommending the best products. We earn commissions from purchases you make using the retail links in our product reviews. Learn more about how this works.
How do I add a UTV seat heater?
You liked that aftermarket heater for Polaris Ranger seats, eh? So do we. Installing these things properly does involve stripping off the seat upholstery as if you were skinning a freshly caught rabbit; if you've never done either of these activities before, taking pictures of the seat cover removal steps makes for a handy reassembly guide since - unlike the rabbit - you'll be putting the upholstery back on. Also, the individual who bought the warmers for use as a pizza bag is a bloody genius.
Are there model-specific aftermarket seats?
Options do exist for Polaris Ranger seat replacement that will fit this specific model but there are also many universal (or generic) offerings from a variety of manufacturers. Make sure to read the listing in full before placing your order, as some will require the additional purchase of seat tracks or mounting kits. Factor this, and a bit of extra time, into your budget for this project.
Any other advice?
Basic hand tools are going to be required for the job, so make sure you're equipped for the task before starting. If you're unsure about installation, enlist the assistance of a pro. These seats are literally the surfaces that keep you safe inside your Polaris Ranger, so improper or incomplete install procedures can end in a trail of tears. Read all the instructions, follow the directions, and call for help if you need it. Published April 20th, 2021 1:52 PM
Top Brands
Popular Articles