1.4K Views
Best ATV Snow Plow Options
June 1st, 2023 1:33 PM
Share
We're committed to finding, researching, and recommending the best products. We earn commissions from purchases you make using links in our articles. Learn more here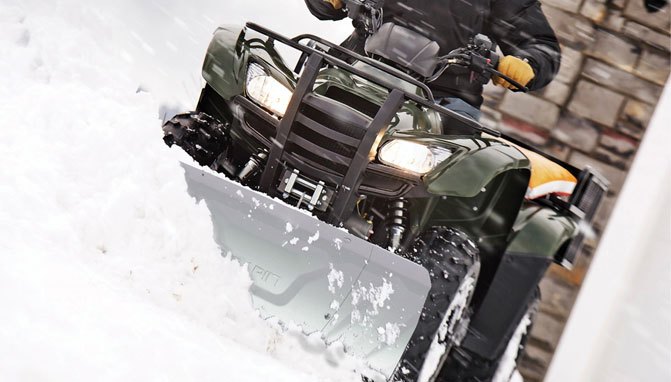 An ATV snow plow will make your winter a lot more bearable
Winter might mean the end of riding season for some, but if you happen to have an ATV snow plow system, you can still get out and have fun while you work.
No matter how hard we try to fight it, winter arrives every year and we have to deal with it. With winter, comes snow, that frozen precipitation that looks pretty in pictures and covers the landscape with a blanket of fresh, clean something-or-other. I could wax poetic for a while about how pretty the snow is, but when it's piling up in my driveway I've got to take care of it before I got to work in the morning just like everyone else. It's time to put that expensive four-wheeler to work and hitch up the ATV snow plow.
Using a 4 wheeler snow plow is actually fun. I'm serious! Try it once and you'll actually look forward to it. For one, it's efficient. An ATV or UTV will push a lot of snow and do so in a short amount of time. I've pushed wet, heavy snow with a Honda Rubicon 500 and was able to push more snow faster than a tractor doing the same task.
There are a lot of different ATV snow plow systems on the market right now. All of them will do the same basic job, but some are better than others, depending on what you want from your 4 wheeler snow plow, or what you want to spend. We have rounded up some of the best snow plows available for your ATV.
1. Editor's Choice: Warn ProVantage
There is a reason most of the OEMs use the Warn ProVantage ATV snow plow system as the factory accessory plow – It works extremely well and is very high quality. You buy the blade, frame and mount separately, and it works best with a Warn winch. We tested this system on a Honda Rubicon and it was slick. The mounting plate gives the engine a hefty skid plate and uses the machine's frame for structural support, meaning the whole machine supplies the support to push snow. That might be why we were able to outperform a tractor when it came time to clear a driveway. The plow blade will fall back if overloaded and the finish is durable, taking several winters of hard use and still looking fresh and new.
2. Best Budget Kit: Black Boar ATV Snow Plow
Where most ATV snow plow kits are model specific, the Black Boar Snow Plow Kit is a universal fit that they claim will mount to most ATV models with either a square or round tube frame. The 48" straight blade features 9-position adjustability and capable of operating in both left and right directions. The blade gets mounted to a durable, black powder coated steel frame, which features quick release pins to you can easily remove and install the blade when needed. A winch, not included, is required to use the snow plow kit. This keeps cost down, but with many units coming from the factory with a winch pre-installed, it avoids having un-needed parts.
This is a very simple, straightforward ATV snow plow system with the blade, frame and a universal mount all in one kit. The mount may not fit every machine on the market, but this system can be used on multiple machines. They even have extra mounts available to let you switch machines easier. It comes with a 50-inch blade. The frame allows for angle adjustment in the blade. A winch is required for lifting the blade, but this system also has a quick release, so you can drop the blade off to use your ATV. The best part is the price – You can pick one up for around $320.
4. KFI 60" ATV Snow Plow Kits
KFI is no stranger when it comes to ATV and UTV implements. That is why we highly recommend them when it comes to finding the right snow plow kit for your ride. The kits feature a 60" steel blade, push tubes and mount kit. By far one of the more expensive kits on our list, but sometimes one-stop shopping comes at a price for one of the best ATV snow plow kits.
What kinds of things should I look for in a snow plow for my ATV?
One thing about snow plows is that they add a lot of weight to the front end of your ATV or UTV. This is why we prefer to find a plow kit that uses a composite blade over a steel blade. While this might not be as popular of a choice to some, it helps to take some of the weight off of the ATV. You can also decide whether or not you want a blade that is raised manually or by running a winch. The obvious downside to this is if you don't already have a winch mounted on your unit, it increases your cost substantially.
Does having a multi-position blade really matter?
Yes and no. If your plow blade doesn't have any position adjustability other than up or down, you're a bit limited in how you get ride of the accumulated snow that you're pushing. If you have a blade that you can position at an angle, you can essentially push snow off to the side without the need to stop.
I'm a first time plow user. Is there anything to do before I plow?
Speaking from experience, you definitely want to have your ATV prepared before needing to use your plow. First things first, get everything installed before it's too late. If the snow is coming down hard, the last thing you want to be doing is racing to have your plow installed. Get everything purchased before places run out of inventory and get it installed.
If your plow features a quick release system so you don't need to keep it on your ATV 100% of the time, get familiar with attaching and removing it before you actually need it. Once attached, make your adjustments to the plow height or at least get familiar with the plow height so you're not gouging your driveway or street during your first time. Most plows have skid pads on them, so this is a great time to get those adjusted as well.
Recent Updates
6/1/2023: Added to FAQ
10/8/2021: Ranked products, updated product descriptions, removed out of stock products, added Black Boar and KFI Snow Plow Kits, added FAQ and added Additional Resources.
We are committed to finding, researching, and recommending the best products. We earn commissions from purchases you make using the retail links in our product reviews. Learn more about how this works. Derrek Sigler
Derrek's love for all things ATV started when he was a mere 11 years old, growing up on his family farm. His mom gave him and his sister a choice - get a horse, or a three-wheeler. The sister wanted the horse, and Derrek wanted the ATV. Luckily he won out, and was soon burning up the trails on a Yamaha Tri-Moto 200. By the time he was 14, he had saved enough of his own money by working on the farm and in his folks restaurant to buy a new 4-wheeler. That happened the day he and his mom were driving past the dealership and saw 1987 Banshee. His mom had no idea what he was buying, and he never looked back. He's been riding ever since, and been writing professionally for many years. He has ridden all over North America and been behind the controls of just about every machine out there. And yes, he still has his 1987 Yamaha Banshee.
More by Derrek Sigler
Published June 1st, 2023 1:33 PM
Top Brands
Popular Articles