16 Views
Best ATV Snow Accessories
January 27th, 2022 1:41 PM
Share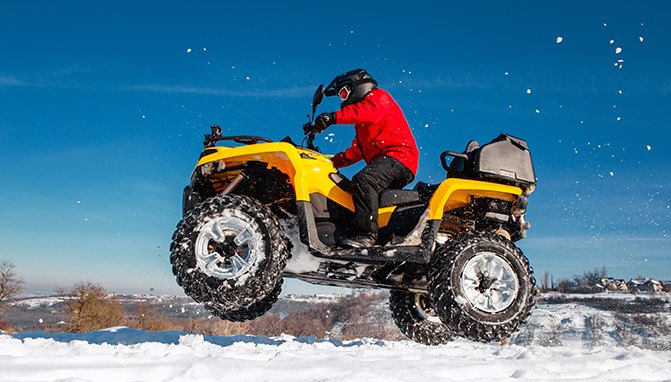 If riding your ATV involves all four seasons, you'll surely want to invest in some of the best ATV snow accessories available.
They're called all-terrain vehicles for a reason. ATVs are designed for all types of terrain, from rocks to mud to sand to snow. The latter is probably the most challenging of all the elements because it also involves protecting yourself (read: staying warm) from the weather, and making sure the quad is also ready for the white stuff and frigid temperatures. Of course, four-wheel-drive and diff-lock will improve a machine's traction, but a 2WD sport quad can be fun, too.
Even if you're not out for a snowy trail ride, you can still add a few common-sense accessories to get more out of your machine instead of storing it for the winter. This article will share tips and tricks of how to ride in the winter, what products to use and how to dress to make the cool (pun intended) adventure a memorable one.
We've got the perfect list of ATV snow accessories for you regardless if you're using your machine for work or play. We've even got products on the list to ensure you stay comfortable and warm while you're out playing in the fluffy white stuff.
Lead photo courtesy sklyareek/shutterstock
Table of Contents
1. Editor's Choice: Snow Tires for Maximum Traction
When it comes to traction in the snow, you can give it a go with stock tires or upgrade to a more aggressive set of tires with taller, sharper lugs. There are plenty of brands like ITP, Maxxis, System 3, Kanati, and more that produce tires that offer great bite and self-cleaning ability, which is crucial for riding in the snow. ATV tire chains also improve traction, but we suggest you use them for only working with your ATV and not full-speed riding. You could also add ice racing studs or even snowmobile track studs (if done properly) for improved bite. Studs may be best for Sport ATVs but can be used on 4x4s, too.
There are also various track kits available for all types of ATVs, sport or utility, and basically help the machines stay on top of the snow by giving it a larger footprint. Some track kits offer tracks at all four wheels, while others have a single rear track and front skis that essentially turn Sport ATV models into snow-quads. Kits vary in price and design, so explore your options. We suggest a kit that's durable, cost-effective, and relatively easy to install. If it's too pricey, you might be better off with a used snowmobile.
2. Runner Up: Reliable Batteries and Battery Maintainers
Before heading out to tackle the snowy trails, you'll want to ensure that your battery is performing at its best. While your ATV is still cranking, but not quite like it did when the battery was new, that could be your tell-tale sign that it should be replaced, especially for riding in winter conditions. Cold weather starts are hard enough on a fresh battery, but if you're riding in the cold and are using things like heated grips and auxiliary lighting that put stress on your electrical system, you could be left stranded in the middle of nowhere.
If you've replaced your compromised ATV battery with a new one, keep it at its best by leaving it hooked up to a good battery maintaine r that will help prolong its life.
3. Riding Gear Essentials
Unless you're a caveman, there's no sense in trying to turn yourself into a frozen block of ice. There is a proven way to dress for winter riding and it involves layering your clothing. This also lets you add or remove items to fine-tune your comfort and warmth. The key terminology for all cold-weather gear is moisture-wicking, breathable, and waterproof. Also, a few other products will improve your overall experience.
Layer 1: This layer should be tighter to your skin and something that is designed for warmth and moisture absorption. Some sort of "performance long underwear." See mountain climbing and snowmobile-related products if you need examples!
Layer 2: The second layer should not be super loose-fitting or bulky, but warmer and thicker (think fleece). Again, something that wicks moisture, stays dry and warm.
Layer 3: Gore-Tex is king but any jacket and pant that offers both a breathable and waterproof shell are ideal. Jackets with zippered venting let you cool down if you get too warm.
Hang On: Gloves are important because you need your hands to function so you can control the throttle, hang on and stay in control. Look for a glove that offers a waterproof design, yet isn't too bulky so it bunches up under your hand or interferes with the controls
Toe Jam: Don't just jam your feet into any old work boot. Be sure the boot is made for cold weather with some sort of insulating material and, above all, is waterproof. When paired with a good pair of wool socks, your piggies will be toasty warm and looking for some roast beef.
Buckets: You can opt for a snowmobile helmet or just customize your open-faced MX helmet with a few other accessories (keep reading).
Ninja-fied: A balaclava may give you the look of a redneck ninja, but it's proven itself in the snowmobile industry for years and will keep your entire face/head warm under your helmet.
Fog Alert: Dual-pane goggles ensure the lenses won't fog over (at least as much as a normal single-pane you were in the summer).
Hannibal-esque: Although a breath mask or "box" may look like something Hannibal Lecter wears, it truly works. This device attaches to the inner mouth area of a helmet and keeps the cold air off your face. When combined with a helmet, goggles, and balaclava, you create almost an impenetrable guard against the dreaded wind chill!
Adding a snow plow or snow blower will make an immediate difference and sure beats shoveling! The aftermarket (as well as some manufacturers) have several different sizes, designs, and shapes to choose from when considering plows. Just pick something that's durable, versatile, and fits within your budget. Snow blower attachments are more expensive but can add a tougher appearance and, potentially, more snow-moving abilities.
If you're riding in the cold, you'll probably want some sort of protection to keep your hands and fingers warm. There's an endless selection of accessories to get the job done, from electronically heated grips to gauntlets that install over your handlebars for you to slide your hands into. Once you ride in the cold with hand warmers, you'll never want to go back to non-heated grips again. If you really want to take your cold-weather riding comfort to the next level, a seat warmer just makes sense, otherwise, you'd be doing something your dad always told you to try to avoid doing – and that's freezing your arse off!
We've already covered keeping your hands warm but how about that cold rush of air that gets blasted onto your chest and face? By adding a windshield to your ATV, you can prevent being blasted with cold air, water, snow while riding. Having a windshield doesn't mean that you won't still need some good goggles or a full-face helmet for protection, but it will definitely make for a more enjoyable ride in colder temperatures
Trail Riding Etiquette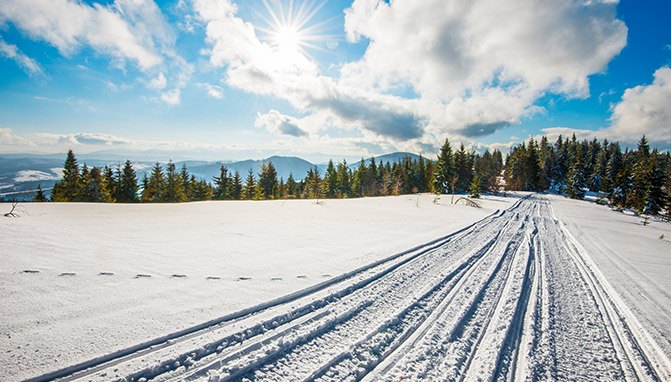 Our first rule of thumb is to never ride alone because getting stranded in normal conditions is one thing, but being left out in the cold is worse. Another good rule is to make sure it's legal to ride your ATV in the winter and the trails allow quads. Not all ATV trails are open in the winter months. Make sure you're not breaking the law and be on the lookout for snowmobilers.
• Snowmobiles, first: The last thing you want to do is hack off a fellow powersports enthusiast. If you can ride on the snowmobile trails, remember sleds are way faster and quicker than ATVs, so be aware of your surroundings and pay attention at all times, especially in blind corners and long straights. It's good to yield to snowmobiles and practice as much etiquette for these shared trails as possible.
• R-E-S-P-E-C-T: Stay on the trails and respect all posted trail traffic signs (STOP, speed limit, etc.). Although you could ride off the trail because of the snow, your improper prints show disrespect.
• Look Out Below: Riding in the winter also means you'll be riding in the snow. Therefore it's sort of like riding in the mud in that you can't always see what's beneath the surface. However, if you're on a trail chances are pretty decent the path is safe and the snow is packed enough to offer safe travels. If you're legally cutting a trail through new snow, however, beware of fallen trees, hidden boulders or camouflaged drop-offs.
• Ice, Ice, Baby: Exercise caution when riding on frozen ponds, lakes and rivers. Remember, a good rule of thumb is to only venture out on a frozen lake with at least six inches of solid ice. Rivers, depending on where you live and how big the river is, vary so beware.
• Follow the Leader: But do it carefully! Because of icy conditions and whiteouts from snow roost, it's best to have larger following distances.
Winter Trail Riding Essentials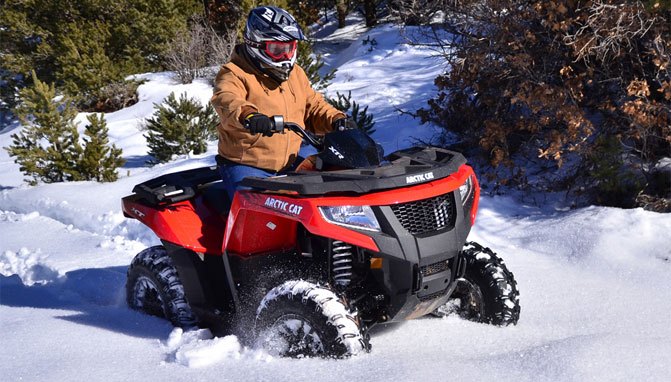 Riding in the snow is really no different than riding in the warmer seasons, however, you need to prepare for the unexpected. We've broken a shock mount riding in the snow before. We've been stuck fender deep in mountain snow, which is often unpredictable (soft, packed) and can sometimes seem bottomless. Here are a few goodies to always remember for riding in the snow.
• Winch: You will get stuck at least once and a winch makes the whole process of getting unstuck a whole lot less stressful on you and your quad.
• Spare Goods: This includes socks, long underwear, gloves, and a few wool blankets. Staying warm and dry is crucial in the snow/winter. Extra gear just makes sense and it will easily fit in a backpack or rear rack bag.
• Edibles: Water and snacks are always a good idea. You may not think you'll need to eat, but you may not have expected to get stuck or lost either.
• Miscellaneous: This includes sealable baggies (for melting snow) and for keeping matches, paper, steel wool (for burning), and snacks dry. It also includes a compass, whistle, and other survival-type products. Accidents happen so make sure you're carrying a good first aid kit.
• Medical: Take along a good first aid kit in case someone in your party is injured.
• Bag It: Trash bags are good for storing wet clothes, dry clothes, and garbage.
• Ring, Ring: Always take a cell phone with you on your trip.
• Short and Bright: Taking a flashlight is a good idea because winter riding often means the shortest days of the year. A few mishaps and your day could become night sooner than you expected.
Get Out and Ride!
With these tips, you no longer have to fear the snow and the frosty conditions that come with it. We encourage you to explore the flakes for work and for play and to do it in a safe manner. Pushing it around or conquering a snow-covered trail is a natural act for an ATV. It's up to you to determine how much time you need to spend in the snow. Don't be such a (snow)flake!
Additional Resources
Recent Updates
01/06/2022: Updated product descriptions, updated product links, ranked products, added additional resources,
We are committed to finding, researching, and recommending the best products. We earn commissions from purchases you make using the retail links in our product reviews. Learn more about how this works.
Published January 14th, 2014 2:59 PM
Top Brands
Popular Articles