151 Views
Best Cold Weather Riding Gear
January 25th, 2022 1:40 PM
Share
We're committed to finding, researching, and recommending the best products. We earn commissions from purchases you make using links in our articles. Learn more here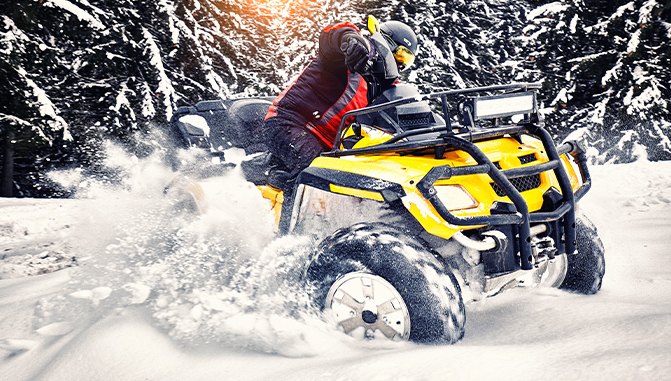 Have you ever really wanted to go ride but thought, "Baby, it's cold outside?" Have no fear of winter riding when you've got the right cold-weather riding gear.
The best cold weather riding gear has to meet some pretty tricky standards. It has to, of course, keep you warm, but it also has to still meet the safety requirements you'd expect of any off-road riding gear. It also can't restrict your movements. Luckily, we're here to help. Many of us live and ride in areas where the temperature drops below freezing, sometimes well below zero. Does that stop us from riding? No way! What it has done is give us a platform for testing the very best cold weather riding gear. Here's what has been working for us.
Feature image courtesy Sergei Domashenko/Shutterstock
1. Quality Head Protection: Fly Racing Formula Carbon Helmet
The best cold-weather helmet is an easy proposition. If you're not looking to buy a new helmet, just for cold-weather riding, get a breath box for your existing helmet. Of course, if you're looking to buy a new helmet, may we suggest the Fly Racing Formula Carbon helmet. This helmet is light weight, fits great and comes with an optional breath box that fits perfectly in the helmet. The Formula Carbon is available in a variety of colors but we feel the hi-vis or bright orange color options are actually a good thing for riding in cold weather, especially snow. One important aspect of safety in winter conditions is visibility. Fly's Adaptive Impact System helps absorb the energy of low-speed linear and rotational impacts, making this a very safe helmet to use for your cold-weather riding fun.
2. Runner Up: 509 Sinister X6 Ignite Heated Goggles
Cold weather goggles have to have some way to keep the lens from fogging so you have a clear field of view. The face foam should also cover well to help protect your face from the biting cold wind. They may be pricey, but the best winter riding goggles out there are the 509 Sinister X6 Ignite. These goggles cover your eyes and skin well and protect from the cold. They also use a lithium-ion powered pack that heats the lens up to 104-degrees. This keeps fog and frost away and ensure you have a crystal clear field of view while riding.
3. Best Rated Hand Protection: Mechanix Wear Impact Pro Winter Gloves
The best cold weather riding gloves keep your fingers warm while still allowing full movement of your hand and fingers so you can safely operate your ATV or UTV. They should grip well and offer some amount of protection as well. Mechanix Wear Impact Pro Winter Gloves work great for cold-weather riding. They have C40 3M Thinsulate insulation and a waterproof liner, along with a grippy palm and fingers that allow you to keep your manual dexterity. The index finger and thumb are ever mobile compatible to let you use your smartphone when you're stopped trailside.
4. Best Wind/Waterproof Shell Jacket: Klim Enduro S4 Overshell Waterproof Jacket
The biggest things to look for in a cold-weather riding jacket are wind-blocking and freedom of movement. Most of us wear shell-type jackets that are waterproof, windproof, and made for active movement. Insulation is best if it's minimal in the jacket, so you can layer underneath. One of the best out there is the Klim Enduro S4 Overshell Waterproof Jacket. It is constructed with Schoeller Waterproof Durable 4-Way Stretch material meaning that not only will it keep you dry but it is also comfortable so you can wear it over your layered riding gear. It'll keep the wind out as well and has a dust/snow skirt to keep stuff from blowing up your back, too. Also, the zippers are all sealed to keep out the elements. This is a seriously high-quality riding jacket.
5. Best Cold Weather Riding Pants: Klim Traverse Off-Road Pants
Getting the best cold-weather riding pants is similar to the jacket in terms of what you need. You want to keep out wind and moisture while retaining body heat and having freedom of movement. The Klim Traverse pants were designed as 4-season dual-sport riding pants built to meet the demands of unpredictable weather. Just like the jacket mentioned above, the focus of these pants is reduced bulk allowing better comfort and mobility. The Traverse pants are constructed with Gore-Tex that is guaranteed to keep you dry and protected from the wind, and feature Cordura reinforced inner knee panels for better wear resistance. When you want the ultimate in comfort and protection, these are the pants to get.
6. Columbia Bugaboot III Snow Boot
Finding the best riding boots for winter can be a little tricky. You need to find boots that balance warmth with protection for your feet and ankles. Boots made for snowmobiling work great for ATV riding, but are considered by many to be far too stiff for driving UTVs. One boot to consider is the Columbia Bugaboot III. These boots have 200 grams of insulation and Columbia's proprietary OmniHeat material that reflects your body heat back to you while pulling away moisture. They provide good support for your feet and ankles and complete protection from the weather. Be aware, however, that if you are riding a sport quad with regular footpegs, you will not want to wear these boots as the soles will not last long.
7. Balaclavas For A Warm Head
Other important cold-weather riding gear that you're going to want to have includes a balaclava. Available in a wide variety of styles, these work great to help keep your head and neck warm on cold rides.
8. Thermal Socks for Warm Feet
A critical part of keeping your body warm in cold conditions is making sure that your feet are dry and warm. A good pair of insulated socks are perfect when paired with some quality snow boots like the ones from Columbia mentioned above. Good wool insulated socks will not only keep your feet warm but they also aid in keeping them dry.
9. Layers, layers, layers....
A key factor to keeping warm and comfortable when you're riding your ATV or UTV is dressing in layers. Sure it might seem like a hassle to put different layers of clothes, but there are times when wearing a big bulky jacket might leave you too hot yet you'll be freezing when you take it off. Start your layering with a good set of cold weather baselayer pants and a shirt like those in the Klim Aggressor 3.0 line. These are breathable to help wick away moisture, allow for great mobility and are insulated to keep you warm.
Is there any difference between gear for riding snowmobiles and ATV's or UTV's?
For some gear, there isn't much of a difference and for others, there are big differences. Depending on what you ride you want your gear to offer maximum mobility and have reinforced panels in high-stress areas, which applies to either. The big difference you'll see is with boots. You'll want boots with a stiff sole for riding on footpegs where it's not as critical on a snowmobile.
What is the best way to layer your clothes for maximum comfort?
From personal experience start with a good set of baselayer pants and shirt, then you'll want to wear a comfortable mid-layer jacket and set of pants. To round out your gear, you want to wear some good wind/waterproof pants and a jacket that offers good venting. This allows you to either remove items or open venting to keep you at maximum comfort while you ride or when you're taking a break.
Additional Resources
Recent Updates
01/04/2022: Updated product descriptions, updated product links, removed obsolete product, added new products, added faq, added additional resources
Become an ATV insider. Get the latest news first by subscribing to our newsletter here.
We are committed to finding, researching, and recommending the best products. We earn commissions from purchases you make using the retail links in our product reviews. Learn more about how this works. Derrek Sigler
Derrek's love for all things ATV started when he was a mere 11 years old, growing up on his family farm. His mom gave him and his sister a choice - get a horse, or a three-wheeler. The sister wanted the horse, and Derrek wanted the ATV. Luckily he won out, and was soon burning up the trails on a Yamaha Tri-Moto 200. By the time he was 14, he had saved enough of his own money by working on the farm and in his folks restaurant to buy a new 4-wheeler. That happened the day he and his mom were driving past the dealership and saw 1987 Banshee. His mom had no idea what he was buying, and he never looked back. He's been riding ever since, and been writing professionally for many years. He has ridden all over North America and been behind the controls of just about every machine out there. And yes, he still has his 1987 Yamaha Banshee.
More by Derrek Sigler
Published December 20th, 2018 11:57 AM
Top Brands
Popular Articles