56 Views
Best Kids ATV Riding Gear
May 25th, 2021 12:18 PM
Share
We're committed to finding, researching, and recommending the best products. We earn commissions from purchases you make using links in our articles. Learn more here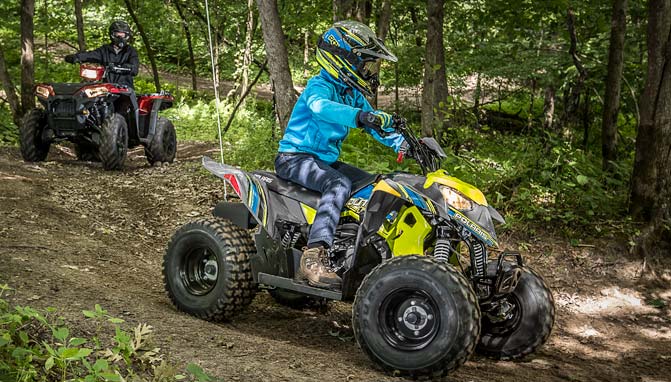 Protecting your kids while they ride starts with the right gear
Your child may be eager to get out and ride on their new ATV, but their safety depends the outfitting them in the best kids ATV riding gear.
One of the hardest questions you can deal with as a parent of a child starting out riding is what youth ATV riding gear your kid really needs. I've heard this from a few parents who are concerned that they are being fed a line from an eager salesman at a dealership who is trying to talk them into buying the latest set of riding gear, at a nice markup, of course.
Honestly, knowing most dealerships, that isn't the case. They don't make a ton of money off riding gear, but truly do want you and your kids safe. Repeat customers are better than statistics. But still, parents often question what kids ATV riding gear is needed, especially after shelling out the cash for a machine. Let's go through everything, and you can decide for yourself what works best for you, your child and your budget.
Table of Contents
Don't even think of letting your child ride an ATV of any kind without a helmet. It is the number one, most-important piece of youth ATV riding gear they absolutely must have. This goes for riding in the passenger seats of your UTVs, too. I know that may come as a shock to some, but it's true. Where I live, you don't need to legally wear a helmet when in a UTV as long as you have a roll cage and a seat belt. I'll throw this at you – just because you have those things doesn't mean you don't need a helmet. Where we drive off road gets us into places and situations that are not like riding in a car. Just because you are in a UTV with a roll cage and a seat belt, that doesn't mean you, or your child won't hit your head on the cage, on the ground, or on something else coming into the machine. And if your child is on an ATV, it's simply a must. Things can happen and happen so fast, you just can't put it to risk.
Picking out a helmet is easy. We've talked about it quite a bit lately, too. Check out our picks for best youth helmets and see for yourself. The main thing is to get one that fits right and is comfortable, so your child gets into the habit of wearing it.
While there are plenty of great options to choose from, our current favorite is the 6D ATR-2Y. 6D actually received a grant from the NFL to research concussion prevention in helmet technology, and those findings have made their way into the 6D ATV helmet lineup with the brand's proprietary Omni-Directional Suspension Technology.
While a helmet is obvious, you shouldn't forget a pair of goggles when shopping for kids ATV riding gear. Googles will keep dust and dirt out of the child's eyes, and make it so they have clear, unobstructed vision while riding. Much like wearing a helmet, it'll become second nature to your child, especially if they see mom and dad doing it too. If they have good-looking goggles that fit right and are stylish, they're going to want to use them. Trust me, I speak from experience.
A great option is the Fox Youth Main Stray goggle, which features a UV protection coating, variable lens system that lets you use standard or injection molded lenses, triple layer face foam, and strap-mounted third tear off post.
Don't forget about footwear when looking at youth ATV riding gear for your child. I saw a kid riding around his yard on a small ATV, going as fast as he could go. He was wearing a helmet, so I give him props for that, but he had on flip-flops! Sandals, flips flops and yes, even sneakers just don't cut it for footwear when your kid is on an ATV. Let's discuss the minimums for footwear. You and your child, when riding an ATV, need to have stiff boots of some kind that go over the ankle. I'm not going to come right out and say that your child needs to have full-blown riding boots. But it helps. It does help.
When I was 17 years old, I was riding my ATV down a trail. I had on the full set of Fox Racing gear, with a Bell Helmet and a pair of MX-style riding boots. I hit a bump and my foot came off the peg and out past the nerf bars I had on. The tire edge caught my boot and pulled me off the machine. Judging from the marks across the back of the boot, my foot went under the tires as I went for a hasty face-to-dirt introduction to the ground. If I'd been wearing tennis shoes, I'd have broken my foot for sure.
A great boot option is the AlpineStars Youth Tech 7S, which is loaded with protection. This boot features a contoured shin plate for impact and abrasion resistance, and one-piece injected dual compound foot shell with co-injected toe protector and integrated steel shank. It's also built specifically for small-framed riders.
Today's ATVs are safer than they've ever been, but there is still an inherit risk. That is why your child needs riding gear that will protect him/her. These AlpineStars
Gloves are also an important bit of kids ATV riding gear. They help your child hold on to the machine better, for better control. Gloves should fit snuggly, so like other pieces of safety gear, don't buy a bigger size so your child "grows into it." That actually reduces the control they'll have, and adds to the risk of blisters. My son spent hours doing laps around the yard on a Honda TRX 90, and he eventually worked up some blisters, but he was happy about it.
These Fox Youth Dirtpaw gloves feature a compression-molded neoprene cuff with hook and loop closure, padded single layer Clarino palm that is touchscreen sensitive, durable nylon on the top of the hand with direct inject TPR knuckle coverage, and silicone print at finger tips for lever grip.
I'm not going to say that your child must have on a pair of riding pants or a jersey. But long pants and a long-sleeve shirt are a must. Jerseys are nice, though, because they are designed for airflow, yet offer the protection your child needs while riding. Long sleeved shirts just help add a layer to keep your child from cuts and scratches that can occur. Jerseys don't cost much at all and look good, too, so it helps keep your child enthusiastic about wearing them.
Pants are the same thing. When I was a kid, I wore jeans to ride often, but noticed as I got older and spent more time riding, that I was sweating a lot, and chaffing. That ain't fun! Riding pants help with that, and add some padding in the hips and tailbone areas. They vent in all the right places, too.
The O'Neal Element jersey/pant combo is an option worth considering. The graphics are sublimated, so they will keep looking sharp after multiple washings. The shirt offers sewn-in elbow padding and is made of breathable, moisture-wicking fabrics. The pants are made of lightweight denier fabric for added protection and offer wear-resistant panels on the seat, inside of legs, and knees.
Recent Updates
March 23, 2021: Updated product recommendations and added more items to our list.
We are committed to finding, researching, and recommending the best products. We earn commissions from purchases you make using the retail links in our product reviews. Learn more about how this works. Derrek Sigler
Derrek's love for all things ATV started when he was a mere 11 years old, growing up on his family farm. His mom gave him and his sister a choice - get a horse, or a three-wheeler. The sister wanted the horse, and Derrek wanted the ATV. Luckily he won out, and was soon burning up the trails on a Yamaha Tri-Moto 200. By the time he was 14, he had saved enough of his own money by working on the farm and in his folks restaurant to buy a new 4-wheeler. That happened the day he and his mom were driving past the dealership and saw 1987 Banshee. His mom had no idea what he was buying, and he never looked back. He's been riding ever since, and been writing professionally for many years. He has ridden all over North America and been behind the controls of just about every machine out there. And yes, he still has his 1987 Yamaha Banshee.
More by Derrek Sigler
Published November 19th, 2018 11:31 AM
Top Brands
Popular Articles