269 Views
Best Polaris Ranger Turn Signal Kit Options
April 29th, 2021 9:40 PM
Share
We're committed to finding, researching, and recommending the best products. We earn commissions from purchases you make using links in our articles. Learn more here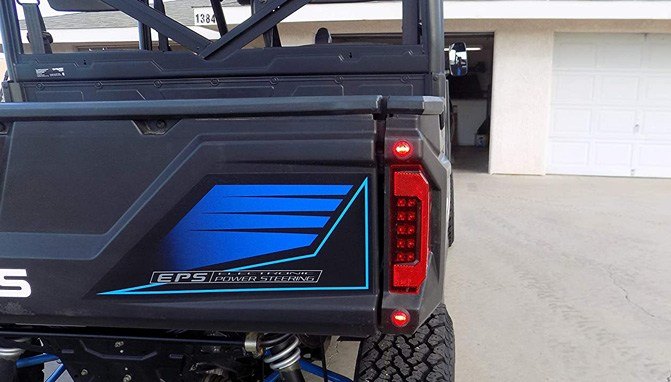 Get your Ranger ready for the road
A Polaris Ranger turn signal kit is an essential bit of equipment if you ever plan to take your Ranger side-by-side out on public roads.
Road use probably isn't the first thing that comes to mind when you think of the Polaris Ranger – or any UTV, for that matter – but the fact is there are plenty of reasons why you might occasionally have to take your Ranger out into the street. In fact, many states across the US have their own individual laws governing UTV road use, and while laws vary, even jurisdiction-to-jurisdiction, there's one thing many of them share in common: where road use is permitted, you must have working turn signals and a horn installed. That poses something of a problem, because by-and-large, manufacturers don't equip their UTVs with those items from the factory. And, quite frankly, manufacturers would rather you keep your ATVs and UTVs off of paved surfaces.
To help you get your Polaris side-by-side outfitted for occasional road use, we've compiled a list of our picks of the best Polaris Ranger turn signal kit options currently on the market. They range from universal, one-size-fits-all kits to special model-specific options designed for a more seamless integration.
1. Editor's Choice: SuperATV Turn Signal Kit For Polaris Ranger
Looking for something a bit more premium and well-integrated? Leave it to SuperATV. The manufacturer offers Polaris Ranger turn signal kit options specifically tailored to the XP 900, XP 1000, and other popular Ranger models, which deliver a cleaner-looking install with an honest-to-goodness traditional turn indicator stalk, unlike the individual-side toggle switches included with most kits. An integrated horn button on the stalk leaves maximum dash real estate open for other buttons and switches for things like off-road lights, and because each kit is custom-designed for a particular model, installation couldn't be any easier – just plug and play.
2. VLK Universal LED Turn Signal Kit With Horn
An affordable, highly adaptable universal kit with OEM-quality looks, the VLK Universal LED Turn Signal Kit comes with everything you need to add turn indicators and a horn to your Polaris, at an attractive price. That includes a set of small, round LED lights – eight in all – for installation on the front and back of your ride, and all necessary wiring, fuses, and relays. It even includes a license plate kit, for states like Michigan that require you to register your UTV with the Secretary of State before you can take it on the road, making this something of an all-in-one Polaris Ranger turn signal kit.
3. MCSAdventures Plug and Play Street Legal Turn Signal Kit
MCSAdventures has a host of UTV turn signal kits available, so it's pretty easy to find the one that fits your vehicle. The one pictured above fits 2018+ Polaris Ranger 1000 models, as well as a number of Polaris RZRs. It plugs easily into the four-pin left and right tail lights using the T-harness (make sure you check that your tail lights use the four-pin connecters before buying). The system uses your brake lights as rear signals.
Also included in this kit are a pigtail for a license plate light (light not included), metal column-mounted switch, automotive-style horn, green panel mount LED indicator (wired into the switch harness), and front turn signals.
Consumer reviews are generally quite strong on MCSAdventures products and this one is no exception. Almost everybody notes that installation is simple and instructions are clear.
4. Maverick Advantage LED Turn Signal Light Kit with Horn
If it's a traditional turn indicator stalk you're after, you should also consider this universal turn signal and horn kit from Maverick Advantage. It features the same control setup, with a horn button integrated into the end of the stalk, and ships with bright, high-visibility LED indicators that are easy to see, day or night. It's also been designed specially to minimize the amount of drilling you have to do to your rig, leaving minimum evidence behind should you ever decide to remove the kit, and best of all, it allows you to save a bit of money over some of the other well-integrated, premium Polaris Ranger turn signal kit options out there.
5. XTC Power Products Turn Signal System
The most expensive, most premium option on our list, the XTC Power Products Turn Signal System doesn't offer the same traditional turn indicator stalk as the Maverick and SuperATV kits listed above. What it offers instead is some very clean, factory-looking laser-etched switchgear and OEM-quality wiring and connectors, with a neat, tidy installation. Central to this Polaris Ranger turn signal kit is a simple, easy-to-mount black box with most of the essential electronics, which just looks nicer and cleaner than comparable systems, and leaves the electronics less exposed to the elements – wonderful for peace-of-mind.
Recent Updates
April 29, 2021: Replaced the Advance MCS Electronics kit with the MCSAdventures version. The kit is the same, but the company rebranded. Added a new FAQ.
We are committed to finding, researching, and recommending the best products. We earn commissions from purchases you make using the retail links in our product reviews. Learn more about how this works.
Is a Polaris Ranger turn signal kit hard to install?
If you are at all comfortable with your UTV's electrical system, installing a turn signal kit is easy work. Most of it is plug and play, but you will have to run some wires and find a way to secure them. Your dealer will certainly be willing to take your money to help, but we think this is one job that can be done at home.
Why do you need a UTV turn signal kit?
If you just take your Ranger or other UTV off-road, you don't need a turn signal kit. But many communities allow off-road vehicles on public roads so they can get from trail to trail without having to load up a tow vehicle. If you are going to be driving your UTV on paved roads, other vehicles need to know where you are going and a turn signal kit provides that information.
Do you drive a UTV differently on paved roads?
In a word...yes. With their off-road specific tires and suspensions, UTVs behave differently on paved streets. Traction isn't nearly as good and if you aren't careful you can get yourself in trouble in a hurry. It's best to drive slowly and carefully until you can get back to the off-road environments where these vehicles shine. Aaron Brzozowski
Aaron is a freelance writer, videographer and car enthusiast based out of the Detroit area. He has a special affinity for the Porsche 944 series, and once owned a Volvo 240 sedan with a Weber carb in place of the factory EFI system. His work has appeared on AutoGuide, GM Authority, /Drive, and VW Vortex, among other sites.
More by Aaron Brzozowski
Published December 7th, 2020 2:46 PM
Top Brands
Popular Articles