198 Views
Best Can Am Commander Doors
July 23rd, 2021 4:41 PM
Share
We're committed to finding, researching, and recommending the best products. We earn commissions from purchases you make using links in our articles. Learn more here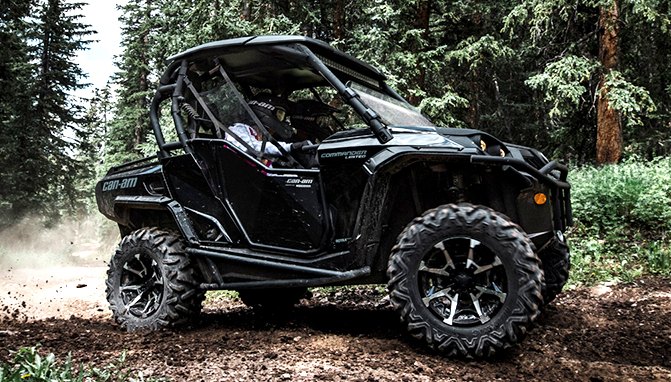 Get better containment for the cab of your Commander with these doors.
If you find yourself feeling a bit too exposed in your Can Am Commander, even after fitting a windshield and a roof, it's time to consider installing a set of Can Am Commander doors.
Look, the feeling of tearing through the woods in an open cabin, the wind in your hair and sun on your skin, is great. But it can also be hazardous. Lots of debris – twigs, acorns, pebbles, dirt, dust – gets kicked up every time you drive, and if you like navigating tight, challenging trails with trees or boulders on either side, side impacts can be a concern. A set of doors is a crucial part of any complete solution. Thankfully, the aftermarket is chock full of great Can Am Commander doors – both hard doors, which are typically made from steel, aluminum, or both, and can help keep you safe from side impacts, and Can Am Commander soft doors, which are often made of fabric with vinyl windows, and do a good job keeping rain, dust, and other debris at bay.
Here, we've rounded up a list of the best Can Am Commander Doors on the market today, with options to fit most any budget and required level of protection.
1. Editor's Choice: SuperATV Black Aluminum Half-Doors
One of our top go-to brands for all things ATV and UTV, SuperATV makes these excellent Can Am Commander doors, compatible with Commander 800 and 1000 models from 2011 through 2020. They're a perfect fit, precisely contoured to the Commander's factory bodywork, and they ship pre-assembled, with multi-bend aluminum plating over a strong, rigid 1¼"-diameter tubular aluminum frame, and a durable black powdercoat to fight corrosion and keep them looking good season after season. Like most hard Can Am Commander doors on the market, they feature a rear-hinged "suicide door" design, which helps ease entry and exit, and for the money, they boast some of the best design and build quality around. The bad news? If you've got a 4-door Can Am Commander Max, you'll have to look elsewhere; SuperATV doesn't appear to have a full door kit for the 4-door Commander.
2. Best Value: Dirt Specialties Can Am Commander Suicide Doors
If you're looking for a more modestly priced set of Can Am Commander doors, Dirt Specialties is ready for you, with these rear-hinged "suicide"-style doors. Unlike the Can Am Commander doors offered by SuperATV, these feature a steel frame, utilizing tough tubular steel with a .090" wall thickness, still managing to keep the weight penalty in-check with a set of aluminum skins. The skins do a great job of keeping debris out of the cabin, and they're full replaceable in the event they ever get too damaged. These Can Am Commander full doors are finished off with a long-lasting textured black powdercoat for longevity and great looks, and perhaps best of all, Dirt Specialties even offers a set for 4-door Commander Max models.
3. Best Soft Doors: Over Armour Offroad Commander Soft Doors with Rear Window
Why live with the added weight of a set of hard doors when a pair of Can Am Commander soft doors will do? This kit from Over Armour Offroad includes a pair of soft doors for 2-door Commander models from 2011 through at least 2019, and as an added bonus, a soft rear window with a black fabric surround. They are, of course, not rigid like a set of steel or aluminum doors, but for those who prefer to keep their side-by-sides as light as possible, these Can Am Commander soft doors are the perfect solution to keep dirt, water, and other debris out of the cabin, stretching entirely over each entry with clear, flexible windows for both driver and passenger. The whole kit weighs in at less than 10 pounds, making it lighter than even a single average metal Commander door.
4. Budget Pick: ECOTRIC Dual-Stage Can Am Commander Doors
The most affordable option on this list, these ECOTRIC Can Am Commander full doors are well-built and full featured despite the diminutive price tag, with steel frames and aluminum skins combining to provide an optimized balance between strength and light weight. That makes them just as well-suited to guarding against side impacts as they are deflecting debris, and a tough black powdercoat finish not only looks great but helps to defend against rust and corrosion. Installation is simple, with fine adjustability provided by a simple three-point mounting system, and the doors feature automotive-style latches that aren't prone to popping open unexpectedly on the trail. Sadly, ECOTRIC doesn't appear to offer an option for 4-door Max models, but for 2-door owners on a budget, these Can Am Commander full doors are a great pick.
5. Premium Option: Dragonfire Racing Hiboy Can Am Commander Doors
For the Can Am Commander owner who isn't averse to paying a bit more to have the very best, there are these Dragonfire Racing Hiboy Can Am Commander doors. Made from steel rather than aluminum, these doors offer strong, rigid protection against the harshest side impacts your Can Am is liable to encounter, and while they're heavier for it, they make up for their comparative heft with a litany of premium features not often seen on aftermarket side-by-side doors – things like rubberized tube frame backings and striker pins for reduced trail noise, and a built-in 2-stage locking mechanism. They're powdercoated in black by default, but Dragonfire Racing also offers OEM matching graphics packages for these Hiboy Can Am Commander doors separately. Best of all, door sets are available for both 2- and 4-door Commander models, and both sets are made right in the USA.
How Do You Install Can Am Commander Doors?
Installation of any Can Am Commander doors is going to vary – either slightly or significantly – depending on the manufacturer, but probably the most involved portion of any installation procedure involves the removal of various factory pieces. Be sure to check with the included installation instructions to determine exactly what needs removing; this is just a rough guide, and some steps of the procedure might be unnecessary depending on your doors. On the other hand, 4-seat Commander Max models may require extra steps.
Also, note that this applies only to hard doors – not Can Am Commander soft doors.
To start, after placing the Commander in Park on level ground and ensuring that the key is removed from the ignition, remove the factory seats by reaching between the seat back and bottom, pulling on the bar there to release the rear seat retainers from the floor. As you do this, lean the seat forward, and then unclip the front seat retainers by pulling the whole seat back and up.
Next, remove the factory window net by undoing all the fasteners. There are three T25 Torx bolts restraining the upper portion of the net, and a series of T30 bolts lower down: one toward the trailing edge of the door frame, one just below the lower seatbelt mounting tab, one in the sill just above the floor, and one that's hidden beneath the factory engine cover. That cover must be removed by popping a series of 7 plastic rivets and undoing another T30 bolt.
If you've made it this far, celebrate with your favorite adult beverage. Then get back to work. The factory shoulder bars must be removed, by undoing the two 13mm bolt/nut pairs at the bottom, as well as the two T30 Torx bolts at the top, and sliding off.
Now, a certain number of factory body panels will need to come off; refer to your installation guide for instructions on exactly which pieces require removal. At the very least, your rocker covers will likely need to be removed. On the bottom, they are retained by at least 4 plastic rivets, which are most easily removed by drilling the heads off using a 3/16" drill bit, while holding the head stationary with a pair of pliers. Up top, there are more fasteners; on 2-seat Commanders, there are two T30 Torx bolts, one T20, and a pair of poppable plastic rivets. After all fasteners are removed, carefully pry the rocker down and away from the vehicle.
The front quarter panels will need to be removed, as well, in order to install the door strikers. They are held on by several fasteners – Torx bolts on newer model years, and Allen-head bolts on older ones – and while most of these should be exposed already, some may be hidden. On the passenger's side, for instance, the glove box will need to come out before three fasteners on the inside of the cabin can be accessed. The glove box removes easily; simply pinch on the black top fascia panel nestled under the dash and carefully pry it out, exposing the pair of fasteners holding the glove box in place. After those are removed, you can simply slide the glovebox out.
This writeup is by no means complete, but it covers some of the more difficult parts of installing a pair of Can Am Commander doors. The most important bit of advice we can give take your time, keep your fasteners organized by where they were installed, and refer to your installation manual for details regarding your door design.
Are Soft or Hard Doors Better for The Can Am Commander?
Whether a set of Can Am Commander soft doors are suitable for you or you'd be better off with hard doors is mostly a matter of what kind of driving you do in your Commander, and where. Soft doors are much lighter, and they cover the entire door frame of the Can Am Commander, not just the bottom half. This makes them better suited to guarding occupants from dirt, sand, rain, and other debris, and their low weight means you'll incur no significant weight penalty for having installed them. Every pound and ounce counts when you're trying to maximize your acceleration, braking, and cornering as much as possible.
Where heavier hard doors excel, however, is in side impact protection. Those tubular steel doors with the aluminum skins aren't going to do much to slow down, say, a speeding passenger vehicle, but they will offer superior protection against other trail hazards, like boulders, tree branches, and flying stones. They're also less likely to puncture, and they should do plenty to protect you against other off-roaders on bikes, ATVs, or UTVs, should you find yourself the victim of a trail mishap.
Additional Resources
Become an ATV insider. Get the latest news first by subscribing to our newsletter here.
We are committed to finding, researching, and recommending the best products. We earn commissions from purchases you make using the retail links in our product reviews. Learn more about how this works. Aaron Brzozowski
Aaron is a freelance writer, videographer and car enthusiast based out of the Detroit area. He has a special affinity for the Porsche 944 series, and once owned a Volvo 240 sedan with a Weber carb in place of the factory EFI system. His work has appeared on AutoGuide, GM Authority, /Drive, and VW Vortex, among other sites.
More by Aaron Brzozowski
Published July 23rd, 2021 4:41 PM
Top Brands
Popular Articles