4 Views
Best Can Am Commander Roof Options
May 21st, 2021 4:19 PM
Share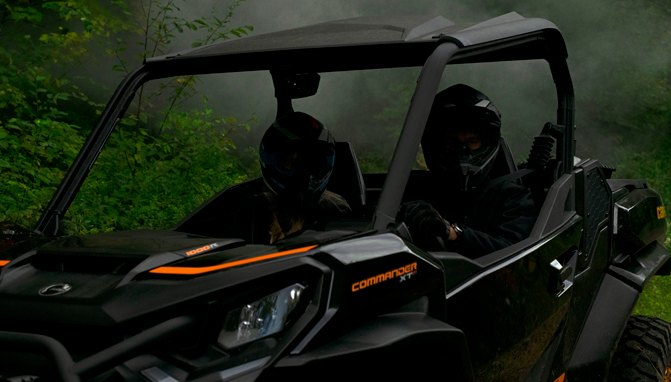 Keep the sun and rain off your shoulders with a roof for your Commander
Investing in a Can Am Commander roof is one of the smarter ways to spend money when accessorizing your BRP-branded rig. Riders in southern areas of our country can use them to keep the sun off themselves in their Can-Am's interior, while those of us in the north deploy the things to keep at bay whatever misery is currently falling out of the sky.
There are plenty of options, ranging from soft-surface construction ones which mimic a panoramic sunroof in luxury cars. Some are capable of bearing extra weight, making them good candidates for expanded storage; however, one needs to keep the distribution of that cargo in check lest they inadvertently create a dangerous center of gravity.
With that caveat out of the way, here are a selection the best Can Am Commander roof choices available today.
Table of Contents
1. Editor's Choice: SuperATV Can-Am Commander Dark-Tinted Roof
Remember when we mentioned earlier that some aftermarket roof units remind us of a snazzy panoramic sunroof in luxury cars and trucks? Well, here's one such example. Made from standard 1/4" thick dark-tinted polycarbonate, it is completely transparent yet apparently 250x stronger than glass. It will provide some relief from the sun without completely scuppering your view up and out of the machine. The seller says this hard top Can Am Commander roof is tough enough to handle low-hanging branches and high flying rooster tails without breaking. They also say it is molded to fit the contours of Commander's cage system so there aren't any untidy edges. As a bonus, it's made right here in America.
2. Can Am Commander Maverick Bimini Soft Roof
It would be foolish to look past a roof option from Can-Am itself. After all, who knows your Commander better than the people who built the thing? This is a soft top roof that stretched over the rig's cage like an umbrella. Designed primarily to keep the sun off riders who venture out into the dunes, it can be also used for a dose of weather protection if you get caught in a rain shower. The seller also points out it's handy for guarding against overhead obstacles and, in that, they have a point. The roof is made from water-repellent 600-denier solution-dyed polyester and features Can-Am branding.
3. Maier USA Roof for Can-Am Commander
Unlike a Can-Am Commander aluminum roof, this shelltop is made from a material called thermoplastic olefinic elastomer - TPO for short. In plain english, it is a proprietary high-impact polypropylene that does not degrade under solar UV radiation. Given the conditions most of us take machines like the Can-Am Commander, that's a very good thing. This particular roof is available in three different shades of black, but the seller mentions it is available in a wide array of colors and films upon request. Be sure to check your application very carefully as there are multiple complaints of the roof not fitting, which could very well be due to people simply seeing "Can-Am Commander" and ordering the thing without caring to look at the specific fitment.
4. Best Budget Option: Tusk Fabric Roof
When it comes to budget-friendly ATV and UTV accessories, the Tusk name carries some weight. From tires to winches, Tusk makes solid products at reasonable prices. This Tusk fabric Can Am Commander roof is no exception.
While you won't want to store anything on top of it, this fabric roof does a solid job of keeping you and your passenger safe from the sun and the rain. The top is made of UV-resistant, heavy-duty 1680 denier nylon and will install quickly on the stock roll cage. You can also pair it with the Tusk UTV rear window for even more protection while inside the cab.
5. Dirt Specialties Soft Top Roof / Shade Cover
If all you need is a quick (and cheap way) to duck out of the weather, this Can Am Commander roof option is certainly worth a look. Priced less than a meal at a good restaurant, it's telling that the seller has described this tarp-like construct as a sun shade right in the product title. It is made from puncture resistant nylon (which we take as a challenge around here), plus it is UV protected and water repellant. The roof installs in minutes, apparently, though your author will note that a full hour or two is technically still "minutes". One notable feature mentioned by a real-world customer? Zipper pockets for small items like maps.
Additional Resources
We are committed to finding, researching, and recommending the best products. We earn commissions from purchases you make using the retail links in our product reviews. Learn more about how this works.
What is the best material for a Can-Am Commander roof?
The answer to this question lies in the intended use of your Commander. Anyone regularly headed into the woods on their way to a duck blind should probably stay clear of a soft roof, since the opportunity does exist - no matter how slim - for a wayward tree branch to poke its way through the top. This explains why polycarbonates (read: hard plastic) are very popular, though your author is partial to the see-though unit listed near the beginning of this article.
Can I use my Can-Am Commander roof as storage space?
It is possible to do this; however, a note of caution must be injected into the conversation. First, make sure the roof is rated to hold extra weight. Soft tops generally aren't, save for ones designed to accept a few small items in their zippered pockets. As for robust hard plastic roof area that can bear more weight, make sure any extra cargo placed in that area is well distributed. Failure to do that could result in an off-kilter center of gravity, a trait that could cause handling problems or - at worst - cause your Commander to turn turtle.
Published May 21st, 2021 4:19 PM
Top Brands
Popular Articles