14 Views
Best Can-Am Defender Bumper Options
May 11th, 2021 5:43 PM
Share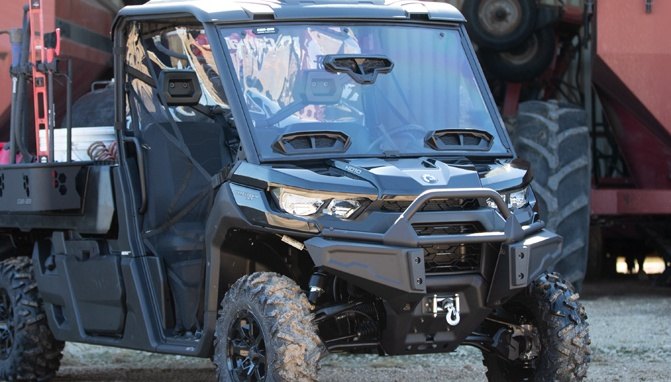 Add some protection to your Defender
If you're outfitting your Can-Am Defender for serious off-road duty, you should consider upgrading with a rugged aftermarket Can-Am Defender bumper.
A new Can-Am Defender bumper can help make your UTV more trail-ready in a couple of ways. For one thing, while the factory bumper in most cases does an adequate job of protecting the front of the vehicle from impacts that might otherwise compromise the radiator or bust out a headlight, it's far from the best protection you can get. Upgraded Defender bumpers are often designed to provide better, more comprehensive coverage for your side-by-side's most sensitive bits, or are manufactured using thicker tubing or higher-gauge steel for superior impact readiness.
For another thing, an aftermarket Can-Am Defender front bumper can expand your options when it comes to other upgrades like auxiliary lights and vehicle recovery winches. Many bumpers on the market ship with integrated LED lighting and pre-drilled recovery winch mounting holes that make your life easier by simplifying installation.
To help you lock down the right Can-Am Defender bumper for your ride, we've put together a list of all the best options on the market.
1. Editor's Choice: Wild Boar Can-Am Defender Front Bumper
Another heavy-duty thick-gauge sheet steel bumper from a respected brand, this Wild Boar bumper is laser-cut and CNC-formed from heavy-duty thick-gauge steel, with a tubular hoop and nearly full-width front-end coverage, just like the SuperATV option listed above. What sets it apart is its slightly more aggressive appearance, with a vented front skid piece and big stencil "WILD BOAR" branding, not to mention an available pair of auxiliary LED light pods that mount flush with the front face of the bumper for a clean, low-profile look. The bumper is reinforced and pre-drilled to accept winches from Warn, KFI, SuperATV, and other popular brands, giving you the option to move your recovery winch to the top of the bumper or leave it in the stock location, and the whole thing is finished with a durable black powder coat.
2. SuperATV Heavy Duty Sheet Metal Front Winch Bumper
A rugged, stylish Can-Am Defender bumper from a brand with plenty of cachet, the SuperATV Heavy Duty Sheet Metal front bumper fits a wide range of models from 2016 up, supporting HD5, HD8, and HD10 powerplants. Unlike most side-by-side bumpers you're liable to find, this SuperATV bumper is made from sheet steel, with a full 1/8" of thickness for extreme heavy-duty protection. The bumper extends underneath both headlights for better coverage than a factory bumper, and a tubular steel hoop provides extra protection for the radiator and front bodywork. What's more, this SuperATV Can-Am Defender front bumper ships with a pair of D-ring shackles to assist in vehicle recovery, and it's been designed to maximize the ease of installation for SuperATV's own 6" or 12" light bar and 3,500-pound winch.
3. BRP Can-Am Defender OEM Front Bumper
No list of the best Can-Am Defender bumper options would be complete without mentioning Can-Am's own OEM bumpers, which are among the most competitively priced units on the market. There are two OEM bumper versions available: an XT-style one, and an X MR version. Both are formed from sturdy 1.5" steel tubing with a heavy-duty black powder coat finish to resist abrasions and corrosion; the big difference is that the X MR bumper features an integrated winch plate for relocating the winch from the stock location to a position above the bumper. While the XT-style OEM bumper doesn't have that feature, it does boast a pair of light bar mounting holes, and no matter which one you opt for, Can-Am's OEM front bumpers are durable, relatively light, affordable options for off-road front-end protection.
4. Best Rear Bumper: SuperATV Heavy Duty Sheet Metal Rear Bumper
A great option for protecting the rear end of your Defender is this robust offering from SuperATV. This Can-Am Defender rear bumper is made of 1/8" steel plating and protects the entire width of the UTV. And while it might be the most rugged looking rear bumper we've seen, it is also fully featured in that it comes standard with a pair of super duty D shackles so you can easily tow a friend home or haul something out of the woods. It also comes with pre-cut holes for either a 12" light bar or a winch. We aren't sure what more you could need from a rear bumper.
5. KFI Can-Am Defender Rear Double-Tube Bumper
One of very few rear protection options available for the Can-Am Defender, this KFI Can-Am Defender bumper is about as simple as they come, consisting of a couple of straight steel tubes with a black powder coat finish. Sometimes, the simplest solutions are the best ones. The upsides of that simple construction is that installation is a breeze, and the price tag is modest, to say the least. Best of all, this bumper doesn't intrude on the Defender's bed tilt function, so long as you haven't installed a rear hitch. It's simple, it's inexpensive, and it keeps you from bashing your tailgate into a tree while you're backing up. What more can we say?
6. OEM Can-Am Defender Rear Bumper
If you prefer to get parts made by the same folks that make the UTV, this rear Can-Am Defender bumper is straight from the OEM. This bumper is constructed of 1.5" steel tubing treated with an anti-corrosion coating. It fits all single-row Defenders and every Defender MAX, save for the 6x6. While it will add some back end protection, it does look a little less stout than the aftermarket options we've looked at and it weighs in at just 8 pounds.
Recent Updates
May 11, 2021: SuperATV rear bumper and OEM rear bumper added to the list. Added FAQ.
Additional Resources
We are committed to finding, researching, and recommending the best products. We earn commissions from purchases you make using the retail links in our product reviews. Learn more about how this works.
Can I mount a winch on any aftermarket Can-Am Defender bumper?
While may bumpers are ready to accept a winch, this is not always the case. Before you buy a winch, do your research to make sure your bumper can handle it. Also, winches have different mounting bolt patterns, so even if your bumper can accommodate a winch, it might not be able to accept every winch.
What are the benefits of an aftermarket Can-Am Defender bumper?
Aftermarket Can-Am Defender bumpers can add some significant protection to both the front and rear of your Defender. Bumpers like the Wild Boar and SuperATV options we discussed earlier are more robust than factory options and can offer an extra layer of protection.
Published January 5th, 2021 4:20 PM
Top Brands
Popular Articles