1 View
Best Can-Am Commander Windshield Options
May 7th, 2021 4:29 PM
Share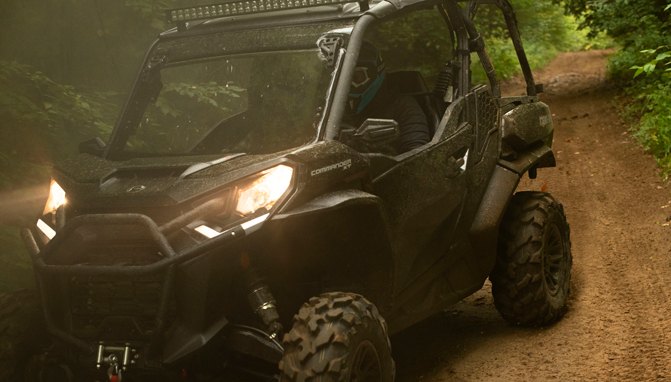 Protect yourself from wind, rain, bugs, and dirt with a quality windshield
If you ride in any part of the country that gets more than a few inches of rain per year, you'll appreciate a Can-Am Commander windshield. Sure, you've got a visored lid on your noggin or, at the very least, a set of goggles to go with that open-faced brain bucket. Both of these will technically keep mud and water out of your eyes, but it is still a trial and a half to mop your face every time you pass through a puddle.
Here's where a Can-Am Commander windshield can help. Putting a large sheet of durable glass or polycarbonate between you and the muck being fired at your machine by the tires on the rig ahead of you can make the difference between a good day on the trail and an irritating one. As with most accessories, there are a few options from which to choose, so we've selected a bunch to help you wade through the decision-making.
And, if you also elect to wade through a few puddles, these windshields will help keep you protected.
1. Editor's Choice: Can-Am OEM Full Poly Windshield
When looking for accessories, it's wise to see what the vehicle manufacturer has to offer. This Can-Am Commander windshield is the factory offering and boasts being designed for "optical clarity," which is surely just a fancy marketing term for "see-through." In a more quantifiable claim, it should have better impact resistance than acrylic windshields thanks to a durable polycarbonate construction. Quick-attach brackets mean a fast, easy, and tool-free installation - though as anyone who has ever tried to fit one of these things can tell you, it's a lot easier with an extra pair of hands. In other words, phone a friend and save yourself a needless headache. Removing the windshield is simple as undoing the four clips you laboriously installed.
2. Best Vented Windshield: Over Armour Aero-Vent Windshield
Straddling the difference between a Can-Am Commander half windshield (we'll profile one of those in a moment) and a full monty is this unit featuring an 'Aero-Vent' system. A series of vertical slots permit a decent amount of airflow, allowing fresh air into the cabin instead of slamming it all up and over the machine. This is especially handy if you've also installed some sort of wind deflector behind the driver and passenger. As a bonus, the vents on this windshield can be quickly and easily opened or closed one-handed. Designed to withstand the most rugged conditions, it is made of 1/4-inch hard-coated polycarbonate.
3. Best Fold-Down Windshield: A&S Audio Can-Am Commander Polycarbonate Fold Down Windshield
A third option is a Can-Am Commander folding windshield. These units purport to offer the best of both worlds, providing full length protection when you want it and a half measure when you don't. Here, the seller offers a 1/4-inch thick polycarbonate windshield complete with the standard quartet of stainless steel clamps for mounting plus a couple of rubber clamps for folding duties. Some customer have complained the seam on this windshield's split is directly in the driver's line of sight, but that surely is predicated on how tall the person is behind the wheel. Get yerself a cushion to sit on, shrimp.
4. Best Half Windshield: SuperATV Can-Am Commander Half Windshield (Dark Tint)
It might not seem like it would do a world of good, but a half windshield like this dark tinted version from SuperATV, will help deflect wind, bugs, and debris from blowing into your money maker. A half windshield has the added benefit of not ruining your view of the trail if and when it gets covered in mud or dirt. This windshield is made of ¼" polycarbonate that is shatter resistant and designed to handle whatever off-roaders can throw at it. The downside of the dark tinted version is that it is not scratch resistant. But you can opt for SuperATV's clear version if that is a concern.
5. Can-Am Commander Clear Full Windshield
This is a scratch resistant full windshield, one which features UV coating to help screen out the sun's rays while also guarding against infernal yellowing of the thing over time. Like all the others here, it is measured to be 1/4-inch thick, which is apparently the industry standard. The seller says it is easy to clean, though that'll surely depend on the type of gunk hurled at the thing. Sand particles from the dunes at Glamis are one thing, deep Mississippi mud is quite another. In any event, this thing can allegedly be installed in a bout 10 minutes without tools.
6. Can-Am Commander Rear Windshield Screen
We're including this accessory for reasons that will become clear once you read the FAQ section below. A rear window screen such as this item offers full rear mesh coverage and significantly reduces backdraft that can occur when a windshield is installed. This particular deflector mounts to the roll bar and is essentially a fine net which lives behind the heads of driver and passenger. With a stamped Can-Am logo (this is another product that comes straight from the OEM), it offers a decent visual upgrade as well. If you find it to be in the way while doing work, it can be easy removed and stuffed in a cargo compartment.
Additional Resources
We are committed to finding, researching, and recommending the best products. We earn commissions from purchases you make using the retail links in our product reviews. Learn more about how this works.
What is the purpose of a half windshield in a Can-Am Commander?
Seems counter-intuitive, right? After all, these types of windshields only rise far enough up the windshield to protect the better part of your chest. What's the point? Aerodymanics - that's what. Half windshields provide a bit of protection against debris and the dreaded wind-tunnel effect that occurs when there's no windshield at all. Yet, a halfer will still permit some airflow in the cab. Its design, especially one with a molded lip at the top, can deflect most dust and wind upwards and over the machine as you're cruising along.
Should I also buy a back windshield?
You cheapskate - of course you should. At minimum, invest in a mesh rear wind screen like the one we profiled above to reduce backdraft but retain a decent amount of airflow. These units generally go mounted on the roll bar for easy installation and removal. Solid rear windshield are also useful, though this author strongly recommends one featuring a vent of some sort in order to keep air flowing and exhaust the dust that will inevitably enter the cab. The rear windshields with a sliding window - like a pickup truck - are pretty neat and add a lot of value to your rig.
Is poly or glass better for a Can-Am Commander windshield?
Depends on the application. Poly (read: hard plastic) is much more prone to scratches but the chances of shattering the thing are quite low. In fact, if you've endured a big enough impact to wreck a plastic windshield, you will likely have much bigger problems that require your attention. A poly unit can also be repaired fairly cheaply if it gets hit by a fast-moving rock or other large debris. Of course, none of these accessories mean you can leave your helmet at home.
Published May 7th, 2021 11:01 AM
Top Brands
Popular Articles