131 Views
Best Can-Am Commander Shocks
September 1st, 2021 4:32 AM
Share
We're committed to finding, researching, and recommending the best products. We earn commissions from purchases you make using links in our articles. Learn more here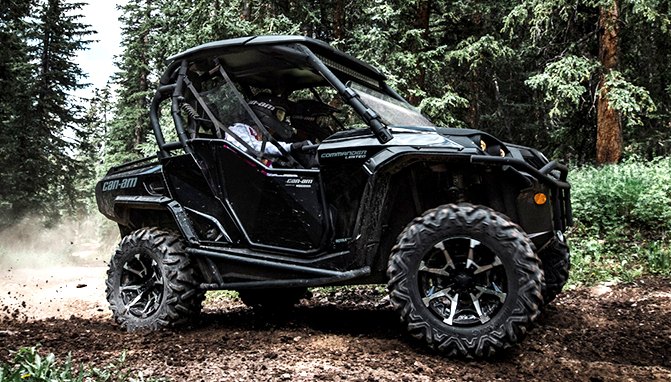 Restore or improve the handling of your Can-Am Commander with these great upgrades.
If your Commander has lost its sporty handling and plush ride, it might be time for some new Can-Am Commander Shocks.
When the crew at Can-Am brewed up the Commander all those years ago, they created the type of rig which managed to blend utility with a good dose of fun. It's gone on to spawn a variety of trims and versions, plus the tasty new variant unleashed on the off-road world this year.
For those of us still rocking an older model, there's a non-zero chance that if we're not in the market for a new set of Can-Am Commander shocks … we will be soon. Given the machine's mandate for providing an equal mix of sporty chops with work-ready capability, putting a decent amount of wear on OE suspension parts is not uncommon.
Here, we've selected a range of shocks to fit previous generations of Can-Am Commander (those of you with a new model in the shed will have to hit up the dealer catalog for now). While a host of them are from the same brand, they are of different capability levels. Choose your weapon appropriately.
1. Editor's Choice: ELKA Suspension Stage 3 Front & Rear Shocks for 2011-2018
Might as well start with the big guns. This so-called Stage 3 kit from a brand called ELKA (get used to that name) incorporates the type of tech generally reserved for the Maverick X3 or any number of road-going off-road pickup truck beasts from the factory such as the Raptor or ZR2. Here, we find custom built shocks and a rider-specific spring setup intended to match your exact application. This set features a single external compression adjustment knob which can control the low-speed compression damping, combined with an internal high-speed blow-off circuit to relieve peak pressure upon impacts. This achieves race-level performance in a package that is more accessible and easier to adjust than the confounding units which generally crop up on race-bred rigs. Plus, they look the business.
2. Best Budget Replacement: ELKA Suspension Stage 1 Front & Rear Shocks for 2011-2018
Staying within the same house but moving to the ground floor, we find these Stage 1 front and rear shocks for the Can-Am Commander. They are crafted from CNC-machined, aeronautical grade anodized billet aluminum parts and feature adjustment knobs just like the big boys. Far less extreme than the Stage 3 suspenders shown above, these things make for a great-looking replacement to stock springs and shocks. The seller brags that even if you just cruise along at moderate speed, these shocks will erase bumps and get rid of vibration so you and your mates can ride comfortably and in perfect control.
3. Best OEM Upgrade: Can-Am ATV Fox Shocks
Said to be engineered for the more aggressive riders, these shocks are peddled by Can-Am itself to offer increased bump absorption and better roll control. Painted in the brand's trademark yellow, they are said to provide a slightly firmer ride than standard kits but remain very useful for all-around driving. In other words, they sound like a good mix of factory squishiness and aftermarket fun. This is a full-service kit that includes four shocks and a quartet of springs. Looking ahead to the future, these shocks are rebuildable so you won't have to splash out the big bucks in a few years after they get hammered into oblivion by other drivers (not you, though - right?).
4. ELKA Suspension Stage 2 Front & Rear Shocks for 2011-2018
Back to the popular ELKA brand, we find these in-the-middle Stage 2 dampers which seek to straddle the line between their entry level shocks and the mighty top-of-range race-bred units. Showing up as a set of four, they might be simple in appearance and usage but are packed with value and engineering to offer an improved and versatile ride compared to stock. There are fewer adjustments than on the Stage 3 shocks, but the seller points out that these things feature an equal quality of components and careful craftsmanship as ELKA's higher models. While they are not optimized for competitive use, they are intended to greatly improve your UTV's handling and comfort. Pointing to their satisfied customer base, the company describes these as value-packed shocks and one of the best replacements you can buy for your UTV.
5. Waverspeed 2.5-inch Lift Kit for Can-Am Commander
Not technically a new shock option - not really shocks at all, actually - your author is including this as a product of consideration to upgrade your Can-Am Commander suspension. Pairing well with a better set of shocks is a lift kit, jacking the rig a couple of extra inches off the ground and providing just the type of clearance to make worrying about snagging that rock a thing of the past. Of course, make sure the rest of your Commander's suspension - stock or otherwise - is up to the task of dealing with this lift. Depending on your level of skill, this can be an fairly straightforward project that can be knocked out on an afternoon. Having said that, the company's lawyers made sure to note that 'professional installation is recommended' at the end of its advertisement. Nevertheless, all the installation hardware is included and instructions for the work is easily found by dropping a quick email to the company.
6. Can-Am Commander Fox Podium Shock Rebuild Seal Kit
If popping for an entirely new set of shocks simply isn't in the cards - maybe it's a lack of interest, funds, or something else - hitting up the interwebs for a rebuild kit isn't a bad idea. Shown here is a Can-Am Commander rebuild seal kit for a front and rear pair of Fox Podium 2.0-inch piggyback shocks generally found on these types of UTVs. The seal kit contains high temperature and high pressure oil seals, plus a supply of high temp o-rings for the piston. This should provide equal performance to stock while extending the unit's service interval/ While you have your shocks apart to do the rebuild, they strongly recommend installing high new schrader valves in the nitrogen end-cap eliminating the leak-prone rubber pellet system. Conveniently, the company also sells these gubbins.
How to install Can-Am Commander shocks?
Be sure you've all the required tools on hand before taking anything apart. Getting halfway through a job only to abandon the repair thanks to a lack of tools is one of life's more annoying developments. Follow whatever instructions come with your new Can-Am Commander shocks and - as always - call in the pros if you're uncomfortable or don't know what you're doing.
Can I install Can-Am Commander shocks alone?
Like hunting or fishing, it's always better to go in pairs. Since the UTV will be hoisted off the ground for this job, having a buddy on hand in case everything goes terribly awry is invaluable. If nothing else, they can help wrestle the new shocks into position and line up various parts to make installation go a whole lot more smoothly.
Additional Resources
Become an ATV insider. Get the latest news first by subscribing to our newsletter here.
We are committed to finding, researching, and recommending the best products. We earn commissions from purchases you make using the retail links in our product reviews. Learn more about how this works. Published September 1st, 2021 4:32 AM
Top Brands
Popular Articles