188 Views
Best Polaris RZR Oil Options
July 23rd, 2021 5:53 PM
Share
We're committed to finding, researching, and recommending the best products. We earn commissions from purchases you make using links in our articles. Learn more here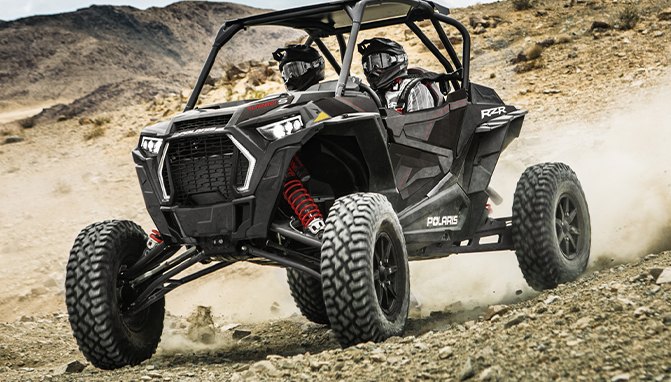 No matter which you choose, these oils keep your RZR engine protected.
Beyond twisting the key and flooring the pedal, it's important to know a thing or two about Polaris RZR oil.
The company invests a lot of time and money in engine development, helping to explain why they can endure the abuse off-roaders hurl in their general direction on a near-daily basis. Part of that investment is making sure its lubricants, which are critical to engine performance, are the right formula for your RZR's engine.
Proper engine oil for your ride often shows up in the form of a Polaris RZR oil change kit, the type which includes the supplies you'll need to complete the task. As you'd expect, one still needs to have the proper tools and an oil drain pan on hand for a successful round of vehicle maintenance. There are many different options available, some of which are listed below.
1. Editor's Choice: Polaris Full Synthetic Oil Change Kit
For the price of a good steak dinner, you're well on your way to buying a Polaris RZR oil change kit. This particular option is a full synthetic, formulated to work with the high demand's drivers of a RZR tend to ask of their machine. Apparently, the Polaris-engineered additive system has been formulated to reduce critical engine component wear, prevent oxidation in extreme temperatures, and prevent corrosion. The latter is no small matter given the tolerances of these high-revving engines. PS-4's unique 5W-50 viscosity range provides engine protection at both low and high ambient conditions, plus high internal engine temperatures. In other words, it'll still be working after you've revved the snot out of the thing for the umpteenth time while busting dunes at Glamis.
2. Best Oil Change Kit for Extreme RZR Use:
For those of you frequently busting through the muskeg or ripping at constant high speeds across dry lake beds, the extreme duty oil kit is worth a shot. With a high oxidization stability, expect a decently long oil life compared to el-cheapo alternatives. The R&D plowed into Polaris oils is said to be extensive, with a dozen or so people working in oil development alone, putting in over 75,000 hours on the dyno and nearly 2 million miles of field testing. Packed with the right amount of oil - assuming you've selected the correct engine size for your RZR - plus the correct filter, there's no excuse for putting off that overdue oil change any longer.
3. Best All-Inclusive Service Kit: Polaris RZR 1000 XP OEM Complete Service Kit
While this isn't strictly a Polaris RZR oil change kit, we're tossing it in at the end of our list for a good reason. Engine oil isn't the only fluid in your RZR that needs attention just in case you though ignoring other components of your rig was without consequence. This maintenance kit includes Demand Drive fluid for the front differential, specially formulated for Polaris all-terrain rigs, plus two quarts of of AGL, which provides all-season performance for the RZR's differentials and transmission. A couple of spark plugs are included for good measure. Also in the box is a bloody big conical air filter and the oil change kit that you clicked on this article for in the first place.
4. Polaris Extreme Duty 4 Cycle Full Synthetic Oil - 1 Gallon
Alright, fine; you're a hotshot with connections at the dealer who "accidentally" ordered too many oil filters, so you get them at a bargain price. Guess what, champ? You'll still need to front for the engine lubricant itself. Fortunately, we've got you covered with a full gallon of Polaris PS-4 Extreme Duty 4-cycle full synthetic. Engineering approved for Polaris 4-cycle engines, just like the other stuff on this list, the 10W-50 viscosity grade is recommended for use in ambient temperatures from a frigid 0F to a sweltering 130F. In other words, it'll work at your uncle's place in North Dakota just as well as it'll perform in scenic Furnace Creek. Formulated to resist thermal breakdown, it'll endure your heavy right foot since it also weathers the abuse thrown at it in race conditions by the pros who get paid to wheel these things in anger.
5. Polaris RZR XP 1000 OEM Oil Change Kit with Oil Filter
Made specifically for the screamingly quick RZR XP 1000 machines and their ilk, this kit is markedly similar to the one at the top of this list but for one detail: its reviews are off the charts. While there is feedback from only just under 100 real-world customers, they've all given this product - which seems to be a genuine Polaris article but shipped by a reseller - excellent reviews. In fact, there isn't a review under 4 stars, for an aggregate rating of 4.9 out of 5 stars. Truth be told, 93% of respondents gave the stuff 5 full stars. Comments range from 'exactly the right amount of oil' to the always-reassuring remark that the process required 'no guessing'. Close is only good in hand grenades and horseshoes; a complete oil change needs a bit of accuracy.
How much oil does a Polaris RZR take?
Bank on using the better part of 2 quarts for RZR machines with smaller engines, such as those with up to 800cc of displacement. Don't forget to change the oil filter while you're at the task, as well. Those of us with 900cc or 1000cc engines will need kits with 2.5 quarts of oil. Those who've been at this sport for a long time know it is a good idea to keep a couple of quarts on hand - one in the rig and one in the garage.
What kind of oil filter does a Polaris RZR use?
A big one. No, seriously - look for one with the part number PN 2540086 and you should be good to go. If you plan on cheaping out and getting a filter from somewhere other than an approved Polaris retailer, make sure the unit number for that off-brand filter cross-references with that seven-digit numeral from Polaris
Become an ATV insider. Get the latest news first by subscribing to our newsletter here.
We are committed to finding, researching, and recommending the best products. We earn commissions from purchases you make using the retail links in our product reviews. Learn more about how this works. Published July 23rd, 2021 5:53 PM
Top Brands
Popular Articles