1 View
Best ATV Helmets Money Can Buy
April 26th, 2021 4:21 PM
Share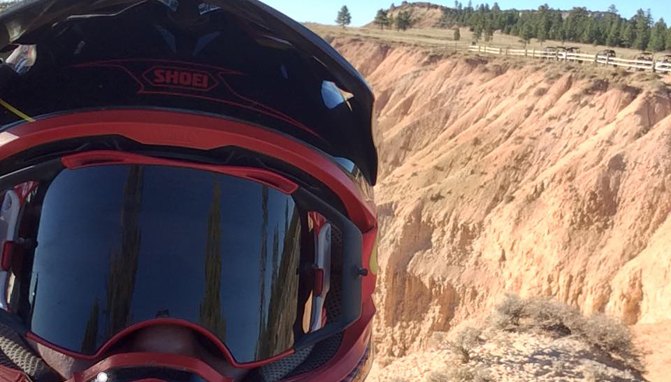 Protect your head and invest in a quality helmet
Investing in one of the best ATV helmets should be the first thing you do after you buy that new ATV. Yes, an inexpensive helmet can help to protect you, but in our experience a helmet is not an area you should try to save a few bucks.
I was young, screaming around the trails by my house on my Yamaha Banshee. I was sporting some sweet gear and the crown jewel was my Bell Helmets Moto 4 Ricky Johnson signature helmet – the coolest helmet ever (yes, I'm that old) and one of the best ATV helmets available at the time. I was riding along a trail that was converted rail line, so the ground was crushed rock. I didn't see the washout until it was too late.
The accident was pretty bad. I had been pulled under the machine in the air and it landed on me, slamming me both into the ground and crushing me under the machine. I was bloodied, mangled and with parts of me that weren't where they we supposed to be – BUT – I was alive. The helmet had done what it was supposed to do and took the brunt of the impacts to my head. My sweet skid lid was toast, but I lived to buy a new one.
Wear a helmet, plain and simple. It'll save your life. The helmets available today are so advanced that you really can't go wrong. Find one that fits right, is in your budget and have at it. Any helmet is better than no helmet, but here are the best ATV helmets money can buy.
1. Editor's Choice: Fly Racing Formula
Fly Racing spent several years working to develop what is one of the most advanced ATV helmets ever created. The Formula mates a high-tech carbon shell with an all new interior liner with multiple EPS systems and RHEON Energy Cells that absorb low speed and rotational impacts better than any previous helmet design. Every aspect of the helmet is designed to keep you safe when things go as bad as they can get during an accident.
2. Best Helmet Technology: 6D - ATR-2
The newest ATV helmet from 6D is one of the safest on the market with a new dual liner system that can actually be rebuilt by 6D in case of damage. It protects your head from multiple impacts from multiple angles, meaning that all the weird stuff that can happen during an accident won't end up doing serious damage to your noodle. The outer shell is made from a new tri-composite material that increases the integrity of the shell while working to do less damage to your other bones in the event of an accident.
3. Best Adventure Helmet: AGV AX-9
Italian brand AGV is at the forefront of helmet technology and its latest model is the AGV AX09, which uses a Carbon+Aramid+Glass fiber shell to keep this adventure helmet incredibly light. The AX-9 also boasts outstanding ventilation, thanks to new extractors and a new adjustable chin guard port to help direct air flow to keep you cool.
Arai has been around for a long time and makes some of the best ATV helmets, not to mention among the most comfortable, money can buy. The latest one, the VX-Pro 4, has more venting than any previous model. Many pro motocrossers trust Arai.
Shoei is well known for outstanding protection that is lightweight, well-vented and comfortable. The VFX-EVO is no exception and that's why it made our list of the best ATV helmets. What sets the VFX-EVO apart from anything Shoei has done before is its exclusive Motion Energy Distribution System (M.E.D.S.), which is designed to reduce rotational acceleration energy to the head during a crash.
Beyond keeping you safe, the VFX-EVO also keeps you comfortable with 16 intake and exhaust vents to keep you cool on hot ride days. Other features include the new V-470 visor that seamlessly connects to the shell, multi-density EPS liner (including on the chin bar), EQRS quick release system, and both SNELL 2015 and DOT FMVSS 218 certification.
The latest Bell Helmet, the Moto-9 Flex, is a great-fitting, lightweight masterpiece of safety gear technology. A carbon fiber matrix shell reduces weight and offers outstanding protection. It also is built with a three-layer impact liner to "more comprehensively disperse impact energy and works to reduce rotational energy transfer" during a crash.
Troy lee started off painting the helmets of the stars back in the 1980s. He went on to design his own line of gear and produce some of the best ATV helmets available. The fact that each lid is decked in an original TLD paint job ups the cool factor. The SE4 is available with three different shells to fit different budgets: carbon, composite, and polyacrylite.
Fox Racing, a storied brand of moto gear, started making helmets that matched its legendary gear in both style and quality. Many riders swear by them for fit and protection and the V3 looks like a winner.
Created by the same doctor that developed the neck brace that has become standard equipment for motocrossers, Leatt Helmets have tons of protection in a package that weighs less than 4 pounds!
Just 1 makes some very interesting gear that has been gaining some attention as of late for fit and function. The J12 helmet is made from a carbon composite outer shell and is designed to function perfectly with any neck brace available today. This makes these helmets very popular with riders who are looking for a helmet that fits their brace, something that some helmets just won't do.
DOT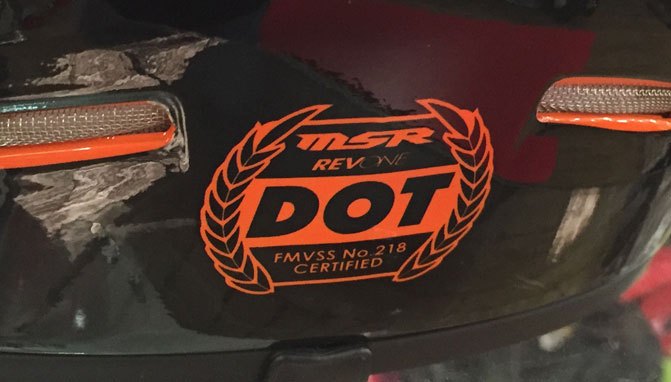 This is the most common certification on North American helmets and it represents the Department of Transportation's standard of FMVSS 218. This is actually the Federal Motor Vehicle Safety Standard #218, which is a set of guidelines for On-Road use helmets in the United States.
In order for a helmet manufacturer to be able to legitimately attach the DOT logo to its helmet, the helmet must be tested. This does not mean an unlucky employee can just run outside, put on a helmet and run headfirst into a brick wall. Rather, the company must send each and every version of a helmet it sells to a certified testing facility. You have to trust that the company has done its due diligence before permanently attaching the logo.
To keep helmet manufacturers in check, the National Highway Traffic Safety Administration (NHTSA) will randomly select versions of helmets and test them for compliance. A fee ranging in dollar amounts up to $5000 per helmet not in compliance is possible for infractions to the guidelines.
Testing guidelines include impact resistance, penetration resistance, and retention system effectiveness. Another test involved how actual vision you have while wearing the helmet. The latest standard is no less than 105-degree peripheral vision left or right from the center line (roughly the bridge of your nose) of the helmet. The NHTSA will also check to make sure that things like snaps or buttons (like those holding a visor on a dirt bike helmet) do not protrude off the surface more than 5mm.
So how does the NHTSA really keep the imposters from selling helmets that have not met DOT standards? In an effort to make it more difficult (anything can be duplicated as you well know) and easily recognized, the DOT label displayed on the back of a helmet must now include, in order, the following information:
Manufacturer's name
Model number or name
"DOT" below the manufacturer's name
"FMVSS 218" centered below DOT
The word "Certified" below FMVSS 218
You'd be wise to look for these details before you buy a new helmet, as your life could depend on it.
SNELL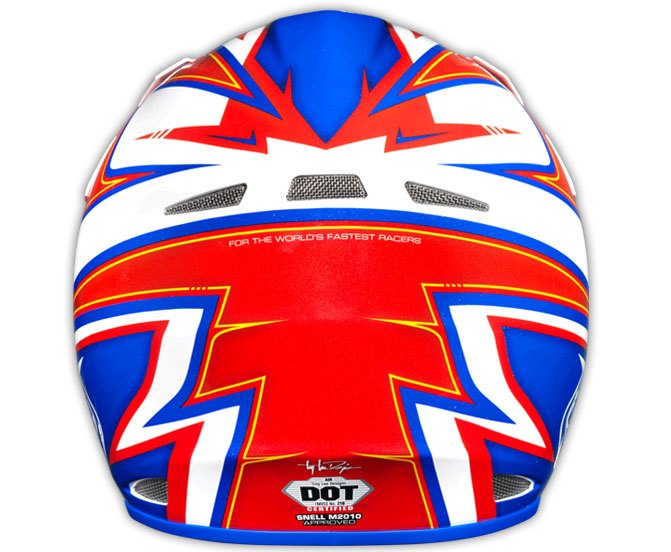 This logo represents the Snell Memorial Foundation M2010 helmet standard. This is a non-profit organization that was formed in 1957. Dedicated to the continuing improvement and overall helmet safety, SNELL steps out to help helmet manufacturers in the actual prototype testing of their products for the market. If a manufacturer's helmet passes the testing according to SNELL M2010, it can then label the helmet SNELL certified. These same developmental build qualities must remain unaltered during production to retain certification. The testing is very similar in nature to the DOT testing with little variation.
Unlike DOT certification, SNELL certification is not a mandatory and is in no way required by federal government agencies. This testing is totally voluntary extra testing for the manufacturer of the protective brain bucket, but as we have seen at some competitive events, the promoter or organizer may require that your helmet has the additional certification to be considered legal for its event. All SNELL certified helmets must undergo random testing along the life of the individual model to keep the certification and keep the maker of the helmet honest.
If you run into a store selling cool looking helmets and want to know just what the application for which they are certified for here is the Snell I.D. labels code key:
M = Motorcycle
SA = Special Application
SAH = Special Application, Frontal Head Restraint System
K = Karting
CMR = Children's Motorsports Restricted
CMS = Children's Motorsports Standard
ECE 22.05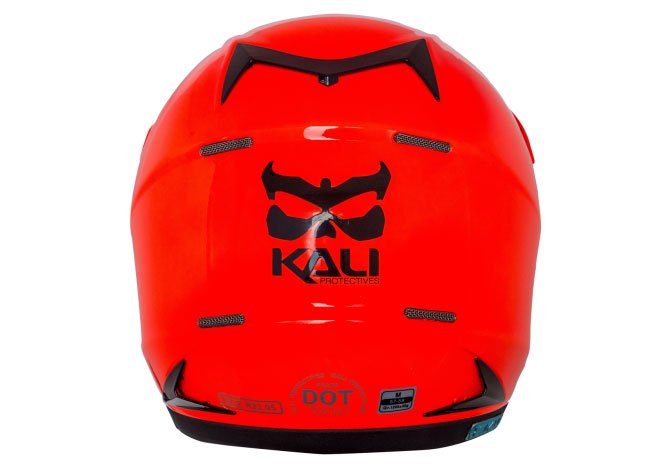 ECE stands for Economic Commission for Europe. This standard was created in a United Nations agreement in 1958 and is accepted in 47 countries. The 22.05 numerical designations reference the specific regulation that the standards for testing are described in.
This ECE standard is similar to the DOT standard in several ways, including the peripheral vision through an arc of 105 degrees from the helmet midline. Other similarities include environmental conditioning testing and labeling requirements.
One difference in ECE certification is that puncture testing (typically performed to gain certification through DOT testing) is replaced by deformation testing, which assesses the rigidity of the shell of the helmet by measuring the deformation of the helmet shell when progressively more load is applied up to 141.6 lbs.
ECE certification also requires batch sampling when production begins. The submission of up to 50 sample helmets and visors must be sent to a designated laboratory that is working for the government and that uses ECE standards set in place under the United Nations agreement. This is designed to assure verification of quality control during ongoing production.
What To Look For In An ATV Helmet
Getting your head protected can be an expensive task, but you must also realize that genuine insurance may not be cheap. I am not saying that every helmet that bears a $500 price tag is going to save your life, but I would be willing to bet it could be a lot better than the $89 alternative.
Here is what we look for when choosing a helmet for off road riding:
A helmet needs to have at least a legit DOT certification with all metrics listed above on the decal or I will set it back down and walk away. If the helmet carries DOT and ECE, then you will most likely get the best possible protection. Remember that the SNELL rating is an optional test and some helmets may not carry this designation.
The next item has to be comfort. If a helmet in your price range is uncomfortable, then you must look a little more or spend more. Try the helmet on before using it. The helmet should sit comfortably on your head with the top of the helmet's open visor just above your eyebrows. A helmet that fits well will not go on easy but will be more comfortable once in place. Helmets will break in a bit, giving more space as you wear it. Be sure check to see if the helmet moves or your fingers fit easily between your head and the helmet. If so, you'll likely need a smaller size. The helmet should fit snug around your head and face with no pressure points. Some helmets offer different size cheek pads to lessen or heighten the snugness.
Be realistic in your expectations of the helmet you choose. Even though it may cost more now, one day you may be very grateful to have it if you walk away from a crash.
Recent Updates
April 26, 2021: Added the AGV AX-9 adventure helmet to the list.
March 12, 2021: Added Shoei VFX-EVO and AGV AX-9 helmets to the list. Added information on helmet certification.
We are committed to finding, researching, and recommending the best products. We earn commissions from purchases you make using the retail links in our product reviews. Learn more about how this works.
What is the best ATV helmet?
Helmets are constantly evolving and what was the best helmet a couple of years ago has been eclipsed by new innovations. One of the big things going on with the current crop of ATV and off-road helmets revolved around making them better at absorbing impacts from multiple directions. If you think about how a helmet takes a hit, the impact occurs and the force gets transmitted into the EPS foam liner. That initial impact is spread through the foam, but that immediately diminishes the helmet's ability to absorb additional impacts. What does that do for your head? Well, it can lead to a concussion. The latest developments allow the helmet to take multiple hits from multiple directions, which is what happens during most accidents. The newest helmets are so good at doing this that the NFL and other sports where helmets are worn are now looking at ATV and motocross helmet manufacturers for developing safer helmets for other sports.
How should an ATV helmet fit?
One of the big considerations when deciding how to choose an ATV helmet is fit. Find your size by measuring the circumference of your head one-inch above your eyebrows and around the largest part of your skull. Once you get that number, go to the sizing charts for the specific helmet you're looking at buying. Many helmet manufacturers use a standard size similar to a hat size. Find your size range and and determine which ATV helmet size you need. The helmet should fit snug, but not hurt. You should not be able to feel the helmet slide around or wiggle when you move your head.
Can I use a motorcycle helmet on an ATV?
By all means, you can definitely use a motorcycle helmet while riding an ATV. There are several styles of ATV helmets to choose from. The most common is the motocross full-face helmet. These have a chin bar that comes across the front of your face to protect it from impacts. Open face helmets cover the rear of the head, but do not provide any level of protection for the face area. There are also full-face helmets designed more for street motorcycle use, although they have found popularity with UTV drivers.
How much does an ATV helmet cost?
When it comes to deciding how to choose an ATV helmet, you don't have to spend a fortune. There are many ATV helmets that fill any budget. However, there is an old saying – if you have a $10 head, wear a $10 helmet. The more you spend, the more protection and ventilation you have, usually with a noticeable weight savings as well, as higher-end ATV helmets are made from space-age materials like Kevlar and Carbon Fiber. Set your budget when choosing an ATV helmet and find the right one. The same applies for kids' helmets.
Can I buy a used helmet and save money?
Never, ever buy a used ATV helmet. Helmets, regardless of how much they cost, are designed for one impact. The foam material inside the shell is designed to crush and disperse that impact, and it only works once. But that one time is enough to save your life. You can never be 100% sure that a used helmet has never been involved in an incident, so don't risk it to save a few bucks. And if you have an accident, have your helmet inspected before you use it again, and replace as needed.
Do I always need to wear an ATV helmet?
Going through all the trouble of figuring our how to choose an ATV helmet is worthless if you don't actually wear it. Put a helmet on every time you ride, even for short rides where you think you'll be fine. It is then when you're most likely to have an accident. Always wear a helmet!
Published May 31st, 2019 2:52 PM
Top Brands
Popular Articles