103 Views
Best UTV Ramps Money Can Buy
October 26th, 2021 7:41 PM
Share
We're committed to finding, researching, and recommending the best products. We earn commissions from purchases you make using links in our articles. Learn more here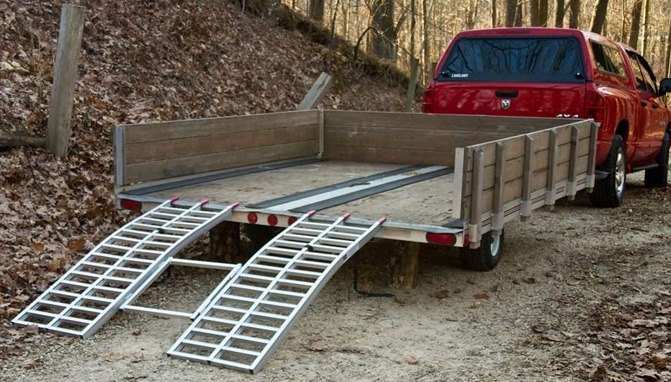 Your search for the best UTV ramp system starts here
If you don't already have a good set of UTV ramps, you're in for a rude awakening the first time you have to transport your side-by-side.
Single-rider ATVs, being relatively small and lightweight, can be loaded without ramps; although we don't necessarily suggest it, there are tricks to getting ATVs loaded onto trailers or into truck beds without using ramps. But UTVs are a different breed. They're substantially heavier and larger than their single-rider cousins – too large to fit into a truck bed, and too heavy to rock back onto their hind wheels and lift up onto a flatbed by hand.
Luckily, there's an expansive range of options on the market when it comes to UTV ramps, from sturdy, single-piece units with super-high weight ratings to lighter-weight, foldable ramps that pack down and stow in a few quick and easy steps.
Here, we've rounded up the best UTV ramps money can buy, covering an array of different styles, sizes, and weight ratings, all in one convenient list so you can make an informed purchase.
1. Editor's Choice: Titan 4-Beam UTV Loading Ramps
These Titan 4-Beam UTV ramps have everything you could ever want from a side-by-side loading ramp: a durable black finish to prevent corrosion, a center-fold design that makes them easy to stow, and a stout 2700-pound weight rating. They're arched to provide better clearance for your UTV during loading and unloading, and each one is 17 inches wide, giving them plenty of room even for massive oversized off-road tires. Each ramp folds out to provide 10 feet of length in all, making them the longest ramps on this list. That means a shallower angle with minimal chance of clearance issues, and compatibility with a range of different load deck heights. Based off of the convenience and durability these ramps have, they earned their spot at the top of our list for UTV loading ramps.
2. Best Tri-Fold Aluminum Ramps: Yutrax 70-Inch Aluminum Loading Ramps
When it comes to strength and convenience, you can't beat a good quality tri-fold ramp. This 6.5-foot long ramp from Yutrax is capable of holding up to 1750 lbs. and has a width of 50" meaning it'll only be suitable for those trail width UTVs. Once you're loaded, it conveniently collapses down to 17.5-inches wide and only weights 32 lbs. making it easy to load and unload. The rubber coated tabs ensure that you're not going to scratch up your vehicle when in use and the supplied safety straps keep the ramp in place to prevent them from shooting out when you use them.
3. Five Star Aluminum Ramp Set
If there's one thing these Five Star aluminum UTV ramps have in spades, it's strength; thanks to their non-folding, single-piece construction, these ramps are available with between 2500 and 10,000 pounds of load-bearing capacity. Given that the Polaris Ranger XP 1000 weighs in the neighborhood of 1,600 pounds, that means you've got plenty of room before you start testing their integrity. It also means you're giving up the convenience and stowability of a folding ramp, but at just five to six feet in length, depending on model, you don't really need it. And while that short length might be a concern for clearance while you're loading or unloading you side-by-side, the ramps are arched to help prevent bottoming out.
4. GEN-Y Hitch Aluminum Trailer Ramps
If you'd feel more comfortable with a bit of a smaller ramp angle, these 72" GEN-Y aluminum UTV ramps are rated for up to 6000 pounds – 3000 pounds per ramp. Their length means they're compatible with a greater array of trailer deck heights, and because of their aluminum construction, they're relatively lightweight. Their six-foot length and non-folding design makes them a bit tricky to pack, mind you, but they're the perfect ramps if you're in the market for something you can just as easily use to load up a car or light truck; each ramp measures 14 inches across, making it plenty broad enough for a passenger vehicle tire.
5. Black Widow Wide Ride Arched UTV Loading Ram
The Black Widow Wide Ride UTV loading ramp is the perfect solution for those who don't want to mess with trying to position two individual track ramps. It's a one-piece, tri-fold design that folds up into a compact, 22-inch-wide package for storage and transport, unfolding to a full 62 inches wide when deployed – wide enough for virtually all side-by-sides on the market today. That design gives it an impressive 3000-pound weight rating, and its aluminum construction and trailer-friendly 5 feet, 5 inches of length lend it an extraordinarily light weight. Still not convinced? Then you should know that the Black Widow Wide Ride UTV loading ramp has some of the best user reviews we've ever seen.
6. Great Day Trailer Ramps
While these compact ramps are too small to let you load your UTV into the bed of your pickup truck, they do a great job of letting you drive onto your trailer. Made of 100% aircraft aluminum, the two 16" x 44" ramps combine to provide 2000 pounds of load capacity. They also come equipped with a very attractive price tag, making these an excellent budget-friendly choice.
7. CargoSmart LED Hybrid Arched Centerfold Ramp
These CargoSmart ramps will really only work with smaller, two-seat UTVs, having the lowest weight rating of all the ramps we've listed here: just 1500 pounds for a pair, or 750 per side. So why did we bother including them on our list? Because they're some of the best-designed loading ramps we've ever seen, with a clever S-shaped profile that maximizes clearance for loading and unloading, a mix of composite and aluminum construction for an outstanding strength-to-weight ratio and excellent durability, and even built-in LED lighting so you can safely load and unload at night. They're also hinged, folding up to just 48.5 inches in length when not in use for easy stowing and transport. Just make sure your UTV loaded with fuel and gear weighs less than 1500 pounds if you plan to get these ramps.
Additional Resources
Recent Updates
April 5, 2021: Added Great Day trailer ramps to the list. Also added some FAQs.
October 26, 2021: Added new product yutrax tri-fold aluminum ramp), ranked product, updated product links and added additional resources.
We are committed to finding, researching, and recommending the best products. We earn commissions from purchases you make using the retail links in our product reviews. Learn more about how this works.
What size UTV ramps should you get?
Choosing the right size UTV ramps comes down to what you need them for. If you just need help loading your trailer, you can get away with shorter ramps (44" to 60") that are easier to store and cost less. But if you are looking to load your UTV into the bed of your truck or even higher, longer ramps are a must - around 10 feet is usually plenty. We also prefer a wider ramp, as it gives you a little more security during loading/unloading - preferably 15 inches wide or more.
How much load capacity do UTV ramps need?
Personally, if we are shopping for UTV ramps, we would want a capacity of at least 2000 pounds. If you are using your ramps to load an ATV or a smaller sized UTV, you can get away with less, but that's not the direction we would go. Aaron Brzozowski
Aaron is a freelance writer, videographer and car enthusiast based out of the Detroit area. He has a special affinity for the Porsche 944 series, and once owned a Volvo 240 sedan with a Weber carb in place of the factory EFI system. His work has appeared on AutoGuide, GM Authority, /Drive, and VW Vortex, among other sites.
More by Aaron Brzozowski
Published November 16th, 2020 4:25 PM
Top Brands
Popular Articles