72 Views
May 27th, 2021 11:27 AM
Share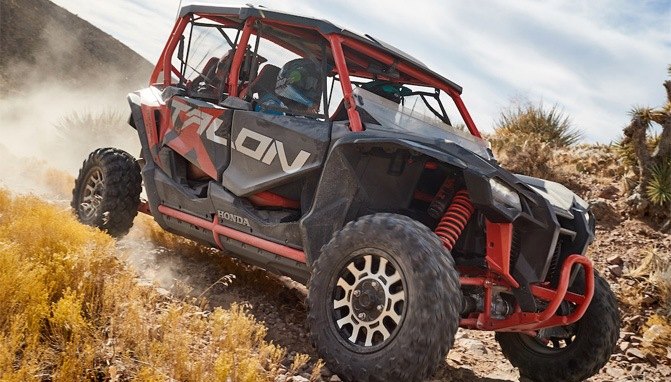 These wraps can give your UTV a fresh new look
It's never been easier to change the color of your vehicle with a product like UTV wraps. Whether it's an off-road toy or your daily driver, the democratization of wraps has made changing a rig's appearance much simpler than in the past. Sure, it's still a process that needs to be taken carefully but the days of mixing paint and finding a dust-free booth are in the past.
Wrapping companies have latched on to the idea that UTV owners might want to change up their machine's appearance. Or, given a lack of factory options, simply desire a look that's different from their buddy's vehicle. There are plenty of UTV graphics packages available online, so we decided to gather a few of them here.
1. Editor's Choice: Polaris RZR 800 Graphics Kit
Thanks to its killer good looks and over-the-top performance options, the RZR has gained a big foothold in the sporty side-by-side market, and adding a UTV wrap can make it look even sportier. A quick perusal of the web shows there are several Polaris RZR wraps available, including this option on Amazon. Crafted from high gloss material of 24 mil total thickness, squeegeeing out the wrinkles shouldn't be too much of a trial. It is designed to stick to plastic motorsport-style body panels and is available in highly vivid colors. The seller notes this kit is "Proudly made in the U.S.A." and ships within the span of 48 hours.
2. AMR Racing Full Graphics Kit
Adding a UTV wrap to the Can-Am Maverick is also a popular upgrade, which shouldn't be a surprise since the hairiest of those machines belt out very nearly 200 horsepower. It makes sense why someone would want their X3 to stand out even further since people who buy rip-snarling Mavericks aren't generally introverts. This kit stickers at about $600 and provides all the gumption you need to create an eye-popping monster. The product shown here is offered in Empire Orange but there are several other colors available as well. The wrap extends over the hood, across the doors, and onto the back fenders for a great flow over the entire machine.
3. Mossy Oak Graphics Camouflage UTV Wrap
Camouflage UTV wraps might be just the ticket for an owner who's planning to press their UTV into service as a vehicle for driving to the duck blind. This kit might have a disappointing rating on Amazon but it's important to recognize there are but a brace of votes. The dissenter of that small group complained about wrinkles in the product, which could very likely have been the result of user error. Unlike the other two kits above, this shows up as a single 4' x 12' sheet of vinyl wrap that must be cut to spec. Approximately one dozen different camo patterns are available, ranging from this woodlands Mossy Oak to a winter design.
4. AMR Racing Full Custom UTV Graphics Decal Kit - Youth
Just because the kids are, well, kids don't mean they don't want a cool-looking UTV as well. Here's a graphics decal package to fit the put-it-in-your-pocket Polaris RZR 170 youth machine. It's priced less than half of the other AMR kits listed here because it's contains less than half of the material. If only that were the case with kid clothing, eh? Shown here is a red and white digital camouflage pattern, though other designs are available. To make installation simple, the decals are pre-cut to fit different machines.
5. AMR Racing UTV Decal Sticker Wrap
Perhaps you want to wrap your UTV but keep its overall color scheme in line with options that were offered from the factory. These UTV wraps are intended and cut for use on a late '00s Kawasaki Teryx will retain the brand's immediately identifiable green appearance but ratchet up the visual drama with a digital camo pattern. Decals and stickers are provided for the rig's hood and fender area, pairing well with the green roll-over protection system. The seller asserts that all graphics are digitally printed with UV resistant inks that are guaranteed not to fade up to five years, which is probably longer than you can go without running into something and damaging the wrap anyway.
6. VViViD Camouflage Vinyl Wrap Roll
Rounding out the list is this roll of wrapping vinyl from a company that deals specifically in digital camouflage. According to the ad, their vinyl's lend an authentic military camo appearance to your UTV, whilst adding a layer of tough and durable weather-proof protection. The pattern is dark, so it'll be good for blending into your surroundings during fall hunting season in certain parts of the country. Note that this is a simple roll of wrap, and not a very big one at just 3' x 5' in total measure. If you're planning on doing more than just the hood of your UTV, best pick up two rolls.
Additional Resources
We are committed to finding, researching, and recommending the best products. We earn commissions from purchases you make using the retail links in our product reviews. Learn more about how this work s.
Who does the best graphic wraps for UTVs?
That's a loaded question, since the word 'best' means a lot of different things to a lot of different people. If your definition is based on price, then go for a roll of wrap instead of a pre-cut kit. It'll be infinitely cheaper, and you can wrap random things like the kitchen table when you're done with the UTV. If, however, ease of application is important, spend the extra cheddar and get a kit that's been already cut to fit your specific application.
Why? What difference does pre-cut make?
It can make a world of difference in terms of aggravation if this is your first crack at trying to wrap a vehicle. A successful wrap largely depends on getting all the air bubbles and wrinkles out of the vinyl after laying it down on the surface. This step can be tedious; combine it with the need to accurately cut a large rectangle to the intricate shapes of a UTV fender and you've a recipe for immense frustration and wasted material.
How do you install a UTV wrap?
Carefully follow any instructions that are provided with the kit, since certain products have different application processes. But for the most part, you'll essentially be placing a big sticker on the panels of your UTV. Take your time, invest in a good rubber blade or squeegee to iron out any inevitable wrinkles, and use plenty of caution if you choose to deploy a heat source to aid in installation.
Published May 13th, 2021 9:14 PM
Top Brands
Popular Articles