1 View
Best Odes Dominator Accessories
July 15th, 2021 1:20 PM
Share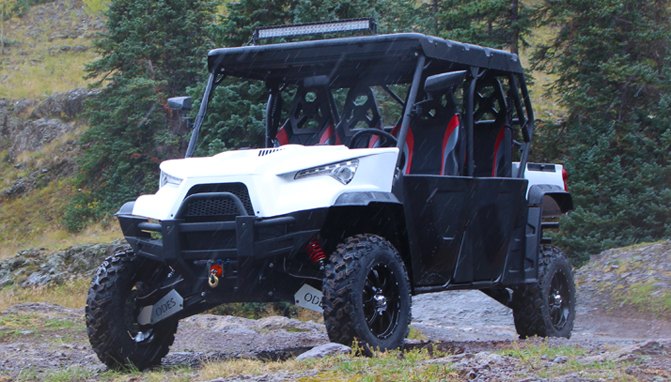 These accessories will make your Odes Dominator stand out in the crowd
If you're shopping around for the right accessories to take your Odes Dominator side-by-side to the next level, we're here to help.
It was just recently, in March 2020, that Odes Industries was acquired and renamed Odes Powersports, moving to Garland, Texas and doubling down on making its mark in the competitive US powersports market. But that's not where Odes' story begins. In fact, Odes has been producing well-built, high-value ATVs and UTVs for decades, all priced competitively within their respective segments while offering thoughtful, class-leading design and features. The manufacturer has only become more impressive in recent years, stepping up its game with meaningful product revisions and improved production standards.
In short, UTVs like the Odes Dominator are perfect candidate for transforming into capable, practical, and affordable side-by-sides with just a handful of well-selected aftermarket accessories.
Here, we've rounded up the best Odes Dominator accessories on the market today, from windshields to waterproof covers, to sound systems and beyond.
1. Editor's Choice: Kanati Mongrel Tires
Whether you've worn out your factory Odes Dominator tires, or you're just looking for a bit more performance from a set of replacements, the GBC Kanati Mongrel tires are worth a look. It's an incredibly tough tire with a 10-ply rating and a puncture-resistant sidewall, ready to take on whatever you throw at it, and it's capable, too, with a wrap-around full-coverage tread pattern and a rounded cross-section that gives it outstanding response and performance. The Mongrel is one of the first tires we recommend to UTV owners looking for their first set of replacement all-terrain tires, and while the range doesn't include any exact matches for the factory tire sizes, they still make for terrific Odes Dominator tires, which options to fit the factory wheels on both "ST" and "LT" models.
2. Best Windshield Option: Clearly Tough Odes Dominator X Full Folding Windshield
If there's one thing that every side-by-side driver can use, it's more protection from wind, rain, and trail debris. That's where this full folding Odes Dominator windshield from Clearly Tough comes in. It's made of 3/16"-thick polycarbonate, making it somewhere around 250 times stronger than a comparable glass windshield, and treated with a scratch-resistant hard coating so that it resists the sort of gouges and "clouding" that polycarbonate is often prone to. What's more, this Clearly Tough Odes Dominator windshield provides you with maximum flexibility, with a flip-down design that allows you to choose between a half- or full-windshield configuration on a whim. With quick and simple hook-and-loop securing straps, and a five-year warranty against defects, this windshield is a worthwhile investment.
3. Best Lighting Upgrade: Nilight ZH409 20-Inch Spot/Flood Combo LED Light Bar
The Odes Dominator ships with surprisingly ample lighting options right from the factory, but if that's not enough, we suggest you look at Nilight and the brand's 20-inch ZH409 LED light bar. Combining spot and flood beam patterns with 420 Watts of LED light output, the Nilight ZH409 punches well above its price point in terms of performance. Another great touch is the IP67-rated die-cast alloy housing, which effectively guards against water and dust intrusion and makes the light bar an ideal, reliable trail companion. The Nilight ZH409 ships with everything you need to get set up on your Odes Dominator, including wiring with an illuminated rocker switch, relay, waterproof blade fuse holder, and adjustable mounting bracket.
4. Best Entertainment Accessory: Boss Audio Systems BRT26A UTV Sound Bar
If you're getting tired of trying to remember to grab your portable Bluetooth speaker every time you head out in your Odes Dominator, a good Bluetooth soundbar is a must-have – like the Boss Audio Systems BRT26A. Boss has long been recognized for excellent sound quality at an affordable price, and the BRT26A is no exception. Made with powersports in mind, this sound bar will mount to any UTV with bars measuring 1.75" to 2" in diameter, courtesy of a pair of durable, adjustable-angle clamps, and the unit is IPX5-rated for plenty of dust- and water-resistance out on the trail. Just as important, it boasts four 4" speakers and two 1" tweeters, resulting in full, faithful sound reproduction no matter what you're listening to. But the best part of all? The price. This is one budget-friendly Bluetooth sound bar.
5. Best Cargo Accessory: Kemimoto UTV Roll Cage Cargo Storage Bag
In need of more places to stow your things? Check out this Kemimoto UTV roll cage cargo storage bag. Installation is about as simple as it gets, with hook-and-loop straps and ladder-lock buckles to strap the bag into place and get the fit just right on your Odes Dominator roll cage. The bag has a total of nine discrete pockets – seven zippered, and two "quick-access" – so you can separate your items, keeping your cell phone and your sunglasses well away from your field knife. Made from 600-denier polyester canvas, the storage bag is water-resistant and tough as nails, with plenty of UV-resistance to boot. While Kemimoto specifically mentions compatibility with UTVs from Polaris, Kawasaki, and Yamaha, it should in theory fit any full-size 2- or 4-seat UTV with a roll cage.
6. Best UTV Cover: Coverify Waterproof Oxford Fabric UTV Cover
Every good riding season must eventually come to an end, and when it's time to store your Odes Dominator for the winter, you should have a good cover on-hand to keep it safe. We're fans of this one from Coverify. The web reviews speak for themselves, but here are the highlights: it's made from 420-denier Oxford fabric with a polyurethane coating, which not only renders it waterproof and windproof, but tear-resistant and UV-resistant, as well. It's also double-stitched for extra strength, and it includes smart, thoughtful features like reflective securing straps that make it easy to spot at night, and air vents to keep your Odes Dominator from getting musty during an extended stay in storage. Different versions cover both one- and two-row Dominator models, so no matter which one you drive, solid protection is just a click away.
Where Is the Odes Dominator Manufactured?
Odes Powersports is not only headquartered in the US, but manufactures most or all of its products there, as well. The company opened a new 200,000-square-foot assembly plant in Indiana in late-2018, and another facility in Dallas, Texas handles the bulk of its parts distribution and service needs.
The Odes Dominator is proudly made in the USA.
How Many Models Are in The Odes Dominator Line?
There are four models currently in the Odes Dominator Line: The Dominator X2 ST, X4 ST, X2 LT, and X4 LT. They all share most of their mechanicals and major features in common, drawing their power from a four-stroke, 800cc single-cylinder engine with output of 60 horsepower, or an optional 1,000cc motor with 84 horsepower on tap, sending torque to two or all four wheels through a standard automatic transmission.
Where they differ is in the number of seats, and in the ride height and suspension travel; X2 models feature a single row of seating, with the capacity to carry the driver and up to one passenger, while X4 models have two rows, with seating for four. "ST," or "Short Travel," models are "best for flat terrain, jumping, and closed course racing," according to Odes Powersports, due to their shorter tires and more limited suspension travel, while the long-travel "LT" variants, boasting an impressively tough 14" suspension designed by Desert Concepts in California, are better suited to rough terrain and climbing.
What Size Tires Come on The Odes Dominator?
From the factory, the Odes Dominator currently ships with one of two wheel/tire packages. The "ST," or "Short Travel," Dominator is equipped with 14-inch wheels front and rear, wearing 26x9R14 all-terrain tires up front, and wider 26x11R14 tires at the back. The long-travel "LT" model gets a larger set of 15" wheels, wearing 29x9R15 front tires and 29x10R15 rears. Both wheel/tire packages are staggered, with more traction at the rear for better stability in hard cornering, but when it comes time to replace the factory tires, you may wish to switch to a "square" setup, whether to make it easier to kick out the rear end of the vehicle, or to expand your aftermarket tire options.
Additional Resources
We are committed to finding, researching, and recommending the best products. We earn commissions from purchases you make using the retail links in our product reviews. Learn more about how this works.
Published July 15th, 2021 1:20 PM
Top Brands
Popular Articles