52 Views
Honda's Pioneer 1000-6 Deluxe Crew: The New King of Crews?
October 6th, 2022 1:25 PM
Share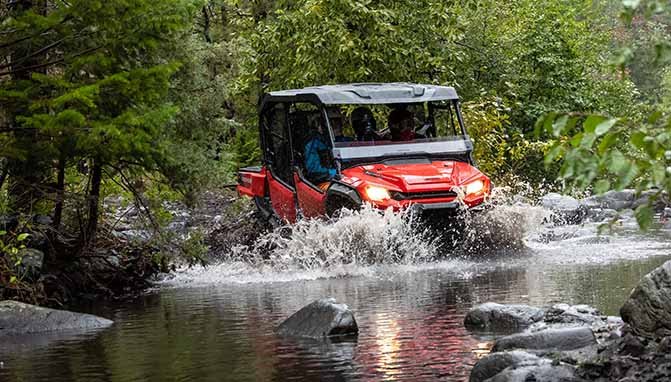 Honda dives headfirst into the 6-passenger recreational utility market with the new Pioneer 1000-6 deluxe crew
If you're looking for a high-performance, multi-passenger UTV, there are more options for you to choose from than you can shake a stick at. Farmers, construction workers, and hunting fishing guides don't necessarily need the gizmos and gadgets that you'll find on all of the popular go-fast UTVs that currently dominate the market. Instead, they're interested in a machine that provides plenty of comfort, is capable of towing/hauling heavy loads, and is a machine that they can reliably depend on. Not to say that leisure and enjoyment won't play a factor, but it's likely not at the top of the list.
Regardless of how much you see the high-performance UTVs being marketed, the recreational/utility market dominate UTV sales with buyers looking to use these machines for farming, construction, oil/gas field work and more. Of this market, 25% of these users want a unit that's capable of holding 6-passengers. With Honda's impressive lineup of both sport and recreational/utility UTVs, it is a no-brainer for it to add to that roster with the Pioneer 1000-6 Deluxe Crew.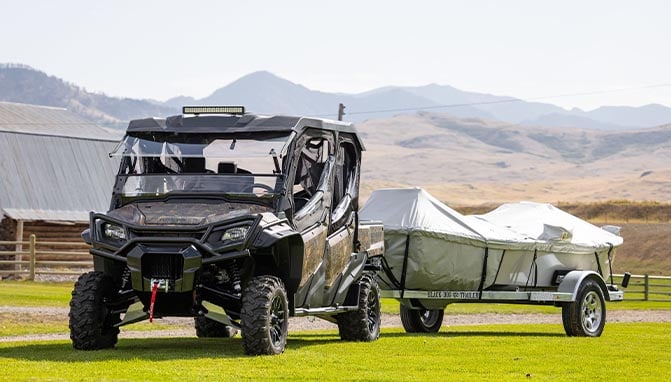 While they aren't considered as "sexy" as their high-performance counterparts, the recreational/utility UTV market dominates the market in sales. 25% of that market has a demand for a 6-passenger crew model UTV, so Honda joined the competition with the Pioneer 1000-6 Deluxe Crew. Photo: American Honda
Built With Purpose
When Honda engineers decided to create the new 6-passenger UTV, it would have been easy to just stretch the frame of the Pioneer 1000-5, add a bench and call it a day. In a sense, that is what was done with the Pioneer 1000-6, but much more thought was put into it than one would think. With an overall length that is over 12' and the wheelbase being over 9.5', stretching the frame of the Pioneer 1000-5 was not an option due to the extreme amount of flex it would encounter. That is why Honda opted to increase the frame and chassis strength by increasing the roll bar diameter and strengthening the chassis in key areas. These changes result in the frame's bending resistance to be increased by nearly 3 times. With a bed capacity of 1,000 lbs. and towing capacity of 2,500 lbs. the frame must be strong to keep your passengers safe.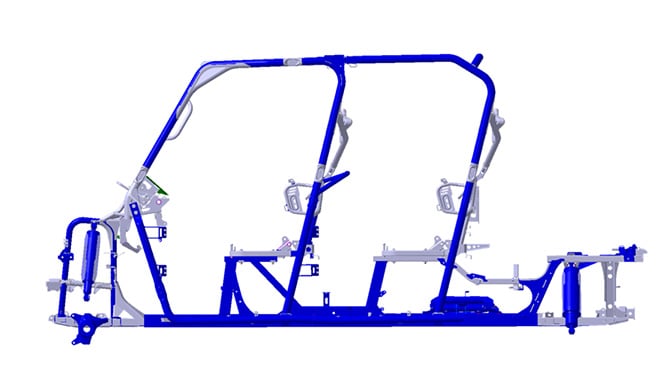 No, the frame isn't available in an optional blue paint, but it does highlight where it is new or has been modified to transform the chassis of the Pioneer 1000-5 to the 1000-6 Deluxe Crew. Photo: American Honda
By lengthening the frame, Honda was able to add the rear staggered bench seat that delivers the best-in-class second-row passenger space. With 28" of knee space, the rear seating area not only accommodates passengers with long legs, but the pass thru design makes it easy to enter and exit the cab from either side. The same design is also used in the front of the cab, so entry and exit are just as easy from the front seat, making this perfect for working crews.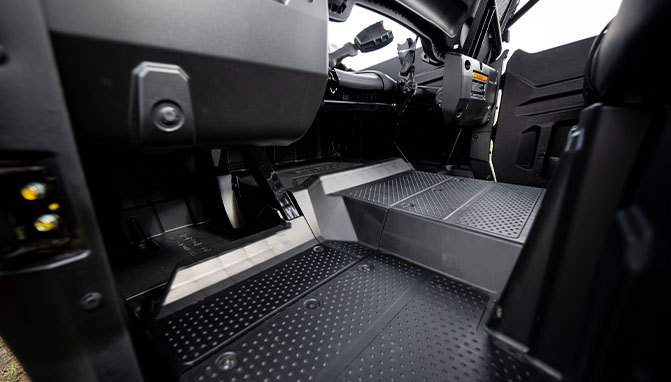 The pass-through design of the front and rear floorboards make it easy to enter and exit the Pioneer 1000-6 Deluxe Crew from either side. This roominess also makes it extremely comfortable for passengers with long legs. Photo: American Honda
As for the engine and drivetrain of the new Honda Pioneer 1000-6 Deluxe Crew, it was taken from the Pioneer 1000-5 platform. Because of the obvious increase in weight for frame and potential passengers, modifications have been made to both the engine and Dual Clutch Transmission (DCT) to compensate. While there weren't any changes to hard parts, Honda engineers did update the valve timing and throttle-body plate settings to enhance the mid and upper power range. To keep everything cool on hot days or while towing heavy loads, the size of the cooling fan for the radiator has also been increased.
When it comes to the drivetrain of the Honda UTVs, I absolutely love their DCT setup. It is by far the most reliable system you can have since there's no drive belt to worry about overheating or breaking. It's also really cool to have a UTV that actually shifts like an automatic transmission. Just like in the Pioneer 1000-5, you have the option of automatic or manual shifting through at the touch of a switch. Just like the engine, the DCT has gotten some upgrades for use in the 6-passenger Deluxe Crew.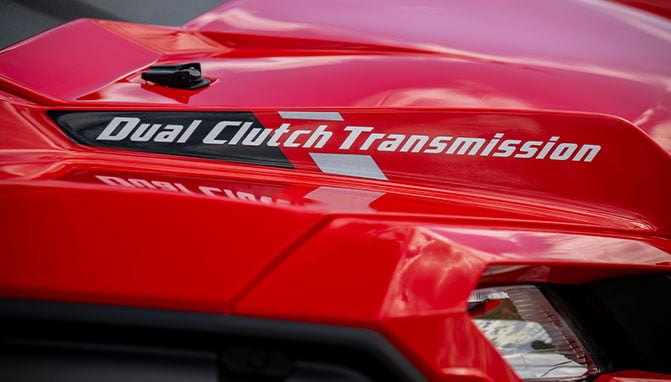 A selling point of any Honda ATV or UTV is their tried and true reputation of reliability. With the Dual Clutch Transmission (DCT), you'll never be stranded because of a busted rubber band like the competition. The DCT has proven to be reliable in both sport and utility based UTVs, so why deviate from a good thing. Photo: American Honda
Honda revised the ignition timing in the ECU to deliver a smoother shift, and gear ratios in the transmission have been updated to match the increased power output of the engine. In addition to the manual and automatic transmission shift modes, a tow/haul mode was also added since the Pioneer 1000-6 Deluxe Crew would likely experience the heaviest towing and cargo loads of any UTV in Honda's lineup. This mode alters the shift points to maximize the torque and power output when carrying a heavy load.
Speaking of heavy loads, just like in Honda's Pioneer 1000-5, the Deluxe Crew model also comes with the self-leveling rear suspension. This mechanical system automatically adjusts and lifts the rear end when it is loaded down with cargo. One other thing that Honda engineers did was upgrade the Electronic Power Steering (EPS) to provide 50% more torque assist. This makes steering easier when the unit is loaded down with a full crew and payload. This system also features a return-to-center function to assist the driver at lower speeds.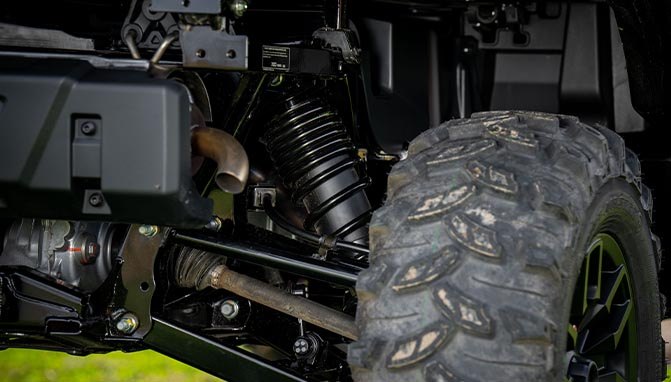 Even though the Pioneer 1000-6 Deluxe Crew is assembled in South Carolina, you'll never see it with that South Carolina Squat. Honda's self-leveling suspension system automatically raises the rear end when carrying heavy loads as you drive. Photo: American Honda
Instead of having us read all about the things that make the Honda Pioneer 1000-6 Deluxe Crew a great vehicle for ranchers, hunters, and recreationalist, they gave us the opportunity to test it in its natural habitat. A handful of media outlets were invited to the Bull Run Ranch in Great Falls, MT to get behind the wheel and into the back seat of the all new UTV. This is a place where the new crew unit was designed to be used for multi-passenger work and play.
Ready For Work, Made For Comfort
As we were given a quick rundown of the Deluxe Crew, we were shown some of the featured highlights such as the abundance of storage under the front seat. While it's not a sealed storage area, it provided 70 quarts of storage to stow camera bags and backpacks someplace other than the open bed of the Pioneer 1000-6 Deluxe Crew. On this rainy Montana morning that was a good thing. The other big feature that we were encouraged to try was riding in the back seats of the crew units. The large bench seat can accommodate 3-full size adults, albeit a little tight. There was an emphasis to sit in the middle seat when given the chance. Why? The staggered pattern of the bench seat put the middle-passenger slightly forward of the side passengers. Theoretically this means that you wouldn't be packed like sardines, shoulder to shoulder when it was fully loaded.
I joined some other media friends to pick out a unit for the day. Ours had been outfitted with a handful of accessories from the Honda catalog, such as a hard roof, wind deflector, and Bluetooth audio system that includes a control unit and two front speakers. As we all started to load up, I opted to start my day in the rear passenger seats to see if it was as comfortable as it was hyped up to be.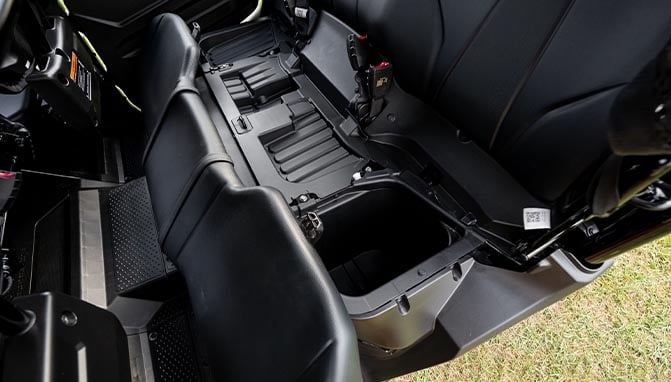 Aside from having a massive cargo bed, you've got plenty of storage under the front seat and under the dash. Honda even offers a factory underseat storage bag that fits perfect in that space. Photo: American Honda
As our group was led on the various trails throughout the ranch, the ride was extremely comfortable. Now mind you that we weren't doing anything wild or traversing insane rock gardens because that is not what this unit was intended for. To get your crew from Point A to Point B comfortably was its purpose and that is exactly what it did. Since the ranch had gotten a fair amount of rain overnight and that morning, the trails were extremely muddy, but the Deluxe Crew never missed a beat. Even as we could see the mud caking up on the OTR Dirt Master tires, there was never a loss of traction on the hilly terrain and all we needed to do was give a quick wick of the throttle to send the mud flying.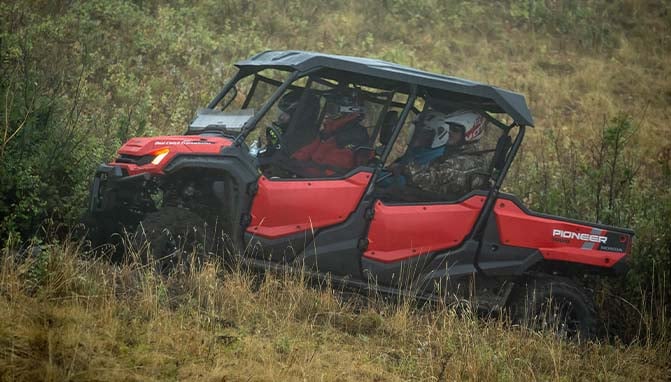 While we weren't at capacity (6-passengers) while on our test ride, there was plenty of room for 4-large bodied full-sized adults without having to get upclose and personal.
Speaking of flying mud, I was impressed with the fact that as much mud as we'd encountered, very little had made its way into the cab area. It didn't matter if you were in the front or rear of the cab, the mud really seemed to stay outside of the vehicle which is nice. The hard roof was nice to have with the occasional rain showers we encountered, but regardless of the lip that was molded into the design, we still had occasional downpours of water into the laps of the front passengers.
My overall impression as a rear seat passenger was excellent. Standing at 6'1" (most of it being legs), the rear seat was as comfortable as it was hyped up to be. There was an abundance of leg room, and the frame supports for the front seat made for a good foot rest when you felt the need to plant yourself into the seats. While we kept our passenger load to 4-people, you could definitely accommodate 6-passengers with relative comfort, but I can't say that I'd want to ride all day like that.
After a few driver swaps, it was my turn to get behind the wheel. With my last Honda UTV experience being behind the wheel of the Pioneer 1000-5 at its introduction in 2017 (again in Montana), all of the controls felt perfectly comfortable. From the transmission shift knob on the dash, to the paddle shifters on the steering wheel, nothing felt out of place. Just as in the back, there was plenty of leg space when sitting in the front, which made for a comfortable ride. As for the power of the Deluxe Crew, it felt very similar to my last experience in the 5-passenger model. Great throttle response that was predictable when you needed it to be and when you wanted to stretch its legs, it got up to speed in a timely fashion.
Is this the same acceleration you would feel in a Talon, RZR or other performance SXS? No, but that's like comparing apples to oranges. Again, this was a vehicle made for comfort and durability, not to see who has the most HP or or ETA down a drag strip.
I've always been a big fan of Honda's DCT since my first experience with it in the Pioneer 1000-5 and still love it in the Deluxe Crew. My preference is to leave it in Automatic but still utilizing the shift paddles when I want to either up or downshift ahead of the programmed shift points. Since we did have a full load of 4- passengers, who were all fairly large, I played with the different transmission ranges. What we found to be the most comfortable while driving was Low Range with the Tow/Haul mode engaged. This kept our speed manageable and consistent in the muddy hills, and even provided more control on the slippery downhills.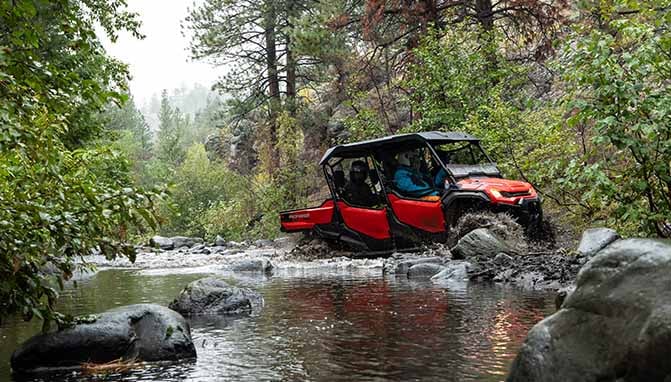 It didn't matter if we were on dry roads, muddy trails, crossing streams with slippery algae-coated rocks, the Honda Pioneer 1000-6 Deluxe Crew handled the varying terrain with ease.
When some of the trails were more like a faster fire road, a quick shift into High Range kept the engine humming at a comfortable RPM range. In some of the smaller rock gardens and slippery rock laden creek crossings that we encountered, dropping back into LR made them passable without missing a beat. One thing that is a huge difference from the Pioneer 1000-5 to the new 6-passenger Deluxe Crew is the turning radius. Some of the trails that we descended on had some pretty sharp switchbacks where in the 5-passenger unit, we'd be able to corner with no problems. With an 18.7' turning radius, the Deluxe Crew required a 3 or 4-point turn. Is this a bad thing? Not really, because with the extended wheelbase it should be expected. I just wanted to make note of it.
The Round Up
In my opinion, Honda has done what they always do. Take their time to produce a machine that stands to be the best in its class. The Pioneer 1000-6 Deluxe Crew delivers on everything that engineers set out to accomplish in the way of comfort and reliability in a machine that was meant to work hard. With a tried and true engine and transmission package, there's no doubt in my mind that this unit can hold its own against the competition to be considered the King of Crews.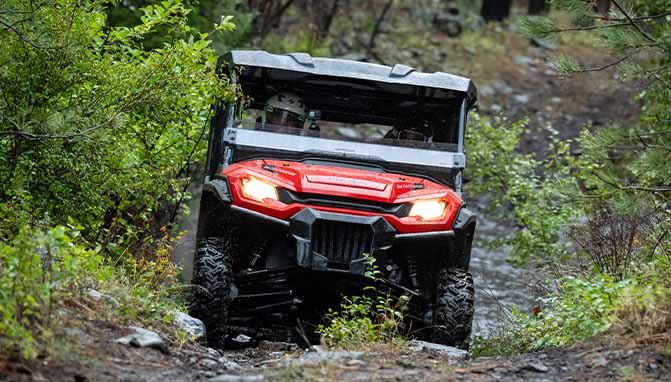 With Honda's reputation of reliability and quality, the Pioneer 1000-6 Deluxe Crew is everything you'd expect it to be and could be the King of Crews.
Don't think that this review stops here though. Since we only had the opportunity to test this unit as a Peoplemover (shoutout to all of you Disneyland lovers), I've been able to bring one home to further test during the winter months in Montana. Here we'll get to install and test some popular recreational/utility UTV accessories, like best winches and snow plows. Will the Pioneer 1000-6 Deluxe Crew perform as expected? We'll find out with a series of follow-up pieces and product evaluations.
Become an ATV insider. Get the latest news first by subscribing to our newsletter here.
We are committed to finding, researching, and recommending the best products. We earn commissions from purchases you make using the retail links in our product reviews. Learn more about how this works.
Published October 6th, 2022 1:03 PM
Top Brands
Popular Articles