1 View
Dealer Expo Spotlight: Mattracks LiteFoot XL
February 15th, 2010 11:06 AM
Share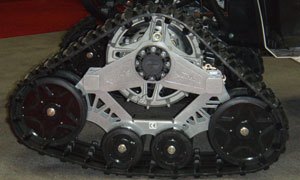 Riding an ATV with a track system is a pretty cool experience, but most track systems are pretty costly. The folks at Mattracks just introduced a more economical ATV track system at the Dealer Expo called the LiteFoot XL (Extra Light).
With an MSRP of $3,995, the LiteFoot XL costs hundreds less than many track systems. It's built using lightweight structural steel framework. The track is designed without perforated openings, preventing debris from entering through the track. Internal drive lugs help work sand, mud, and snow out of the track.
According to Mattracks, the LiteFoot XL has limited moving parts, which helps cut down on maintenance for smooth operation and reliability.
For more information ,visit http://www.mattracks.com.
Published February 15th, 2010 11:06 AM