711 Views
How To Safely Tie Down a UTV to a Trailer
December 28th, 2021 7:08 PM
Share
We're committed to finding, researching, and recommending the best products. We earn commissions from purchases you make using links in our articles. Learn more here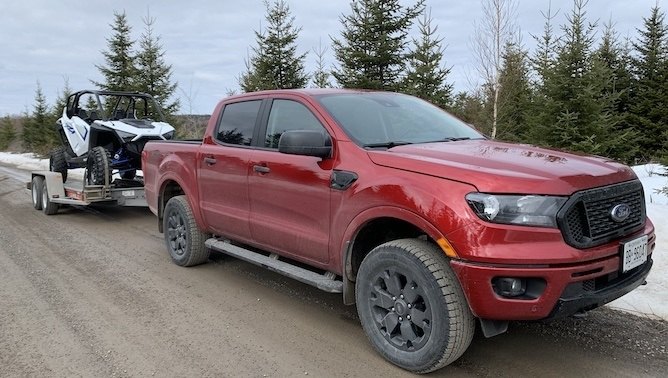 Knowing how to properly secure your side-by-side on a trailer can prevent a calamitous experience
Before you head out on your next off-road adventure, make sure you properly tie down your UTV to your trailer to keep you and everybody else safe.
Unless you're one of the few off-road gearheads who are #blessed with the ability to hit a trail right from your backyard, it's a virtual guarantee you've had to learn how to tie down a UTV on a trailer at some point or another. Most cops take a dim view of hooning these things down public streets, after all.
While we're on the subject, note that while most four-wheelers can fit into the bed of a pickup, there are an increasing number – namely the 55-inch wide Scrambler and Sportsman from Polaris – that are pushing the boundaries of what the Average Joe or Josephine can load aboard the back of their truck. The main tenets of this post can help with securing those types of rigs onto a trailer as well.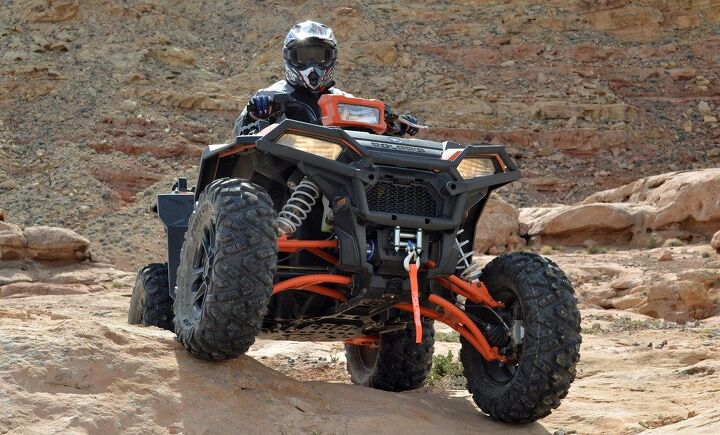 The Polaris Sportsman XP 1000 S has a much wider footprint than other ATVs on the market, making for a tight squeeze in some pickup trucks beds.
Before we get cracking with UTV tie downs and ratchet straps, we'll remind you of a few key things to remember when hooking up a trailer. Make sure you're not exceeding any weight limitations of your tow vehicle, including the oft-overlooked measure of payload. The trailer's tongue weight, generally 10-15% of the trailer's entire weight, counts towards this total. Properly connecting all wiring and safety chains is also a must. If you're looking for a few more details in this area, be sure to check out this article.
Your first job is to, y'know, actually get the machine up onto the trailer's platform. Slow and steady wins this race, as the proper alignment of wheels and ramps will prevent one from gaining YouTube infamy. Don't forget to properly weight distribute, placing heavier items (within load limits) toward the front of the trailer. If a load is too far astern, it may cause handling problems while driving. To use a sport allegory, think of a lead weight on the end of your fishing line and how it affects the trajectory of your cast.
Once aboard and properly situated, it's time to secure your side-by-side so it doesn't try to make like a convicted con and escape. There are several different types of UTV tie downs; we're starting with the webbed type of wheel net intended to cinch down a rig's tires because it is what's used on the aging U-Haul style trailer being deployed here by your author.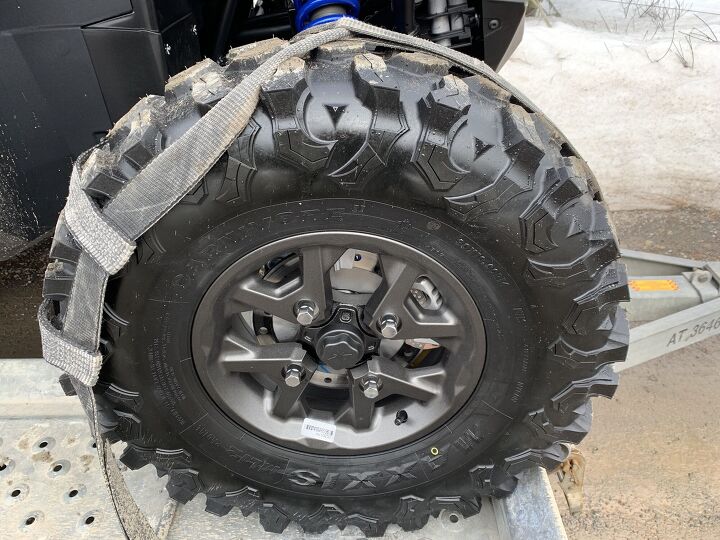 It's important for the UTV's front wheels to rest snugly against either the trailer's forward lip or a set of specialized chocks like one of these options. Place the webbing up and over the tire, making sure it is centered on the rubber. Off-road gearheads have an advantage here, as the knobby tread on UTV tires offer extra surfaces around which to snug the webbing compared to the relatively smooth tire found on a passenger car. As the strap is cinched in place, the UTV's suspension will begin to compress. This is a good thing, but don't overtighten the thing and put stress on your load. Connecting a safety chain between the UTV and trailer's chassis adds a measure of security.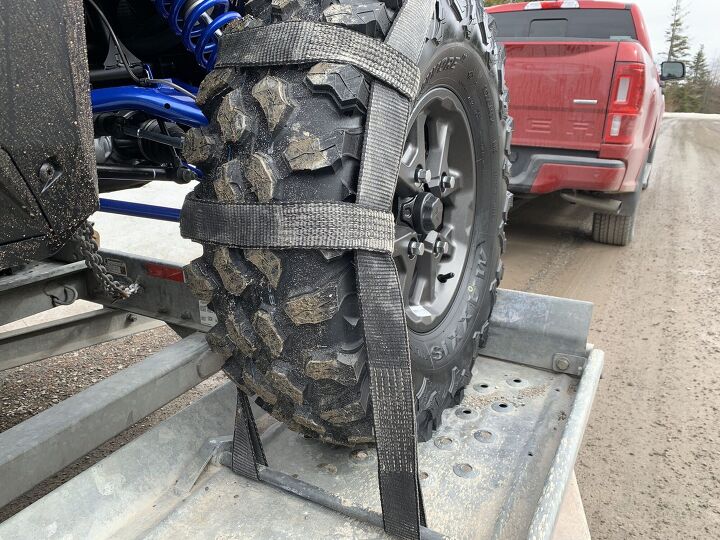 Some units have provisions for tightening the strap's free end mounted right on the trailer, while others will need to be hooked into an eyelet that's part of the trailer's structure. With any ATV tie down system you choose to go with, it is important the tie-down straps are placed squarely over the UTV's tires. This provides the maximum amount of security when compared to straps that are off-center or strapped down at an angle. Try doing up a belt around your waist in less than a perfect circle to see what we mean.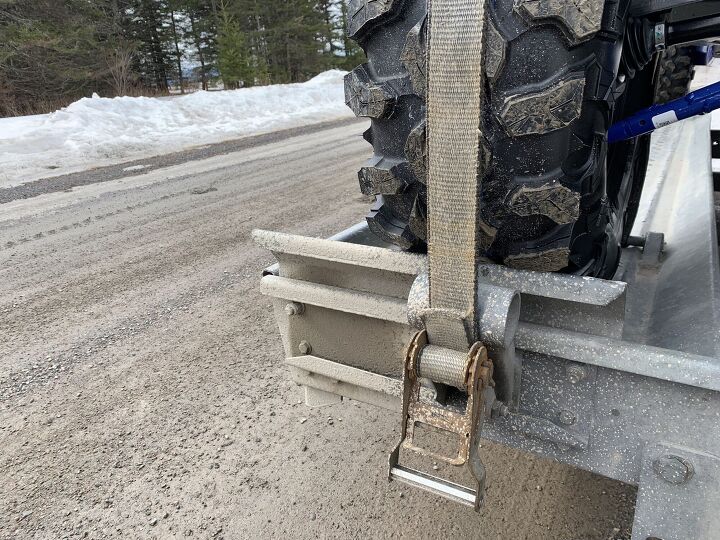 Of course, not every trailer is compatible with wheel nets or axle straps. Completely flat decks are common, leading to the popularity of products like ratchet tie downs from companies such as ShockStrap. With these types of securing tools, one needs to identify a couple of locations on their UTV that are solidly part of the frame and not designed to move about. Don't even think about attaching one end of a tie down to your RZR's Fox Live Valve shocks, for example.
Most UTVs have either a hitch or towing eye around the back, for example. Securely hook one end of the ratchet strap to this point, rolling out the other end to a tie-down point on the corner of your trailer. Secure the ratchet strap so it doesn't fall out of place – but don't fully tighten it. We'll come back to that in a minute.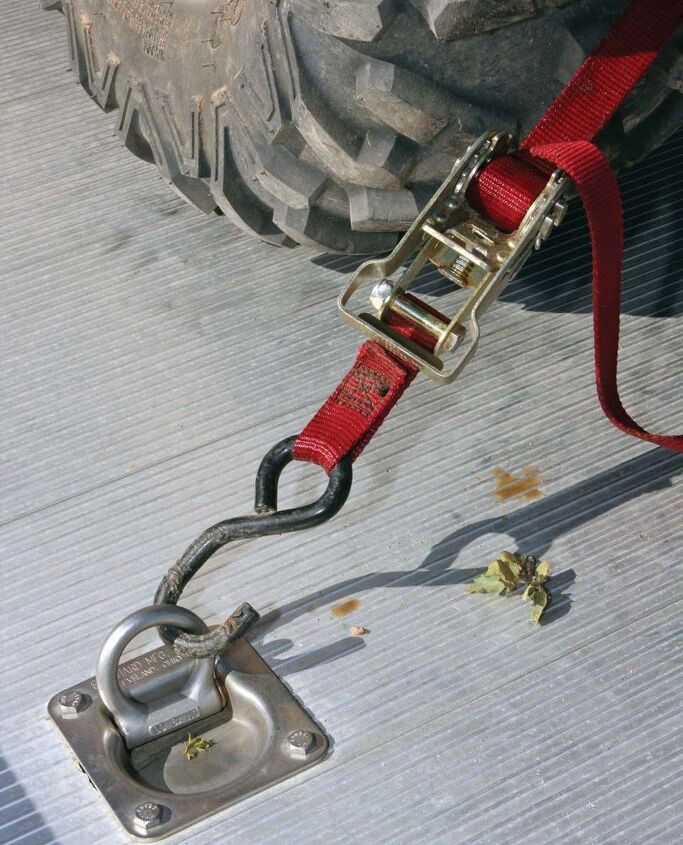 Repeat the process with another ratchet strap extending from the solid point of your UTV to a tie-down on the other back corner of your trailer. You should have created a 'V' shape with your two ratchet straps because, as we all learned in fifth grade while making bridges out of popsicle sticks, triangle shapes offer a lot of strength. Now that both ratchet straps are in place, go ahead and tighten them down until the UTV's suspension starts to compress. Rinse and repeat up front.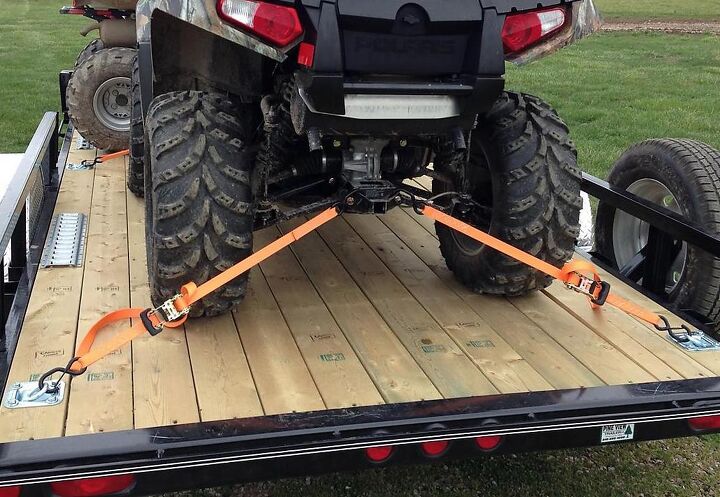 It is highly recommended one find a tie down point built in to the trailer, by the way. While it is technically possible – and probably really convenient – to hook your tie downs on the trailer's underside lip, it's a bad idea to place them against sharp edges which might fray the strap and reduce its overall strength. Worse still, placing straps in this manner creates the chance of them getting cut clean through by vibration.
Visually inspect whatever type of tie down equipment you're using. Straps are generally made from a polyester webbing, but polypropylene and nylon straps exist. The latter two are much more susceptible to stretching and sun rot (lack of resistance to UV rays) than polyester. The straps mentioned above, called ShockStraps, incorporate a urethane 'bone' that flexes a bit during transport and is a great set of straps.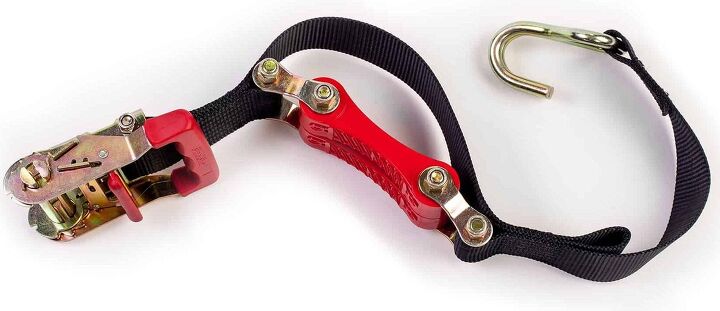 Above all, be safe. Give your UTV a few good shakes to make certain it's secure before hitting the road and, while en route, drive at moderate speeds to help avoid sudden maneuvers. Check your towing equipment and the security of your tie down straps at each fuel stop, at minimum. A bit of planning and preparation will go a long way to having a great day on the trails.
Additional Resources
Recent Updates
12/7/2021: Updated product links, updated story text, added additional resources.
Become an ATV insider. Get the latest news first by subscribing to our newsletter here.
We are committed to finding, researching, and recommending the best products. We earn commissions from purchases you make using the retail links in our product reviews. Learn more about how this works. Published April 15th, 2020 4:16 PM
Top Brands
Popular Articles