1 View
100% Goggles Buyers Guide
December 22nd, 2021 7:15 PM
Share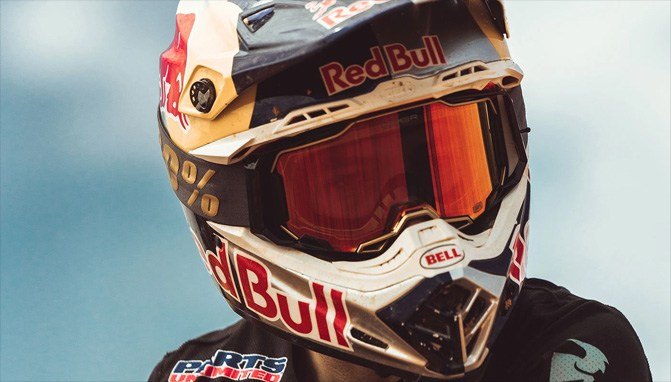 From affordable, entry-level goggles to the best the brand has to offer
100% goggles are made to keep your vision clear and your eyes safe every time you ride your off-road vehicle. Let's take a look at the different 100% goggle models.
You have your choice of protective outdoor sport optics manufacturers, but if you haven't already shopped options from San Diego-based company 100%, you ought to. Since the early 1980s, the outfit has been building its reputation for quality racing gear, its logo becoming iconic as it adorned factory racing equipment used by some of the biggest names in off-road racing.
That winning attitude pays dividends when it comes to essential protective gear.
We ask a lot of our goggles. They're tasked with keeping our eyes protected from sand, rain, mud, twigs, and gravel while we ride; being dry and comfortable enough for long periods of wear; fighting moisture buildup and lens fog while we sweat; and doing all this while delivering an optically clear, crisp view of the road ahead. Some goggle manufacturers manage to juggle all those tasks more effectively than others, and your ability to find the right pair is dependent on how well you've done your research.
Here, we take a look at all the motocross- and ATV/UTV-focused goggles in the 100% goggles lineup, so that you know what you get at different price points.
Table of Contents
1. Editor's Choice: 100% Racecraft 2
The Racecraft 2 line from 100% goggles helped set the benchmark for quality and features in a mid-grade powersport goggle, with a moisture-managing triple-layer foam that sits snug against the face to ward off dust and dirt, and face-sealing wide outriggers help wearers get even pressure across the brow and nose. Built-in vents further help manage moisture and fight fog, and a removable nose guard that, when installed, helps give these 100% goggles a bit of extra stability and protection in especially trying conditions. To further prevent goggle fogging, the polycarbonate lenses feature an anti-fog coating before being secured in the frame with 9-point retention system. Ensuring that your 100% goggles stay securely in place on your helmet, a 45mm wide silicone coated strap is used and features pure molding eliminating any sewing for a seamless strap.
The 100% Racecraft 2 goggles are available in a wide array of different colors and designs, that can come with your choice of either clear, smoke, or mirror lenses, and a pack of 20 tear-offs is also included to keep your view unobscured on the trail.
2. Best Mid-Grade Friendly: 100% Accuri 2
An affordable workhorse in the 100% goggle line up, the Accuri 2 offers advanced features and a wide breadth of design options at a very attractive price. The Accuri is so good it was named our "Editor's Pick" when we rounded up the five best ATV goggles on the market. It earned that honor partly by virtue of its excellent 45mm-wide silicon-coated strap and triple-layer moisture-absorbing foam – features shared with 100%'s premium Racecraft goggle, but at a more affordable price point. These goggles also feature a triple-layer closed-cell foam that soak up the sweat even while they block out fine particles of dust and sand, and there's even an "over-the-glasses" OTG model designed to fit over prescription eyewear, and a mud-specific one, the Accuri Forecast, featuring a self-cleaning canister with an integrated film wipe to keep your view clear in mucky conditions.
3. Best Budget Friendly: 100% Strata 2
By far the least-expensive model in the 100% goggles lineup, the 100% Strata was made to "redefine the standards for what an entry-level goggle should be." You're not giving much up here; the goggles still feature a flexible, durable urethane frame, scratch-resistant lenses that fight fogging, and dual-layered face foam that manages sweat, keeping your face dry while you ride. The strap even has the same grippy silicon coating as other 100% goggles, to keep the goggle from slipping, and special Mud and Forecast models are available, with integrated film wipe canisters. And if you think buying cheaper goggles means accepting something unfashionable, you're wrong; the Strata is available in a range of attractive color schemes, from the crisp-looking Equinox with its clean white body and white/blue strap and available blue mirror lens, to the Huntsitan and its dark camouflage strap with hunter orange lettering and silver mirror lens.
4. Top of The Line: 100% Armega
The Armega is the flagship in the 100% goggle line up, offering "unparalleled dominance for the modern racer" with the brand's clearest, highest-contrast optics in a powersport goggle. The 2mm ULTRA HD lens is impact-rated and shatter-resistant for the utmost protection out on the trail, with a contrast-enhancing coating and an advanced six-point locking tab quick-change system allowing for on-the-fly lens swaps. The frame is among the strongest in the 100% lineup, too, with two separate injections bonded together to form a single, durable form. These goggles feature a 48mm-wide head strap for improved grip and comfort, and some of the best moisture-management tech in the business, with forced air intake ports and a perforated three-layer foam surround for exceptional ventilation. If you're a die-hard rider who demands the best, the Armega is the best 100% has to offer.
5. Best Goggle Protection: 100% Goggle Case
If you do any travel with your goggles, you're going to want a protective case to keep them from getting scratched, smashed, and mangled in your duffel bag; most of their goggles ship with a sublimated microfiber bag, but that only provides so much protection. Thankfully, the company offers just such a case, available in either a funky, retro-looking black-red-and-blue design, or a wild, multi-colored print 100% calls "Black Camo". Either way, you get a roomy, padded case with space to store up to four goggles, and sleeves to store backup lenses, with organization for other small essentials. There's even a removable foam insert to store your GoPro and associated mounts.
Are the features from the least expensive to most expensive goggles that different?
Most definitely. In your least expensive goggle options you may only find a single or dual-layer foam, generic frame and basic lexan lenses. On the higher end models you'll find a triple-layer foam that has a moisture wicking material to absorb sweat and provide a more comfortable fit, frames that have outriggers that allow the frames to sit better in your helmet providing better contact with your face, and with some goggles different lenses that can optimize your vision dependent on the conditions you ride in. In layman's terms, you get what you pay for.
What are the advantages of the different colored lenses?
Most goggle companies offer a number of different colored/tinted goggle lenses, the most common being clear and smoke. On many premium models you can get mirrored lenses, which depending on the goggle company could just be a mirrored smoke lens or a more specialized terrain specific lens. Clear lenses are the obvious choice for dark conditions, while smoke lenses are like wearing a pair of sunglasses on a bright sunny day. Light colored lenses like yellow, orange or gold are good for low light conditions by improving your visibility from the lenses making your surroundings look brighter and block out blue light.
Additional Resources
Recent Updates
11/30/2021: Ranked product, updated product url's, updated product descriptions, added FAQ, added additional resources
We are committed to finding, researching, and recommending the best products. We earn commissions from purchases you make using the retail links in our product reviews. Learn more about how this works.
Published September 11th, 2020 3:44 PM
Top Brands
Popular Articles