1 View
Spy Goggles Buyer's Guide
March 5th, 2021 2:24 PM
Share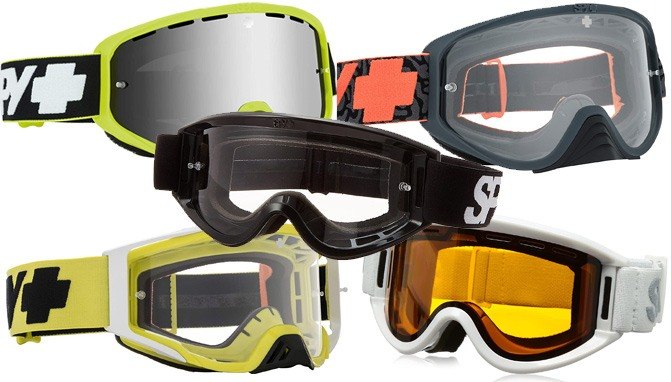 Protect your eyes with these off-road goggles from Spy Optics
While there are plenty of protective outdoor sport optics out there, few have earned a reputation like Spy goggles. Based out of Southern California, Spy Optic has made it their business to design the best sunglasses, goggles, and prescription frames they know how, taking design cues from the outdoor sports community.
If you ride, you know how important a good set of protective optics can be. Just about the last thing you need to worry about out on the trail is a bit of debris – dirt, sand, bugs, or whatever else you might encounter – damaging your peepers. More than an annoying inconvenience, getting something in your eyes can be day-ending, and even dangerous.
But not all protective optics are created equal; it isn't enough to simply shield your eyes with a sheet of clear plastic, and call it a day. To that end, Spy goggles are developed with a few thoughtful, common considerations: UV protection, scratch-resistant and anti-fog coatings, and an eye for ventilation to keep heat and moisture from building up against the lenses.
With a variety of motocross- and winter sport-focused product lines on the market, at numerous different price points, let's take a look at the different Spy goggles best-suited to ATV and UTV enthusiasts.
Table of Contents
Collaboration often yields the best results, and who better to collaborate with on a new line of Spy MX goggles than Spy Optic's top athletes? The resulting design, the Foundation, is the cream-of-the-crop in Spy's MX goggle line. The Foundation boasts the "widest view of any motocross goggle," with high-resolution optics making them just about the perfect eye protection for the hardcore or semi-pro rider, and an innovative RISE+ ventilation system takes advantage of the Venturi effect to pull hot air out from behind the lens through vents above the goggles. Should things get too heated anyway, the Spy Foundation features moisture-wicking fleece over its triple-layer contouring face foam.
If the Foundation is more goggle than you could ever need, Spy Woot goggles are here to take things back to basics – and save you some coin. Ideal for casual hobbyists, the Woot MX is molded from flexible polyurethane with an anti-fog, scratch-resistant Lexan lens, for years of reliable service, and it features a high-flow ventilation system to keep your goggles from building up heat. Designed to be 100% compatible with the world's most popular motocross helmets, it's a safe bet these Spy goggles will fit perfectly with your skid lid.
In the same vein as its regular Spy Woot goggles, the Spy Woot Race MX line is a simple, hard-working, no-frills design made to work with just about every helmet on the planet. It boasts the same must-have features – a scratch-resistant Lexan lens, high-flow ventilation, moisture-wicking fleece, and durable polyurethane protection – but with the added plus of a quick-switch lens system and a bonus lens, helping you to keep your view clear on-the-fly, no matter what the trail throws at you. Where the Foundation is truly aimed at semi-pro riders, and the standard Woot MX at casual hobbyists, these Spy goggles are best suited for hobbyists who can't live without tint and that handy quick-switch system.
The Spy Breakaway might lack some of the features of its more expensive siblings, but if you're just getting your feet wet with ATVs, UTVs, or motocross, these Spy goggles might be up your alley. The field-of-view is a bit more crowded than on some of Spy's other designs, but with 100% UV protection and the same anti-fog, scratch-resistant Lexan as the company's more expensive goggle lines, they deliver more-than-adequate protection. Best for those shopping on a budget who aren't so stingy that they're willing to roll the dice on some janky, unproven eyewear from unknown brands.
We wouldn't recommend just any snow goggle for trail duty, but the Spy Getaway is a great option for cold weather riders. The key differentiator here is ventilation; snow goggles are designed to function most optimally in a different temperature range than most MX goggles, so riders in late fall and winter might find the Getaway's patented Scoop ventilation system more suitable to the conditions, and better able to keep these goggles dry and clear from fog. Similarly, the tints used here are better suited to typical winter conditions.
We wouldn't necessarily recommend these as your year-round ATV goggles, but they're a great winter option if you don't mind riding when the mercury drops.
Scratch-resistant though Spy Optic's Lexan lenses may be, sometimes they're no match for whatever you've got rolling around in your duffel bag. For that reason, it's wise to get a specialized case for your Spy goggles – like this universal soft goggle case from Oakley. It has a soft fleece lining to keep your lenses from getting scratched, and a dual-port ventilation design to keep moisture from building up. The internal storage pocket is perfect for small accessories, and its nylon outer shell can take a beating.
Published July 15th, 2020 4:55 PM
Top Brands
Popular Articles