171 Views
March 26th, 2021 3:29 PM
Share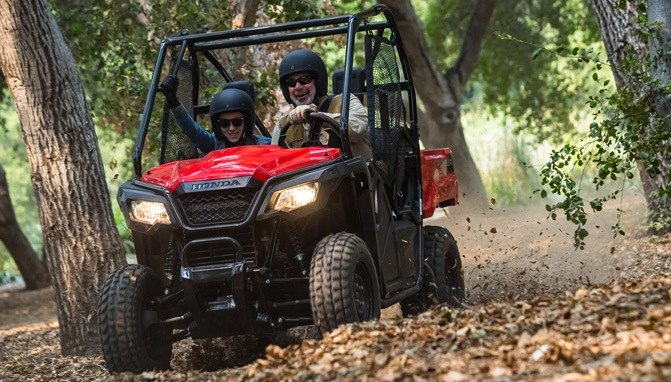 Check out some of the hottest-selling, best-value tires in the ATV tire market from SunF
When it comes to buying tires for your ATV or UTV, most owners struggle with wanting to get the maximum performance without having to spend a fortune. We gathered a list of our favorite SunF ATV tires that show all of their features for those shopping on a limited budget.
We've said it before: the right set of tires makes all the difference in how your ATV performs on the trail. Your ATV's tires are the only parts that actually make contact with the ground; how well your steering, throttle, and brake inputs are able to translate into action is up to how well your tires manage to find traction. Usually, unlocking optimal performance means shelling out lots of dough.
But SunF ATV tires represent a rare thing in the powersports world: solid performance at a truly budget-friendly price point. With distribution to more than 100 countries worldwide, the manufacturer is no small player, but while SunF might not have the most cutting-edge tire tech or attention-grabbing designs, what the brand does have is some of the most aggressive pricing around, and an extensive, almost dizzyingly large lineup of high-value powersports tires.
Here, we're taking a look at some of the best-selling and most well-reviewed tires in the SunF ATV tires lineup, running the gamut from general-purpose all-terrain tires to special-purpose mud, sand and snow tires.
Table of Contents
1. Best All Around UTV Tire: SunF A043
Looking for a high-performance radial tire especially well-suited to high speeds and short-course UTV racing? The SunF A043 is for you. The radial construction delivers a far smoother ride at speed on bumpy trails, plus better, more predictable cornering, but not at the expense of strength and durability; this tire is still built to last with a 6-ply-rated carcass. Also helping in the ride department is the thick, solid tread blocks and continuous center tread, and it's perfectly suited for higher tire pressures. The tread blocks are siped to help evacuate water when conditions turn wet, and it's vastly less expensive than most speed-oriented radial ATV tires on the market.
Ply rating: 6-ply (radial)
Best used for: Hardpack, loose-over-hard terrain
2. Best Sport ATV Tire: SunF A027
Rocking a knobby "X"-block tread pattern that should look familiar to anyone who's ever shopped the Maxxis Razr or ITP Holeshot, the SunF A027 is designed to provide optimal traction in all directions, especially on cross-country terrains and through the desert. These SunF ATV tires boast a rugged 6-ply carcass, and feature tread blocks all along the sidewalls for extra protection and bite, especially in ruts. If you're on the hunt for a decent performing all-purpose off-road tire to replace whatever was on your ATV from the factory, this is it.
Best used for: Cross-country, desert
3. Best Mud Tire: SunF A048 "Warrior"
A true purpose-built mud-terrain tire that's also at home on loose terrain surfaces, SunF's A048 "Warrior" tire looks like it should cost significantly more than it does. These SunF ATV tires boast a directional "V" angled knobby tread design that bites into muddy trails and doesn't let go, with lots of void area to promote self-cleaning. It's a pretty durable tire, too, with a 6-ply rating lending plenty of puncture-resistance and a specially formulated extended-wear rubber compound. Shoulder knobs provide ample side bite and help keep your rims safe from harm.
Best used for: Mud, loose terrain
4. Best Loose Terrain Tire: SunF A036
Do you plan on riding through the winter? These SunF ATV tires are happy to help. The SunF A036 has a unique tread pattern tailor made to perform in mud, sand, snow, and even on ice, with thin, paddle-like tread features that scoop their way through the terrain. Made with a special soft compound that stays flexible even in cold temperatures, the A036 is the ultimate winter riding companion, and its 6-ply-rated carcass is not only lightweight, but puncture-resistant. Yet despite the pliable compound, these tires display excellent wear characteristics, so that they're ready to go the distance over multiple riding seasons.
Best used for: mud, sand, snow, ice, cold weather
5. Best Retro Replacement Tire: SunF A011
If nothing else, the SunF A011 is one of the absolute best values in the entire ATV tire market, hands down. It's a versatile design, with countless small tread blocks all packed tightly in rows to provide ample traction mostly in intermediate and hard terrain, although these SunF ATV tires aren't afraid of a little loose-pack, either. Cornering traction is excellent, thanks to the multi-directional nature of the tread design, and these tires are rugged enough with a 6-ply-rated carcass – although some reviewers allege that the tread tends to wear a bit quickly. Then again, with such a low price tag, does it really matter?
Best used for: Intermediate, hardpack
The A003 is about as close to "basic" as its ATV tire lineup gets. These SunF ATV tires are more "general-purpose" than many of the other models in the lineup, with a directional "V" angled tread knob design that's suited for most types of off-road terrain, even sand and mud. Their mud performance is further buoyed by the ample void area and good self-cleaning capabilities. The 6-ply tires are at home even being driven at speed over hard pack terrain, thanks to their continuous center tread and solid tread blocks. A 6-ply rating also provides solid puncture-resistance without weighing you down. Their best-selling point of all is the ludicrously low price.
Best used for: All-purpose
A super aggressive-looking all-terrain tire with a loyal following, the SunF A033 "Power I" is well-suited to desert, mud, dirt, and rock terrain types, with a deep, angled knobby tread that offers plenty of response on the trail and numerous hard biting edges. It's features like these that make them some of our favorite SunF ATV tires. They're available in diameters ranging from 22 to 30 inches, with sizing to serve as a perfect direct replacement for the OEM tires on countless ATV, UTV, and side-by-side models. Aggressive shoulder knobs provide a bit of rim protection for when things get hairy, and they deliver outstanding side bite for rocks and ruts to boot.
Also worth a mention are the SunF A051 "Power II", which offer similar features and tread design in diameters ranging from 16 to 26 inches.
Best used for: Desert, mud, dirt, rock
We are committed to finding, researching, and recommending the best products. We earn commissions from purchases you make using the retail links in our product reviews. Learn more about how this works.
Why are these tires so much less expensive than other brands?
ATV/UTV tires have a lot of variables in them just like automotive tires. While the tread may look similar to some higher end, name brand tires, the construction of the tire may be different. Less expensive tire may have a rubber compound that will wear faster, be significantly heavier or have a totally different handling characteristic because of its construction.
I live in a state where I can drive my UTV on the streets. Do I need to look for anything in particular in a tire?
If you'll be doing any driving on the street, you'll want to make sure that the tire is approved for use on the street. Most manufactures will clearly state that their tires are DOT (Department of Transportation) approved. You'll also find this on the sidewall of the tire. Aaron Brzozowski
Aaron is a freelance writer, videographer and car enthusiast based out of the Detroit area. He has a special affinity for the Porsche 944 series, and once owned a Volvo 240 sedan with a Weber carb in place of the factory EFI system. His work has appeared on AutoGuide, GM Authority, /Drive, and VW Vortex, among other sites.
More by Aaron Brzozowski
Published March 15th, 2021 11:03 AM
Top Brands
Popular Articles