175 Views
Best ATV Tire Chains for Frozen Trails
April 12th, 2021 10:36 AM
Share
We're committed to finding, researching, and recommending the best products. We earn commissions from purchases you make using links in our articles. Learn more here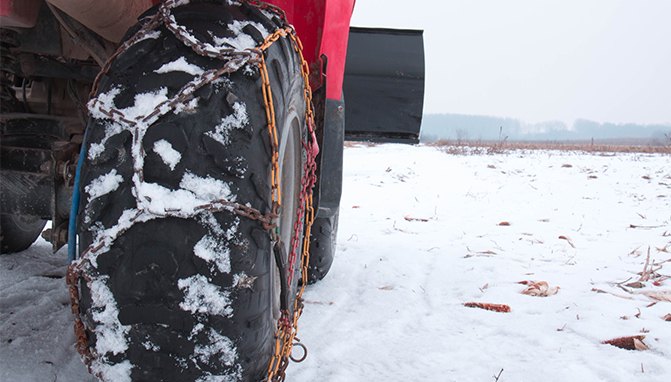 Get traction when and where you need it
When you've got a good set of ATV tire chains, your riding season doesn't have to end when the snow sticks to the ground. It just means that you're prepared for the worst riding conditions that winter has to throw at you, whether it be snow, slush or ice.
Tire chains have long been a mainstay of the driver's winter survival tool kit, but they're by no means limited just to cars, trucks, and SUVs. There's a wide variety of smaller tire chain models out there suitable for use with ATVs, UTVs, tractors – you name it. And just like with passenger vehicles, ATV tire chains are portable and easy to install, providing some badly needed supplemental traction wherever there's snow, slush, or ice on the ground.
Our team of ATV experts have hand picked some of the best ATV tire chains available today, rounding up our top picks based on performance, price, and value. There's a diverse array of options here; no matter what your needs, so you should have no problem finding a set of ATV tire chains that work best for you and your ATV.
Lead photo by Abel Halasz / Shutterstock
1. Editors Choice - TireChain.com Diamond Studded ATV Tire Chains
Your typical V-bar ATV tire chains do the trick in most conditions, but if you really want to be prepared for the worst that winter can bring, you should really take a look at studded tire chains – like these diamond-pattern ones from TireChain.com. The studs provide extra traction by really cutting and digging into snow, slush, and ice, while the diamond chain pattern provides a smoother ride and more consistent performance than the more common "ladder"-style chains. TireChain.com claims it's better for keeping the chains on top of deep tread lugs, too, making it the ideal solution for ATVs running aggressive aftermarket tires. They're the perfect set of Polaris ATV tire chains – and perfect for just about any other OE manufacturer, as a matter of fact.
2. Best Value - Sedona Cycle Country V-Bar ATV Tire Chain
Originating from one of our favorite sources for ATV and UTV tires, with a price tag that's sure to thrill riders everywhere, these Sedona Cycle Country v-bar ATV tire chains are one heck of a value. Sedona offers four different sizes that cover "almost every possible ATV/UTV application," so Polaris owners should have no trouble at all using them as Polaris ATV tire chains, all with grippy, hardened-steel v-bar cleats that are built to endure season after season of hard use. This option is best for those riders looking for the ultimate mix of value and performance.
3. Security Chain Trac V-Bar ATV Traction Chain
Want a set of ATV tire chains from a well established brand and a solid review record? These Security Chain V-bar tire chains should fit the bill. Security Chain Company has been around since the late 60s, and in that time, they've amassed plenty of brand loyalists with their durable, effective tire chains. They've got a couple of different v-bar tire chain designs suitable for use on ATVs and UTVs, with tire diameters ranging from 21 to 26 inches. No matter which set you buy, you get a sturdy set of zinc-plated steel chains with superior resistance to corrosion, and a choice between standard 4-link and extra-grippy 2-link chain spacing for maximum traction on ice covered trails.
4. TerraGrips Tire Chains
These TerraGrips ATV tire chains aren't "chains" in the conventional sense; rather than wrapping the tread with metal chain, they extend multi-ply rubber straps over the tread to deliver some much-needed traction in snowy and icy conditions. The big advantage is that if conditions are mixed, and you need to, say, drive over a portion of uncovered driveway, there's no steel-on-pavement wearing taking place, so you aren't chipping away at your chains' protective galvanized coating or leaving gouges in your nice asphalt. Additionally, you don't have to worry about the chains causing so much accelerated tire tread wear. If you're worried about the integrity of your tires or your pavement, they're a no-brainer.
5. Instatraction Lil Gripper Mud, Ice, & Snow Chains
If you're just looking for something small and simple that you can toss into a bag and have ready to go when you need to get unstuck, Instatraction has just the thing. The Lil Gripper really isn't a tire chain at all; it's a small steel block with serrated edges and an attached ratchet strap that you can affix to your tire in just moments to give your tires a bit of extra clawing power. The nature of this design means that your tires will be left rather unbalanced any time you install, and as such, they're really just a "dig yourself out of trouble" solution – not something that should be used with any regularity. But if that's all you need, they do their job perfectly.
No matter how well you install your ATV tire chains, some will be left with an unacceptable amount of slack, so it might be necessary to also fit a set of tire chain tensioners. These rubber ones from Security Chain Company, and these spring ones from TireChain.com, are both good options, depending on the sizing of your wheels and tires. They take up some of the extra slack in the chains and help ensure a properly tight, secure fit so your chains don't flail or slip off during use.
We are committed to finding, researching, and recommending the best products. We earn commissions from purchases you make using the retail links in our product reviews. Learn more about how this works.
How do I install tire chains?
Installing conventional ATV tire chains – or tire chains for any vehicle, for that matter – is a straightforward procedure that doesn't have to involve raising the wheels. Simply stop the vehicle in a location where you have room to pull forward or backward at least several feet, drape the chains over the tires you'll be installing on, pull forward or backward just enough to wrap the chain underneath the tire, and pull the chains taught before fastening the two ends of the chain together, inside link first. Fastening mechanisms vary slightly between manufacturers, but they're all fairly straightforward and easy to operate.
Can I ride like normal when I have ATV tire chains installed?
What do you consider normal? The most important thing you need to do is keep your speeds down. If you have ATV tire chains installed, it's likely because you're down on traction and while the chains will give you increased bite in slick conditions, you still won't have the best traction. If you're riding takes you across asphalt or concrete, you also want to keep your speeds down to both minimize wear of your chains and on the surface you're traveling on. Aaron Brzozowski
Aaron is a freelance writer, videographer and car enthusiast based out of the Detroit area. He has a special affinity for the Porsche 944 series, and once owned a Volvo 240 sedan with a Weber carb in place of the factory EFI system. His work has appeared on AutoGuide, GM Authority, /Drive, and VW Vortex, among other sites.
More by Aaron Brzozowski
Published April 9th, 2021 8:06 PM
Top Brands
Popular Articles