201 Views
Best Polaris RZR Belt Options
May 25th, 2021 4:22 PM
Share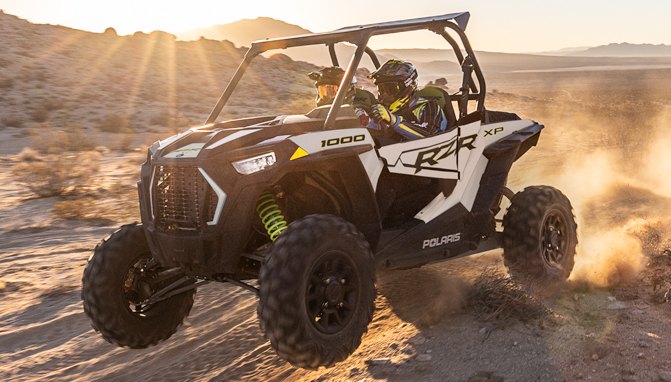 Keeping a spare belt on hand will get you back the trail faster
As any fan of the side-by-side industry knows, owners will need to pop for a Polaris RZR belt at some point in the machine's lifetime. Belt replacement goes for all rigs – not just the RZR – but it is this model on which our article will focus since it is a popular vehicle with a healthy customer base.
Belts of this type have the thankless job of harnessing the engine's power and sending it to the wheels through the rig's drivetrain. It can fail for any number of reasons, though over-exuberant use of the throttle or a simple lack of maintenance are the two main culprits (we'll freely admit that, around these parts, throttle use is the prime suspect for belt failure).
Here are a few options for the Polaris RZR we found online. Always be sure to check your application to ensure you're buying the right one before splashing out money.
1. Editor's Choice: Gates Carbon Drive Belt
We've specifically covered Gates products on these digital pages in the past, so it's no surprise they should show up on this list. The company says this is the first CVT belt utilizing a carbon tensile cord, combining minimal stretch with extraordinary strength. A high-performance neoprene with a trapezoidal top-notch and rounded bottom cog design is said to maximize heat control and flexibility. In addition, those carbon tensile cords allegedly provide optimal power transmission which results in faster acceleration, something that appeals to the gearheads around here.
2. SuperATV Heavy Duty Extreme Badass CVT Drive Belt
No, we're not making it up - the word 'badass' is actually used in the official name of this Polaris RZR 1000 belt. Actually, it's not just the psychotic 1000cc class rigs which can use this belt; it is actually interchangeable with four different Polaris parts numbers. Check your application just in case. As for the belt itself, SuperATV asserts it is built specifically for extreme abuse, excessive shock load, and high operating temperatures. In other words, if you tend to beat on your RZR like a stuck residential door, this could be a great option for you. It is made with Aramid fiber cord which, if you're wondering, is the same stuff as Kevlar; however, the big K is technically a brand name, even though most people use it as a generic term (like Kleenex or Jacuzzi).
3. Genuine OEM Polaris RZR 1000 Turbo Drive Belt
Straight from the Polaris store, this belt will give the peace of mind if you're concerned about fitment or keeping your rig OE spec. After all, who knows the RZR better than the people who built it? Made for the brutish XP 1000 Turbo series of machines, so if you require a Polaris RZR 800 belt you'll need to click further into their website. This drive belt has a stellar rating on Amazon from more than just a handful of real-world customers, thanks to an attractive life cycle and propensity for "not breaking after 100 hours of use" as some cheap alternative are described by those giving feedback.
4. Genuine OEM Polaris RZR 900 Drive Belt
Sticking with factory-approved items for a moment, the Polaris store also offers an array of belts for those who were too scared couldn't afford decided not to purchase an XP 1000 variant of the mighty RZR. Fitting machines going back at least a decade, this belt has Polaris branding and is frequently purchased with the accompanying gasket for the drive belt cover (we'll likely have an article on those items coming up soon). Sold as a quantity of one - which makes sense since that's all you need to get back on the trail - the Q&A community in this corner of the internet seems decently helpful. Helpful note: it's never a bad idea to buy an extra one of these to stick in the RZR's glovebox before it's needed.
5. Trinity Racing "World's Best" RZR Drive Belt
Branding anything as "world's best" is a bold claim; take your author's attempt to brand his backyard grilling as such, an effort which ended in tears. However, the crew at Trinity Racing feels as confident as I do about my hamburgers, leading them to make the statement. They describe the belt as their 3rd-generation heavy-duty effort, made with high-twist Aramid fiber cord good for high horsepower tensile load requirements. How much power? Up to 400 horses, apparently. The ad says the belt's bottom cog uses a high modulus rubber compound which sounds like big fun until you realize that simply means better heat resistance and dissipation.
6. Best Belt Tool: Zinger RZR Belt Changing Tool
Speaking of changing the belt, there's a decent chance that failure will occur out on the trail or in the dunes rather than in the convenience of your garage or shop. This makes learning how to handle the repair out in the field a handy skill - both your you and your moron buddies who are equally as likely to throw a belt as you are. There are plenty of tools on sale to help with the job, including this changing kit that makes life a heckuva lot easier when tackling this job. Priced less than your favorite fast-food meal, it's cheap insurance and a great way to prevent a headache.
We are committed to finding, researching, and recommending the best products. We earn commissions from purchases you make using the retail links in our product reviews. Learn more about how this works.
How do you break in a Polaris RZR belt?
The fastest way to wreck a new belt is to simply install the thing and take off at wide open throttle. Assuming you've installed the correct belt for your machine and installed it correctly, performing an initial heat cycle will go a long way to properly breaking in the belt. Drive the machine in high gear for about 20 minutes at no more than three-quarters throttle and 40 mph. Then, give it a half-hour rest before repeating this process one more time.
Why do Polaris RZR belts break?
To be clear, it's not just the Polaris performer that can toss a belt. There are an abundance of reasons why a belt can fail, ranging from a tensile cord break to so-called 'chunk out'. With the latter, a belt's rubber teeth can disappear thanks to twisting force while the cord break will look familiar to anyone who's ever ripped a piece of paper in half.
When do you replace a Polaris RZR belt?
For the appropriate amount of Polaris RZR belt break in, take a good look at your machine's recommended service intervals to ensure you're not wildly exceeding the length of time or distance between belt replacements. Follow those suggestions as closely as possible. Beyond that, always be on the lookout for new and strange noises; a transmission that engages slowly or exhibits slipping characteristics are also clues a belt replacement is soon due.
Published May 25th, 2021 4:22 PM
Top Brands
Popular Articles