6 Views
Why Do I Keep Burning Through Belts?
July 12th, 2017 12:49 PM
Share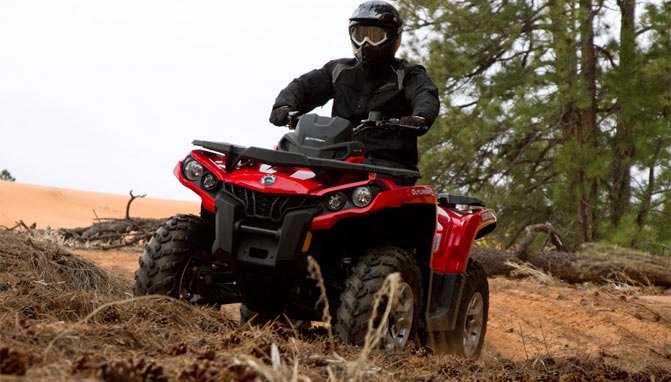 A Can-Am Outlander 800R won't stop chewing through belts
Why do I keep burning through belts? That is what one of our readers wants to know about his Can-Am Outlander 800R and he turned to the ATV AnswerMan for help.
Here is exactly what the reader asked the ATV AnswerMan, followed by his response:
I've replaced the belt on my 2012 Can-Am 800 outlander three times in the past month. It's just eating away inside on the belt. Every so often I can hear it sound like it's slinging something inside the belt box. This is after maybe 5 min ride time and would be considered on the outside edge I guess.
Noisy CVT boxes are scary and just to know that all of that rattling is probably spinning at 2000RPM – 4000RPM makes things even worse. A slight loss of balance can have huge consequences to the engine as well as the rider if not fixed immediately. The wear on the belt in the photo is a little confusing as it seems at first glance as if the belt is not getting all the way down into the secondary at all. It would be good to know at what point in the RPM range the Can-Am quit pulling or if it did at all. Does the engine seem to stay at a certain RPM under load or throttle?
So I read the question about three more times and it seems that the first belt that broke was simply replaced as a "casualty of riding war" but was the proper service inspection performed after the breakage? There are several things that need regular eyeballs over them – especially when you break a belt. Belts are known to really come apart at times and some leave not only shredded belt, fibers or strings, but also a dust or grit that can infect the moving parts of a CVT system. Who knows, maybe a squirrel or small rodent had left a store of winter nuts in the cover and that's what took the first belt out. It does happen.
So if the first belt was simply worn past its usage or beat on in the first years of the Outlander's life, there is a possibility that it left scars on the CVT system. If it were me I would pull the primary and secondary clutch sheaves off and then pull them completely apart. I would clean these with warm soapy water, possibly some degreaser, and then really look at them carefully. The OEM service manual will be a great resource for this service. The moving parts include weights and little buttons called Slider Shoes, in the primary as well as a torque gear in the secondary that can wear or create noise if broken or out of place. Hence the noisy CVT at times. I would suggest you simply inspect and rebuild these components to factor specifications and then reinstall. I bet there is trash in the sheaves somewhere that is holding the belt at an odd position and burning it up.
Published July 5th, 2017 5:27 PM
Top Brands
Popular Articles