20 Views
Best Polaris Ranger Bed Rack Options
May 12th, 2021 5:09 PM
Share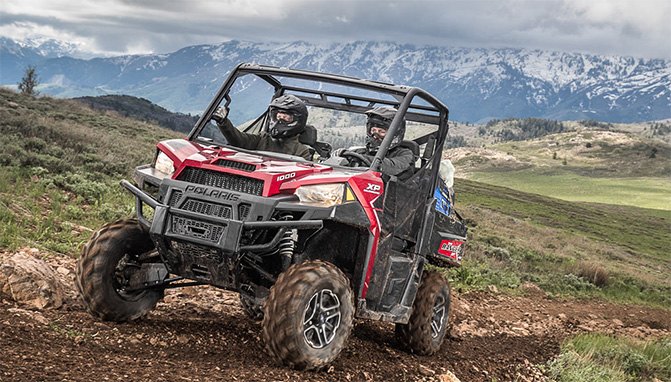 Add cargo capacity and versatility to your Polaris Ranger with a new bed rack
Adding a Polaris Ranger bed rack to the rear of your side-by-side is a sure-fire way to increase the machine's functionality without completely spoiling its ability to have a bit of fun on the weekends. An advantage of adding a Polaris Ranger bed rack is that you not only get additional storage space, but due to their design, you also get extra tie-down points that help provide a helpful dose of extra utility when hauling cargo in your bed.
Our staff of UTV experts has gathered a wide variety of Polaris bed rack options, ranging from units that simply look like a bit of added scaffolding to intricate jungle gyms designed to bear hundreds of pounds. Whichever one you select, always follow the instructions during installation and make sure to not overload your Polaris Ranger once it's assembled and ready to go. Properly distributing any added weight is crucial when adding racks like the one's we've selected. We're sure our readers are competent drivers but even the best pilots can't outgun the laws of physics.
Pack up, head out, and be safe.
1. Editors Choice - Bad Dawg Accessories Full-Size Rear Bed Rack
If you like the look of an overland off-road vehicle, this is the Polaris Ranger bed rack that you're looking for. Fitting in the bed of a Polaris Ranger, this rack acts like a tray for one's gear, essentially adding an extra layer of cargo capacity to the back of your rig. It is apparently set up for slide-in installation, with easy removability. The flat basket with raised sides should be a good spot to store hunting gear or camping kit. While the seller also identifies it as a spot for coolers, be aware that raising the center of gravity too high on a Polaris Ranger (or any side-by-side) can create a sketchy handling situation. Ultimately with the increase of space, ease of installation and cost, this bed rack is our editors favorite out of them all.
2. Best Money is No Object Bed Rack - Trail Armor Large Rear Basket Storage Rack
Whether you're using your Polaris Ranger for hunting, hauling, or just being prepared for the eventual apocalypse that's going to consume us all, Trail Armor's rear rack for the Polaris Ranger is a dandy option. Crafted from heavy gauge metal, strong tubing, and expanded mesh, this rear rack attaches to your Ranger's bed via a quartet of camlocks providing a bevy of strap and tie down options. It is powder coated for extra durability, so go ahead and use this thing like any other tool. One of the great features of this Polaris Ranger bed rack is the additional raised cargo platform. While we don't recommend putting overly heavy gear up there, it does allow you to increase your cargo storage with light gear on top, leaving the bed for the heavy hauling. If you're creative, you can even strap gear to the underside of the upper rack. The whole thing can be removed and is collapsible for storage. Inside dimensions of the basket are just 26 3/4 inches x 49 3/4 inches.
3. Best Budget Rack - Hornet Outdoors Polaris Ranger Cab Headache Rack
Featuring an installation process that doesn't require tools, this so-called headache rack mounts in the bed of your Polaris Ranger against its back window (or window area if you don't have a previously installed barrier in that space. All-steel construction means it should be durable, and a bevy of tie downs gives users plenty of options on where to secure their gear. In a statement not made very frequently these days, this product is made in the USA. This Polaris Ranger bed rack can hold the likes of a scabbard boot or jack for those who like off-roading or tools and fuel for those taking their Ranger out for a day of work. While this Polaris Ranger bed rack does offer some cargo storage and organization, it's nowhere near the gains you get with others on our list, but this is also reflected in the price as this is the least expensive option on our list.
4. Seizmik Ranger Dump Bed Rack
The dumping feature of a Polaris Ranger bed is a tremendously helpful tool, making it an important item to retain when adding accessories. For example, bolting extra seats to the bed area, which is a legitimate option, removes the dumping functionality and robs us all potential YouTube hilarity. This bed rack is designed to retain the dumping ability and, as a bonus, owners need not take a drill to their expensive Polaris since it utilizes the brand's Lock N Ride holes for installation. Our only gripe on this bed rack is that it doesn't feature a cargo basket option like some of the others on our list for better securing of gear, but other than that it's still a quality unit.
5. Polaris Lock & Ride Front Brushguard Storage Rack
Yes, I know this rack goes on the front of your Polaris Ranger, not in the bed. But hear me out. Adding a bit of functionality to the forward section of your rig is never a bad thing. This storage rack attaches and removes easily - without tools - to your vehicle's integrated snow plow mounting points, though we will note that a special accessory bumper is required and sold separately. It is allegedly able to hold something as large as a 30 quart cooler which, when fully loaded with ice and drinks, will help even out your Ranger's weight distribution if you've also installed one of the bed racks listed above.
6. Polaris OEM Lock & Ride Gun Rack
Our bedwetting lawyers always tend to freak out when we recommend anything gun-related, but we know most of our readers will have a valid use for this type of rack. Plus, you're safe and legal with your weaponry, right? Of course, you are. This Polaris Ranger bed rack is adjustable to store guns at an angle or vertical, able to hold a half-dozen rifles or shotguns securely with its soft rubber v-grips. With this Polaris Ranger Crew bed rack, your firearms will be at the ready when you reach your hunting or clay shooting destination. As a bonus, the rack can be adjusted into three positions based on firearm height.
Additional Resources
We are committed to finding, researching, and recommending the best products. We earn commissions from purchases you make using the retail links in our product reviews. Learn more about how this works.
How much can a Polaris Ranger bed rack hold?
Weight limits vary from product to product, but the vast majority of Polaris Ranger bed racks can hold somewhere in the neighborhood of 100 pounds. This should be more than enough for most riders who are simply headed onto their local trail system for a day's ride. Those pressing their Rangers into heavy duty farm work may want to be judicious with how much gear they load aboard their vehicle.
Why? What's wrong with loading it up?
The laws of physics, that's what. If an excessive amount of weight is placed in a high location on your side-by-side, such as the upper portions of a bed rack, it could cause dangerous handling characteristics as the machine tries to turn turtle at the mere hint of a corner. Evenly distributing weight that is packed flat is also important, since too much mass on one side of your vehicle can cause skittish handling as well.
Will I need tools to install a Polaris bed rack?
Having a few common hand tools around is never a bad idea while tackling a project of this nature but, for the most part, the sellers on this list assert that their products can be attached to a Polaris Ranger without any tools at all. Some will surely have a disposable Allen key included, or perhaps a small wrench of appropriate dimension.
Published May 12th, 2021 4:18 PM
Top Brands
Popular Articles