170 Views
Best Polaris Ranger Light Bar Options
April 7th, 2021 6:00 PM
Share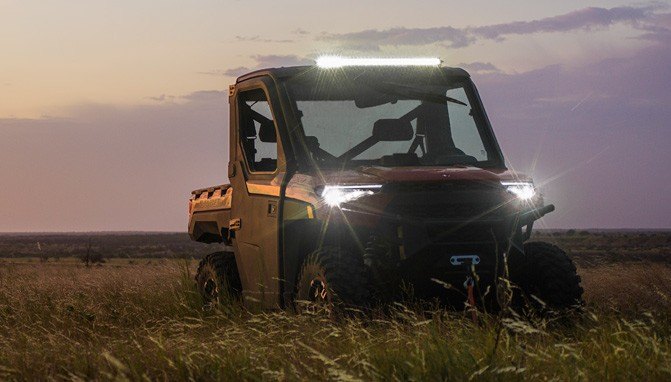 Let your Polaris Ranger light up the night
If you've ever been out for a ride well after the sun goes down, you know just how helpful a good Polaris Ranger light bar can be. In fact, we wouldn't recommend that anyone go and ride at night without a quality light bar installed; it's among the most essential bits of equipment in the UTV enthusiast's arsenal, throwing light just where it's needed to avoid hazards and clearly see the trail ahead. Lucky for you, the Polaris Ranger has plenty of usable real estate for mounting a light bar, with models ranging from 48 to 65 inches in width.
If you're shopping for a new Polaris Ranger light bar, whether you're installing one for the first time, or simply looking to get a few more lumens than your current unit supplies, there are plenty of options available. Today, energy-efficient LEDs have largely taken over the market, resulting in excellent reliability and longevity, and allowing you to get plenty of light output without taxing your Polaris Ranger's electrical system.
Here, we've rounded up some of our favorite Polaris Ranger LED light bar options, easing the process of selecting the right unit for your UTV.
1. Editor's Choice: Baja Designs OnX6 Dual Control Light Bar
Yes, the Baja Designs OnX6 Dual Control is the most expensive Polaris Ranger light bar on our list, but this is absolutely premium technology in UTV lighting. This light bar allows you to control the inner and outer sections individually. This means you can have one light bar with both amber and white light, making in incredibly versatile. It is also backed up by a 30-day satisfaction guarantee and a limited lifetime warranty.
The Baja Designs OnX6 features 18 Cree LEDs with a life expectancy of 49,930 hours, along with a billet machined aluminum bezel, aircraft grade aluminum housing with mil-spec hard anodize, and stainless steel hardware and bracket material. If you demand the absolute best of the best, go on an treat yourself.
2. KC HiLites C-Series Light Bar
Available in a variety of widths, we the curved C-Series light bar from KC HiLites makes a great choice for a Polaris Ranger light bar. The 40" version pictured above is a 240W curved dual row combo beam LED light bar. It comes with 80 LED lights and black housing. With a beam distance of 1048 meters and a whopping 21,600 raw lumens of CREE LED power at the ready, this light bar is designed to deliver balanced and powerful illumination for your Polaris Ranger. A versatile combination of spot and spread beam pattern also adds more spread, so you can not only see what's coming in front of you, but what is on either side as well.
3. Best Budget Offering: Rough Country 50" Black Series Dual Row Curved CREE LED Light Bar
An affordable option from a well-regarded manufacturer, this Rough Country 50" Black Series bar makes for a high-quality Polaris Ranger light bar that hits all the major targets: efficient and weather-resistant LEDs, an IP67 dust- and water-resistance rating, and more than 20,000 lumens of raw output - 23,040 lumens in a combo spot/beam pattern, to be exact. But where this bar really shines is its curved shape and black bezel: a great-looking combination on any Polaris Ranger. That curved shape also allows the Rough Country 50" Black Series bar cast light on a wider-angle flood pattern than a flat bar can manage, making it perfect for environments where a lot of peripheral light is required.
4. Rigid Industries Radiance Backlight Light Bar
In its 50" form, the Rigid Industries White Radiance Backlight Light Bar is the most expensive Polaris Ranger LED light bar on this list by far, but if you're looking for some of the best build quality out there, you've found it, in one of the flashiest, best-looking light bars on the market. It's available in widths from 10" to 50", with several different stylish colored backlight options: white, red, blue, and green. But what truly sets this Polaris Ranger light bar apart is its IP68 weather resistance rating, reflecting superior water-resistance than most other bars, and vibration-resistance validated through the US military's MIL-STD-810G testing standards. Its approach to illumination is a bit different, opting on the 50" bar for 27 large LEDs rather than nearly 100 smaller ones, and that means a raw output of 16,389 lumens, but boy does it look great doing it.
5. Rigidhorse 52" Single Row Combo LED Light Bar
Shopping on a budget? You don't need to spend vast sums for a full-width, high-output light bar for Polaris Ranger, and while there's certainly something to the old adage "you get what you pay for," this Rigidhorse 52" single row bar is astonishingly competent for the money. The manufacturer rates this good-looking, aluminum-housed LED light bar at 50,000 lumens, which is almost certainly optimistic, and we might hesitate to subject the unit to a lot of dust or water exposure, but if you're looking for something inexpensive to try out, at around $100, this LED light bar is a low-risk proposition.
6. Bonus: XJMOTO Pro-Fit Cage Polaris Ranger Light Bar Mounts
As "universal" as most light bars claim to be, mounting one to your Polaris Ranger might not be as straightforward as you'd like, especially if you're hoping to avoid drilling into your expensive UTV. Plan on having to make a trip to the hardware store, and consider picking up one of these XJMOTO Pro-Fit Cage mounting bracket kits. The Polaris Ranger light bar mounts clamp directly onto your UTV's Pro-Fit cage, so there's no need to drill into the metal, and they make it a cinch to install most 50" light bars. Compatible with Ranger 500, 570, 900, and 1000.
Recent Updates
April 7, 2021: Added Baja Designs OnX6 light bar and an FAQ.
We are committed to finding, researching, and recommending the best products. We earn commissions from purchases you make using the retail links in our product reviews. Learn more about how this works.
What size light bar do you need for a Polaris Ranger?
There are a couple of factors to consider here, including budget and need. A larger light bar will cover more ground left-to-right than a shorter one, so if you plan to do significant work with your Ranger after the sun goes down, a 40- or 50-inch light bar would be great. But if you just want a little extra light and your budget is tight, a 20- or 30-inch light bar can be a big help.
Published August 14th, 2020 4:56 PM
Top Brands
Popular Articles