1 View
Best 20 Inch LED Light Bar Options
July 28th, 2021 6:52 PM
Share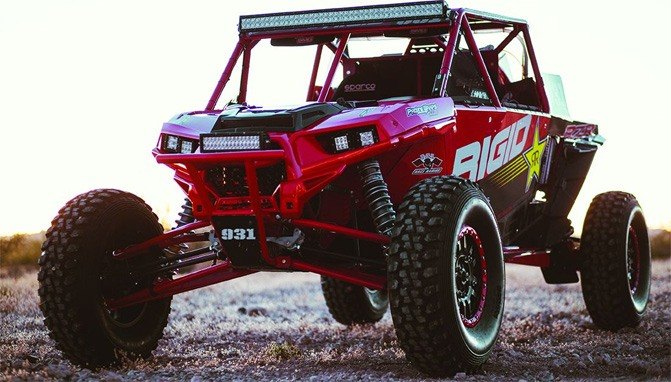 The darkest trails are no problem when you light up the night with one of these light bars
If you keep getting caught out by dusk on your ATV or UTV and your existing lights just aren't cutting it, it's high time you considered fitting a 20 inch LED light bar.
A 20 inch LED light bar is just right for the average ATV or UTV – wide and powerful enough for the vehicle size and power level, and yet compact enough that it can be installed on most models without much hassle. Thankfully, there's no shortage of durable, excellent performing 20 inch LED light bar options on the market, from dual row models with matrices of as many as 40+ LED bulbs casting combination spot/flood beam patterns on the trail, to sleek 20 inch single row LED light bar units that maintain a slimmer profile, and tend to fare better in higher-speed applications.
Here, we've rounded up a list of the best 20 inch LED light bar options on the market today, to give your ATV or UTV the lighting firepower it needs to successfully navigate dusk and make it home in one piece.
1. Editor's Choice: Sylvania Ultra 20 Inch LED Light Bar
You don't have to spend a bundle to get a 20 inch LED light bar backed by a trusted, recognizable brand, and while Sylvania may not have the off-road cred of the likes of KC HiLites or Baja Designs, the manufacturer is a well-known powerhouse in the world of automotive lighting. That makes the Sylvania Ultra 20 Inch LED Light Bar an absolute bargain, with 9,120 raw lumens of output in a combo spot/flood pattern from two rows of long-lasting 6000K-rated LED bulbs, and an IP67-rated dust- and water-resistant housing with a durable polycarbonate lens. Sylvania is so confident in the durability of its 20 inch LED light bar that it ships with a limited lifetime warranty – a rarity at the price point – and the performance is comparable to light bars costing more than 1.5 times as much.
2. Best Single Row LED Light Bar: Baja Designs OnX6+ 20 Inch Driving/Combo LED Light Bar
If you just simply must have the best, this Baja Designs OnX6+ 20 Inch LED Light Bar makes a strong case for the best 20 inch LED light bar available anywhere. Baja Designs is a constant presence at the annual SEMA Show in Las Vegas, with Baja lights frequently adorning some of the most sophisticated, all-out custom builds. The same absolute dedication to quality is on full display here, with a waterproof, submersible MoistureBlock housing rated to IP69K, brilliantly engineered ClearView optics with replaceable lenses, and CopperDrive LED technology, which makes this one of the only light bars where the LEDs are driven at 100%. All that adds up to a staggering 24,920 lumens of output from 12 18W CREE LEDs. This light bar is so durable that it passes military-spec MIL-STD810G testing and IK10 mechanical impact testing. The only downside, beside the rather large price tag? It doesn't ship with a wiring harness; that part needs to be purchased separately.
3. Rough Country 20" Black Series Dual-Row CREE LED Light Bar
Another affordable 20 inch LED light bar from a brand with a well-established reputation, the Rough Country 20" Black Series Dual-Row CREE LED Light Bar offers a perfect blend of performance, price, and style for the value-minded powersports enthusiast. With 40 3W CREE LEDs in two rows, this light bar puts out a respectable 9,600 raw lumens with a combination spot/flood pattern, and its black bezels give it a uniquely sharp, stealthy look that blends right in with your vehicle. The die-cast aluminum housing is tough and durable, and it helps give this light bar an IP67 rating for dust- and water-resistance, with a "water breather" that works to reduce moisture buildup. All that, plus a snap-on cover, wiring harness with rocker switch, durable mounting brackets, and a 3-year warranty make the Rough Country 20" Black Series Dual-Row CREE LED Light Bar one compelling package.
4. KC HiLites 335 C-Series C20 20" LED Light Bar
Have you got a certain penchant for premium brands? Then you'll definitely want to check out the KC HiLites 335 C20 20 Inch LED Light Bar. It's a tad on the pricy side compared to the likes of Sylvania and Rough Country, but for your money, you get a more thoroughly engineered product with built-in thermal management and robust RFI and EMC interference protections to keep your lights performing their best through all manner of conditions. The housing is IP67 rated against dust and water intrusion, and the light bar offers a perfect combination beam pattern, blending a 12-degree spot beam with 30-degree flood lights to cast illumination exactly where you need it most. With 36 LED bulbs arranged in two rows, this light bar puts out a total of 7,560 lumens, rated for 50,000 hours of use.
5. Nilight ZH006 20 Inch LED Light Bar
While we're always a bit wary when it comes to inexpensive ATV and UTV accessories from relatively unknown brands, this Nilight ZH006 20 inch LED light bar is too good a deal not to include on our list. It might just be the best 20 inch LED light bar on the market for those shopping on a tight budget, with an estimated LED bulb lifespan of 30,000+ hours, an IP67-rated dust- and water-resistant housing, and an astonishing level of light output for the money, courtesy of 42 bulbs in a dual-row matrix with a combined total of 126 Watts of power. And even at such an affordable price point, this Nilight light bar ships with a full wiring harness and all the hardware you need to mount it, with an adjustable pitch angle of up to 45 degrees for pointing the light just where you need it.
6. Rough Country 20" Black Series Single-Row CREE LED Light Bar
Looking for an affordable 20 inch single row LED light bar from a good brand with a solid reputation? Rough Country's Black Series CREE LED light bar is again ready to deliver. With this light bar, you get the same IP67-rated dust- and water-resistant housing as on the dual-row version, and the same sharp-looking black bezels. The only real difference is the slightly lower price point, and the more low-profile design, facilitated by the single row of 20 5W LED bulbs. Total output is a bit lower at 7,200 raw lumens, versus the dual-row's 9,600, but that's still more than enough to illuminate the trail adequately, and the perks – less wind noise, less aerodynamic drag, a lower purchase price, and a more sleek, low-profile design – arguably make up for the power gap.
7. Nirider 20 Inch Single Row LED Light Bar
Remember when light bars used to be simple, single-row arrangements of big, round halogen bulbs and reflectors? That's the sort of aesthetic that this 20 inch single row LED light bar from Nirider harkens back to, with eight powerful 10W LED bulbs in a row, each enclosed within its own ribbed heatsinking black housing, with individual reflectors and lenses. The end result is an attractive, distinctive-looking 20 inch single row LED light bar with an impressive 8,000 raw lumens of illumination and an IP68-rated housing, with better water-resistance than most of the light bars it competes against. That makes it especially well-suited to ATV and UTV use, where rain and mud are a routine part of the experience. With a two-year warranty and a rated lifespan of 50,000+ hours, this Nirider light bar is ready to go the distance.
How Do I Install A 20 Inch LED Light Bar?
When it comes to how to install a 20 inch LED light bar, the exact procedure you should follow will, ultimately, come down to your particular model and how its mounting brackets and hardware are designed. Most ship with a pair of L-shaped metal brackets that affix to either side of the light bar housing with one or two fasteners apiece, and to your ATV or UTV's bodywork with one or two fasteners per side.
First, before installing your 20 inch LED light bar, it's important to find a suitable mounting location. Typically, you'll want to mount it high on the front end of the vehicle so that it can be angled down, casting the light onto the trail where it's most useful. Exposure to dust, water, and mud is another concern; you don't necessarily want to test the waterproofness of your light bar's housing and mounting it relatively high up helps to limit its exposure to the elements. You should also consider the range of pitch allowed by the mounting brackets, as there's nothing worse than drilling into your vehicle and bolting up the brackets only to find that the light bar can't possibly be rotated into a useful position.
Rather than drilling into your vehicle's body panels, we recommend mounting the light bar on a tubular front bumper or roll cage tube, wherever possible, or if it's in the budget, purchasing an aftermarket bumper specifically designed to support a light bar.
Once you've found your mounting location, attach the mounting brackets to the light bar, and hold it in place to verify fitment. If you're concerned about whether it's perfectly plumb or level, try and adjust the pitch of the light bar so that a broad, flat surface is facing directly upward, and have a friend hold a bubble level on top of the light bar, making any necessary adjustments. It goes without saying that this will only work if your vehicle is parked on flat, level ground.
Now, while still holding the light bar firmly in place, have your friend fetch a marker or grease pencil and leave a mark on the vehicle in the dead center of each bracket hole. You can also have them use a punch or drill bit to scribe each hole center if that's easier. You can now set your light bar down and begin drilling at each hole location, starting with a small pilot hole and moving up to progressively larger drill bits until the holes are wide enough. It's important here to know what the total diameter of each of your fasteners is.
Once all the holes are drilled, you are ready to bolt the brackets into place and mount your light bar. After it is mounted, follow all manufacturer instructions regarding wiring and mounting the power switch, disconnecting your battery before you begin to mitigate the risk of shock. And remember: any wires that aren't quite long enough for your application can be lengthened with supplemental wire of the same gauge thickness. There are numerous helpful guides online regarding how to properly splice wires together to maintain a low-resistance and waterproof connection.
Should I Buy A 20 Inch Single Row LED Light Bar, Or A Dual Row?
Single row and dual row LED light bars each have their benefits and drawbacks, with dual-row units most often holding the advantage when it comes to total light output. They tend to be more expensive than comparable single-row units, but not by much, and the price delta is often more than made up for with their extra light output.
However, where 20 inch single row LED light bars gain an edge is in maintaining a lower profile. Their slimmer design not only often looks better, but it also means less aerodynamic drag, less wind noise, and easier fitment if you're mounting the light bar in a location without a lot of vertical headroom. And, single row light bars tend to be aimed more at quick, fast-paced performance driving, throwing the light further with better spot-beam performance. Dual row light bars are more often geared toward lower-speed off-roading, with more of a balanced spot/flood beam pattern that illuminates a wider area.
Ultimately, which type of light bar is right for you – single row or dual row – will depend on a range of different factors, including budget, aesthetic preference, and preferred driving style.
Become an ATV insider. Get the latest news first by subscribing to our newsletter here.
We are committed to finding, researching, and recommending the best products. We earn commissions from purchases you make using the retail links in our product reviews. Learn more about how this works.
Published July 28th, 2021 6:52 PM
Top Brands
Popular Articles