283 Views
Best Polaris Ranger Stereo System Options
May 7th, 2021 4:30 PM
Share
We're committed to finding, researching, and recommending the best products. We earn commissions from purchases you make using links in our articles. Learn more here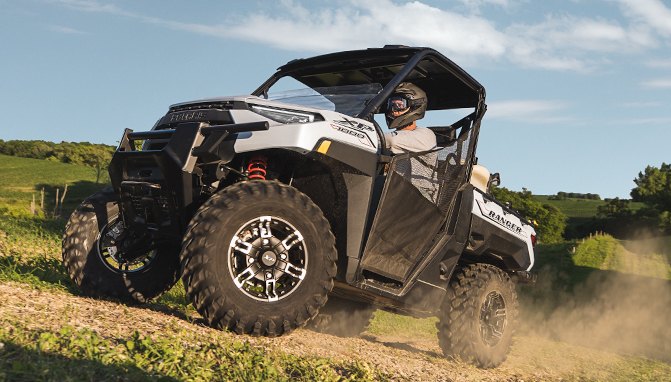 Bring the music to your Ranger with a new stereo system
If you've grown tired of trying to remember to grab a portable Bluetooth speaker every time you take off in your Polaris Ranger, you should really consider getting a dedicated Polaris Ranger stereo system.
As perhaps the most popular UTV in the entire industry, the Polaris Ranger benefits from a wide array of available aftermarket sound systems, and the range of universal stereo systems on the market expands the options even further. But selecting or cobbling together the right Polaris Ranger sound system for your needs isn't always a straightforward process. There are numerous factors to consider, including the weatherproofness of the components, the mounting options, the compatibility of different parts, etc.
But you don't have to face all that alone. To help you navigate the market of aftermarket Polaris Ranger stereo system options available today, we've put together this helpful list of the best Ranger sound systems around, including a variety of integrated dash-mounted kits, overhead kits, and universal sound bars. No matter what you're looking for in your next Polaris Ranger sound system, you ought to be able to find it somewhere on this list.
1. Editor's Choice: Rockford Fosgate Ranger Stereo Kit
One of the biggest names in car audio, Rockford Fosgate offers some of the best, most kickingest, most high-quality all-in-one Polaris Ranger sound system packages around. We especially like the Stage 2 kit, which ships with a powerful PMX-2 in-dash multimedia receiver with a 2.7" full-color TFT display and a dash mounting panel, plus a pair of loud and clear 6.5" full-range speakers with enclosures specially designed to fit right in with the factory Ranger dash. Or, if you want your system to come with a bit more "oomph," there's the Stage 4 kit with its 400-Watt 4-channel amp, four 6.5" full-range speakers, and 10" dual subwoofer. We won't lie: both systems are on the expensive side. But if you want unparalleled audio quality in a bespoke, high-quality package, Rockford Fosgate is the way to go.
2. MTX Audio Ranger System
Another comprehensive, purpose-built all-in-one Polaris Ranger sound system, the MTX Audio Ranger System 1 flaunts a weatherproof, Bluetooth-capable AWMC3 head unit with a bespoke, direct-fit dash enclosure, and a pair of enclosed 6.5" full-range speakers that tuck in neatly underneath the dash on either side. In describing the system, MTX says it was designed to offer "an OEM fit and finish" but with "100% aftermarket performance," which means you can look forward to thumping bass and crystal-clear mids with plenty of overhead to crank up your favorite jams.
3. SSV Works WP-UO4L Overhead Stereo System
A nicely integrated dash-mounted Polaris Ranger stereo system is nice, but it's not always an option. SSV Works has the perfect solution in the WP-UO4L – an overhead all-in-one Bluetooth receiver, amplifier, and speaker system. This clever SSV Works unit mounts to the factory roll cage above the dash, and everything comes pre-wired internally, which means that installation is as simple as fastening it in place and connecting a few wires to your Ranger's electrical system – a process that should take all of 15 minutes, according to the manufacturer. Featuring a built-in FM tuner, built-in dome light, and strong, low-resonance fiberglass construction, the SSV Works WP-UO4L is the easy-to-install, all-in-one Polaris Ranger sound system you've been looking for, with low-level RCA outputs for future expandability.
4. SSV Works Polaris Ranger XP 1000 Stereo
An affordable in-dash system made just for the 2018+ Polaris Ranger XP 1000, this Polaris Ranger sound system from SSV Works is a direct-fit solution with a no-frills MRB3 Bluetooth audio receiver, a pair of 6.5" SSV Works speakers, and all the necessary mounting brackets and enclosures. By cutting out unnecessary extras like a full-color TFT display and a full molded dash mounting panel, SSV Works has managed to put together a sweet-sounding, top-quality audio kit for less, with exactly the sort of clean, factory-like appearance you might expect from a premium UTV audio system.
5. SuperATV MTX 6-Speaker Universal Sound Bar
If your Polaris Ranger isn't covered by one of the aforementioned options, or you just can't bring yourself to spend that much money on a Polaris Ranger stereo system, there are plenty of more generic, universal-fit options to consider – like the SuperATV MTX 6-Speaker Universal Sound Bar. In addition to SuperATV's superb build quality, this sound bar packs a wallop with four full-range 3" speakers and a pair of 1" tweeters, fed by a 200-Watt amplifier with a Bluetooth audio receiver, all housed within a durable, weather-resistant enclosure that's designed with the trail in mind. More impressive still is the price tag, which is low enough to make it one of the most cost-effective Polaris Ranger sound system options around.
6. BOSS Audio BRT27A UTV Sound Bar System
As one of the best value car audio brands around, you'd better believe that BOSS Audio is capable of putting together an attractive, cost-effective universal UTV sound system, and here it is: the BOSS BRT27A. Powered by a beast of an amplifier with a 500-Watt amplifier, this thing is seriously loud, making the absolute most of its six full-range 3" speakers and two 1" tweeters. And if that's not enough to draw you in, maybe this will do: the sound bar packs an integrated RGB LED light bar to illuminate the cockpit in style after the sun goes down. And best of all, all of it's housed within an IPX5-rated weatherproof enclosure, for solid protection against the elements – a must for the trail.
How Do I Select Speakers For My New UTV Head Unit?
Selecting which speakers to use with your new Polaris Ranger stereo system isn't always as straightforward as speaker shopping for a car, truck, or SUV. Unlike a light passenger vehicle, your Polaris Ranger doesn't have a fixed number of speaker mounts designed and built into the interior, and there's no standard head unit to match the speaker impedance to.
If you've bought a Polaris Ranger stereo system without speakers, we first recommend figuring out what the recommended impedance for your stereo is, and how many channels it supports. Impedance is essentially the resistance of the speakers; the ideal speaker for a head unit rated for 8 ohms has an impedance of 8 ohms. You can use lower-impedance speakers, like 6- or even 4-ohm units, with such a head unit, but be advised that those speakers will draw more current. At higher volumes, you risk blowing the amplifier. Conversely, matching, say, 8-ohm speakers to a lower-impedance head unit will reduce the maximum sound output, but only marginally, and in most cases, there should be no real loss of audio quality.
Once you have that worked out, it's a matter of figuring out speaker placement and ensuring that you have the right housings and mounts. There are many UTV and marine audio speakers on the market that come installed within weather-resistant housings with roll cage-compatible mounts, but many do not. In those cases, you can simply purchase suitable housings and clamp them onto your UTV's factory roll cage.
That's really all there is to it. And if you're ever on the fence as to whether a certain speaker is suitable for use in your Polaris Ranger, where it might be subjected to rain, snow, and other harsh conditions, remember: when in doubt, always reach for something marine-grade.
Additional Resources
We are committed to finding, researching, and recommending the best products. We earn commissions from purchases you make using the retail links in our product reviews. Learn more about how this works. Aaron Brzozowski
Aaron is a freelance writer, videographer and car enthusiast based out of the Detroit area. He has a special affinity for the Porsche 944 series, and once owned a Volvo 240 sedan with a Weber carb in place of the factory EFI system. His work has appeared on AutoGuide, GM Authority, /Drive, and VW Vortex, among other sites.
More by Aaron Brzozowski
Published May 7th, 2021 4:30 PM
Top Brands
Popular Articles