182 Views
Best Polaris Ranger Fuel Pump Options
July 26th, 2021 7:29 PM
Share
We're committed to finding, researching, and recommending the best products. We earn commissions from purchases you make using links in our articles. Learn more here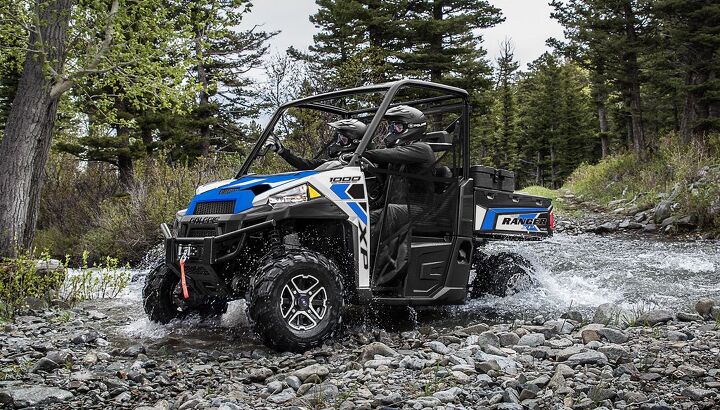 Get your Ranger running strong again with a new fuel pump
If your Polaris Ranger fuel pump is well past due for a replacement, there are tons of great aftermarket options out there. And while you'll never hear us disparage OEM replacement parts, if you're looking to save a buck, the aftermarket is a great place to look.
Unfortunately, not every Polaris RANGER fuel pump replacement part is a home run; certain manufacturers have better quality control than others, and not all designs and manufacturing materials are made equal. Sometimes, you think you've found the perfect aftermarket replacement part, only to find out the hard way: there are few things as irritating as having to make the same UTV repair twice.
That's where we come in. We've done all the homework for you, scouring the internet to round up some of the best aftermarket Polaris Ranger fuel pump options around, with an eye on price, performance, and value. The pumps on this list cover a vast array of different Polaris Ranger models, and originate from a diverse set of manufacturers, but they all have one thing in common: being a smart buy.
1. Editor's Choice: OSIAS Fuel Pump For 1999-2012 Polaris RANGER 400 / 500
A highly rated replacement Polaris Ranger fuel pump with an enviable list of nifty features, this OSIAS fuel pump is a great option for Ranger 400 and 500 models from 1999 through 2012. The movement is made entirely of brass for a long service life with excellent durability, and it's got the two-year manufacturer warranty to prove it. Beyond that, this OSIAS pump boasts durable, advanced polymers, brushes, and commutators developed for use with multiple fuel blends, and a polished, corrosion-resistant case that mitigates seizing during non-use. Best of all, you get all that for a price that won't break the bank.
2. Best Value: Yoneda Electric Fuel Pump For 1999-2012 Polaris RANGER 400 / 500
If you're looking for an even less expensive Polaris Ranger fuel pump for a 1999-2012 400 or 500 model, look no further than this YONEDA electric fuel pump. It covers all the same models as the OSIAS pump above, and boasts the same two years of warranty coverage, but at a fraction of the cost. Things are similar inside the pump, too, where there's a durable 100% brass movement designed to stand up to years of use, and the all-metal housing features a corrosion-resistant zinc-plated finish that can hold up to elemental exposure. If you're looking for the outright best bang for your buck, this YONEDA fuel pump is it.
3. Bosting Fuel Pump w/ Regulator and Strainer For 2006-2010 Polaris RANGER
Suitable for a range of Polaris Ranger models from 2006 through 2010, this Bosting Polaris Ranger fuel pump represents one heck of a value, shipping with a new 43 psi fuel pressure regulator and a strainer so you can refresh the most crucial bits of your fueling system in one go. Otherwise, it's a fairly standard fuel pump, but online customer reviews are overwhelmingly positive, and the kit ships with a two-year manufacturer guarantee. Installation couldn't be easier, either, with precisely sized components that simply drop right in in place of your factory parts. All things considered, it's one of the most cost-effective fuel pump kits for 2006-2010 Polaris Rangers.
4. Dimaier Fuel Pump Assembly For 2013-2019 Polaris RANGER 900 / 1000 and 2008-2013 Polaris RANGER 500 / 700 / 800
If you're looking for the easiest, most low-effort solution to replace your Polaris Ranger fuel pump, we strongly recommend you check out a complete drop-in fuel pump assembly – like this one from Dimaier. Sure, it's more expensive than just the fuel pump by itself, but depending on the age of your Ranger, you might be due to replace plenty of related components anyway, and it's hard to put a price on the time you'll save. This Dimaier kit is the total package, shipping with the pump, bracket, level sending unit, strainer, and even a replacement tank seal, all for a reasonable price. Best of all, at least two versions are available – one to suit 2013-2019 Ranger 900s and certain 1000 models, and another for some 500, 700, and 800 models from 2008 through 2013.
5. ABIGAIL Fuel Pump for 2019-2019 Polaris RANGER 500 EFI and 2014-2019 RANGER 570 XP
If you have one of the smaller displacement Polaris Ranger's in your stable, a replacement fuel pump from ABIGAIL might be what you're looking for in a reliable source of fuel delivery. Designed as a 100% direct OEM fit, you don't need to worry about modifying anything like wiring or mounting points. This Polaris Ranger Fuel Pump fits models such as the 2017-19 Ranger 500 EFI, 2014-19 Ranger 570 XP Crew EFI and other similar models, and it's easy to verify if it fits your application. Backed by a 30-day hassle free return policy and 1-year unlimited replacement promise, feel comfortable in upgrading and replacing your old worn pump with one from ABIGAIL.
6. IMAChoice Electric Gas Fuel Tank Pump Assembly fit for ATV Polaris Ranger 800/900
If you're the owner of a 2011-2017 Polaris RANGER 800 or 2013-2019 RANGER 900 and have been feeling a lack of power you might be attributing to a failing fuel pump, IMAChoice might have the pump you need to breathe new life into your machine with this Polaris RANGER fuel pump replacement. IMAChoice fuel pumps have everything you need to replace your OE fuel pump, including a new fuel sender module. IF you're not sure about the fitment of this fuel pump to your machine, this unit is supposed to be a direct replacement for the following part numbers: 47-1012, 2522139, and HFP-A3963. Their RANGER fuel pumps are manufactured with high quality parts and come with a one year warranty.
7. RANSOTO Fuel Pump Assembly for Polaris Ranger 500 / 700 / 800
If you're in need of a new Polaris RANGER 500 fuel pump and want an option other than original equipment, this unit from RANSOTO is perfect for you. RANSOTO vows that all their products are thoroughly tested to ensure safety, stability and durability, and stands behind their products with a 1-year warranty and 100% customer satisfaction guarantee. Aside from the RANGER 500 are Ranger 700 4x4 EFI / CREW 2008-2009, Ranger 700 6x6 EFI 2009, Ranger 800 4x4 EFI / CREW / 6x6 EFI 2010.
Need things broken down a little more simple? This is a Polaris RANGER fuel pump replacement for the following part numbers: 1240239, 1240382, 2204306, 2205502, 2520673, 2520864, and 2521121.
What should I consider when looking for a Polaris RANGER fuel pump replacement?
First of all, you want to make sure it's compatible with your machine. With so many Polaris RANGER options out there that use different types of fuel pumps, it can be easy to order the wrong pump. Make sure that you're getting the right make and model before you click that buy it now button. Many listings will also include the OE part number, so research on a factory part site for the proper number for your machine and verify that it crosses over with the aftermarket part you want to purchase.
We are committed to finding, researching, and recommending the best products. We earn commissions from purchases you make using the retail links in our product reviews. Learn more about how this works.
Updated 7/26/2021: Updated product descriptions, added two new items, added FAQ, added additional resources
How do I know when it's time to replace my Polaris Ranger fuel pump?
Do you remember how quiet your Polaris Ranger was when you first got it? Then you started noticing a weird buzzing or whining sound from the fuel tank that progressively keeps getting louder and louder? Guess what; It's probably time for you to replace that fuel pump. There's no warning light or recommended service time to replace your Polaris Ranger fuel pump, but you can usually tell from hearing noises like described or sometimes feel a difference in performance, like lack of power, top speed or throttle response.
Can I replace the fuel pump myself?
This is dependent on how mechanically inclined you are. Many of the fuel pumps are fairly simple to access under a seat in the cab area or under the bed, where they're fairly easily accessible. You might need some basic hand tools (screwdriver and sockets) to replace, but for the most part it should be a simple process. Aaron Brzozowski
Aaron is a freelance writer, videographer and car enthusiast based out of the Detroit area. He has a special affinity for the Porsche 944 series, and once owned a Volvo 240 sedan with a Weber carb in place of the factory EFI system. His work has appeared on AutoGuide, GM Authority, /Drive, and VW Vortex, among other sites.
More by Aaron Brzozowski
Published March 26th, 2021 9:44 AM
Top Brands
Popular Articles