137 Views
Best Kawasaki Mule Fuel Pump Replacement Options
February 24th, 2021 11:01 AM
Share
We're committed to finding, researching, and recommending the best products. We earn commissions from purchases you make using links in our articles. Learn more here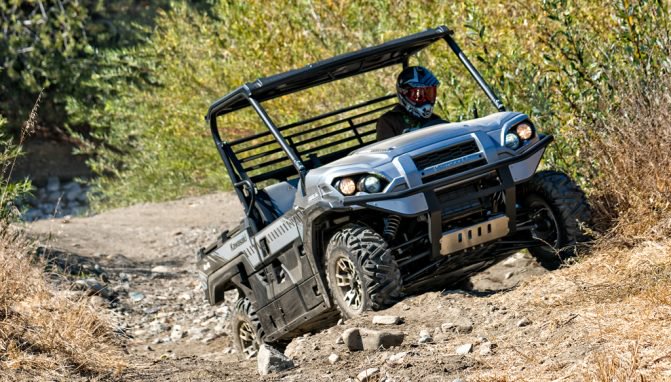 Don't let a failing fuel pump keep you sidelined
Do you have a Kawasaki Mule fuel pump that has a whining noise that wasn't there before? Is your Mule struggling to start or stalls intermittently? These early signs of a failing fuel pump are your warning to replace it with one of the quality fuel pumps from our list before you get stranded on the trail.
Any fuel pump's job is relatively simple: to consistently provide sufficient fuel pressure to the carburetor or fuel rail. Yet fuel pumps can fall prey to a range of different failure modes, brought on by clogging with debris or old, gummed-up gasoline, "burning out" through being run repeatedly on near-empty or simply succumbing to old age. The good news is that a replacement Kawasaki Mule fuel pump is a relatively inexpensive part and one that's easily replaced by the home mechanic with only basic hand tools.
There's a full range of trustworthy, durable Kawasaki Mule fuel pump replacements on the market today, and are just a couple of clicks away. Here are some of the best Kawasaki Mule fuel pump replacements available today.
1. Editor's Choice: Kawasaki Fuel Pump 49040-0769 - for 2005-2015 Mule 600/610
You can't really go wrong with genuine OEM replacement parts, making this Kawasaki Mule fuel pump well worth the humble price tag. Manufactured in Japan by OE supplier Mikuni, this fuel pump ought to last every bit as long as the one that came on your Mule from the factory. Enough said. Fits various gasoline-fueled Mule 600 and 610 models from 2005 through 2015.
2. Quantum HFP-282 Fuel Pump - for 2016-2020 Mule 600/610
Manufactured right in the USA, the Quantum HFP-282 fuel pump replaces Kawasaki parts 49040-005 and 49040-0751, making it suitable for various 2016-2020 Mule 600 and 610 models. It's a tad more expensive than an OEM Kawasaki Mule fuel pump, but it offers a lifetime free replacement warranty.
Quantum says its fuel pumps "feature upgrades that improve on the OEM design. Upgraded polymers, brushes, and commutators ensure long life and durability in multiple fuel blends."
3. Yoneda Fuel Pump 49040-1055 - for various 1988-2008 Mule 1000/2500/3000 models
For certain older models of the Kawasaki Mule – specifically, the Mule 1000 (1988, 1994-1997), Mule 2500/2510/2520 (1992-2000), and Mule 3000/3010/3020 (2001-2008) – this Kawasaki Mule fuel pump from Yoneda is a great choice. It's a direct, bolt-on replacement with the same form factor, electrical connections, and specifications as Kawasaki fuel pump 49040-1055, with a price tag that's hard to argue with. Best of all, Yoneda backs this fuel pump up with a two-year warranty against manufacturer defects, so you get peace of mind with your purchase.
4. Quantum HFP-A487 Fuel Pump Assembly - for 2009-2019 Mule 4000/4010 EFI
If you need to replace the fuel pump assembly in your newer Kawasaki Mule 4000 or 4010 model, the Quantum HFP-A487 might be the best deal you'll find. First, it's a hassle-free, direct replacement, with all the necessary components – strainer, pressure regulator, level sending unit – included. Second, it's been expertly engineered and manufactured in the USA, with attention paid to making it compatible with today's ethanol-infused pump gas. And finally, it is surprisingly affordable and comes with a lifetime replacement warranty to save the day in the event it ever lets you down.
5. Dasbecan Fuel Pump Assembly 49040-0716 - for 2016-2020 Mule Pro FX/FXT
This Kawasaki Mule fuel pump assembly from Dasbecan is the perfect answer if you're looking to save some coin on a replacement for your 2016+ Mule Pro FX or FXT. It's a precision-manufactured, low-cost drop-in replacement built to last up to 100,000 miles, or through 30,000 hours of operation. That's farther than most Kawasaki Mules will ever travel in a lifetime. This particular Mule fuel pump is a suitable replacement for Kawasaki parts 49040-0716, 49040-733, and 49019-0013, and comes with a one-year warranty against manufacturer defects.
How do I know when the fuel pump is going out in my Kawasaki Mule?
One of the most tell tale signs of a failing fuel pump is an unusual whining or buzzing sound, usually emanating from the fuel tank, that wasn't there before. This is because the bearings or bushings of the pump are failing. When you hear this, start looking for a replacement before getting stranded.
Are OEM parts the best?
The benefit of sticking with OEM replacement parts is that you know they are going to fit properly and that the manufacturer has done extensive testing with them. They also won't void your warranty, which is a point worth considering.
However, aftermarket part manufacturers have definitely gotten better over the years at making replacement parts and in many cases they are every bit as good as what comes from the factory on your machine. Even better is that some of these companies offer outstanding warranties to back up their products.
We are committed to finding, researching, and recommending the best products. We earn commissions from purchases you make using the retail links in our product reviews. Learn more about how this works. Aaron Brzozowski
Aaron is a freelance writer, videographer and car enthusiast based out of the Detroit area. He has a special affinity for the Porsche 944 series, and once owned a Volvo 240 sedan with a Weber carb in place of the factory EFI system. His work has appeared on AutoGuide, GM Authority, /Drive, and VW Vortex, among other sites.
More by Aaron Brzozowski
Published February 18th, 2021 4:14 PM
Top Brands
Popular Articles