1 View
2020 Polaris RANGER 1000 Review: First Impressions
August 27th, 2019 11:42 AM
Share
Fast Facts
MSRP: $12,999
Towing Capacity: 2500 LBS
L x W x H: 120 x 62.5 x 76"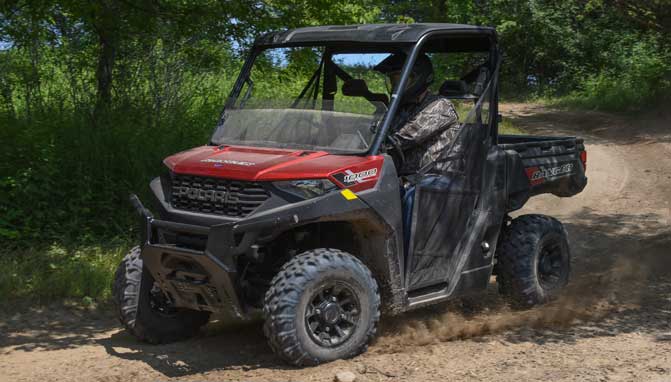 Another new RANGER has arrived
Polaris has just announced a host of new machines in the off-road category, including the all-new 2020 Polaris RANGER 1000 and RANGER Crew 1000.
In the model year 2020, Polaris retires the 900 series of RANGER Utility line and replaces it with an affordable 1000-class RANGER with a price tag that is sure to get many excited. Starting at $12,999, you can have a big bore Utility Side-by-Side and with features that you might think would be left for only the more expensive versions of this vehicle. We had a brief chance for a first impression to see if they got it right.
Our tour of the Wyoming, Minn. facility ended with about four hours of seat time and photography just across the road from Polaris' R&D headquarters. Although this is not near enough time or use of a machine like this to shake down all off the features, it was indeed a great day of riding and proved to us once again that Polaris is hearing what the loyal consumer is saying.
Our very first impression is something that we are all too familiar with and that is just how quiet these Polaris RANGERs are. The engine is sitting completely behind the passenger compartment, as opposed to in the center of it, and allows the conversation to be heard very easily in the cab. The engine is not your ordinary 999cc mill, however, as it does get some changes to adapt more evenly to the requirements set forth for the target customer.
The engine itself from the oil plug to the top of the cylinder is the 999cc mill, but the head is a single overhead cam version. This engine also brings the peak torque curve down approximately 3000 rpm so that the grunt of the RANGER is more usable for towing and hauling. You can really feel the low to mid-range punch in this new machine and for a working owner this is going to be a much better range for usable power. With this new engine and also the clutch adjustments, the 2020 Polaris RANGER 1000 can tow 2500 lbs. Knowing that this kind of weight might be a little tough on braking components, Polaris has also added a tougher and upgraded braking system from their XP 1000 machines. We had very little trouble getting this RANGER stopped, but did not get an opportunity to stack a trailer behind the rig.
When you slip into the driver seat you might notice a little extra room getting in and out. The egress has been widened five inches just for that reason and a smooth flat floor allows you to easily slip in one door and out the other. Our ride was primarily in the 2020 Polaris RANGER 1000 EPS model, which comes with custom cast aluminum wheels and 26-inch tires as well as upgraded seating. The seating in the second-tier trim level is 25% plusher via extra padding along with the cut and sewn styling of a custom seat. Handling is what you would expect from a Polaris RANGER in that it is smooth and turns very tight. The engineers gained an additional 8.0 degrees in tightness from the steering so spinning around on a dime is extremely easy. It makes wiggling in and out of tight tree-lined wooded trails a cinch.
2018 Polaris Ranger XP 1000 Review
Polaris has always had a way of adding features that just make sense and this new RANGER 1000 is no different. The electrical department seems to get even the best mechanics in trouble from time to time, but with smart products like the Polaris Pulse Bus Bar, Polaris has simplified the installation of accessories which require electrical connections. The new 2020 Polaris RANGER 1000 comes with a 3-port Polaris Pulse Bus Bar and if you just need more you can always add the 6-port from the parts counter with no trouble at all. Not to mention the RANGER is winch minded, as it already has its wiring ready for that big jerk chain.
Looking at the front of the 2020 Polaris RANGER 1000, you can tell just what trim level you are staring at by the front bumper alone. The base model has a little less protection across the brow lines or under the headlights than the EPS model. Even though the bumper is not as wide, it does still have several accessory integration points just like its brother the EPS model. From a snow plow to lighting mount holes, this bumper gives the owner plenty of options.
As mentioned before, our ride was approximately four hours and although we did get to experience some trail riding, it will be nice to test this new 2020 Polaris RANGER 1000 with some heavy towing and long-term work schedules. We found that it was quiet, smooth riding, lots of torque down low and seemed to be very easy to wrench on should you decide to do that in the future. There is also a crew version of this RANGER 1000, but we did not have a chance to get inside one at this event. Maybe in the near future, though. I can say without a doubt that this RANGER will make many loyal Polaris owners very happy. Not to mention it is priced so well, almost anyone can own one.
Published August 14th, 2019 6:23 PM