12 Views
Best UTV Roof Options To Keep The Sun and Rain Away
June 2nd, 2022 6:11 PM
Share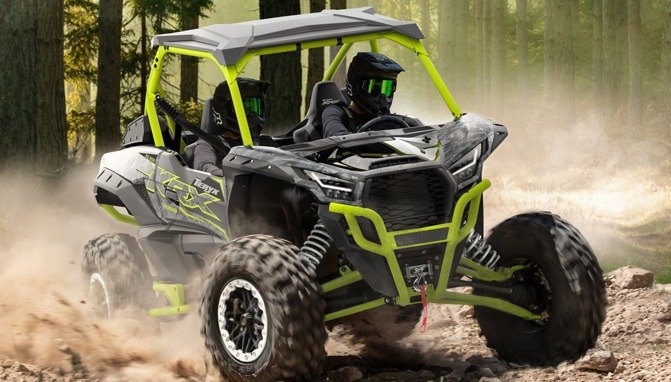 Keep the elements at bay with new roof
If you're looking at UTV upgrades, one of the first parts you should consider is a new UTV roof. Apart from being required in many different classes of UTV racing, a roof is an indispensable component if you're looking to outfit your ride for all weather conditions; get the right roof and windshield and you've got all the wind, dust, rain, and sun protection you should ever need. Many aftermarket cargo racks and baskets also require a roof panel for proper mounting, so installing one might just pave the way for future upgrades.
Most UTV Original Equipment Manufacturers (OEMs) offer their own UTV roof options for models within their own catalogs, but the aftermarket can be a great place to turn to as well. Here are our picks of the best UTV roof options in the industry.
1. Editor's Choice: SuperATV Plastic Roof
Looking for an alternative to Polaris's own plastic roof panels? SuperATV is a well-known and trusted brand, and the company's plastic roofs are exemplary of the sort of quality we've come to expect. This UTV roof design is available for both two-seat and four-seat Polaris Ranger models, from the 2015-'16 Ranger XP 570 to the 2014+ Ranger XP 900 Crew, and many more besides.
This roof features durable 6mm plastic construction, and it will accommodate most windshield and mirror options out there. Perhaps best of all, it's the perfect base for a roof rack, basket, and any auxiliary lighting you might want to install. Beyond the Ranger, SuperATV also makes a plastic roof for various Polaris RZR models.
2. Kolpin UTV PRO Series Roof
If it's a Sport UTV like the Polaris RZR you're shopping roofs for, we wouldn't shy away from recommending the Kolpin PRO Series plastic roof. When acceleration and handling are everything, a lightweight roof is essential, and this roof panel utilizes heavy-duty, roto-molded linear low-density polyethylene to give you all the strength you need without too much of a weight penalty, at a very agreeable price. That's a win-win-win. The Kolpin UTV Pro Series roof is available for Polaris Ranger, Polaris RZR, and Arctic Cat Wildcat models.
3. QuadBoss Universal UTV Roof
If you want a UTV roof that will fit most any machine, the QuadBoss Universal UTV roof is worth looking into. This one-piece roof is made of 0.2" polyethylene with UV stabilizers. it is also recessed, so you can use the top of the roof for storage. We wouldn't recomment anything too heavy, but you can use ratchet straps to tie down items you don't have room for in the bed.
We'd recommend this roof for full-size UTVs. It will fit most any UTV, but it will stick out some on smaller vehicles. It measures 60 inches wide and 43.5 inches long, so if you've got a 50-inch wide machine, you can expect quite a bit of overhang.
User reviews are very positive from owners of a variety of different UTVs (Polaris Ranger, Kubota RTV, John Deere Gator, Can-Am Defender, etc.). However, we have heard some reports that the recessed portion of the roof will hold water if it's sitting outside in the rain.
4. Seizmik Soft Top with Rear Panel
If you don't need a rigid roof panel to mount accessories, and a simple soft top will do, we love this Seizmik soft top with rear panel. Seizmik makes this soft top/rear panel combination for a wide array of Polaris Ranger and Yamaha Rhino UTVs. It's a simple design with a back panel featuring a large rear window, for even more protection from the elements, and it's made from durable, UV-resistant denier nylon with a PVC coating. It's also a breeze to install, and goes on tight and secure thanks to adhesive-backed velcro and a clever Quickfit tightening system – no distracting flapping in the wind.
5. Can-Am Commander/Maverick Bimini Soft Roof
One popular Sport UTV model we haven't mentioned yet is the Can-Am Maverick, and for that model, the OEM soft top beats just about anything else on the market. This part, which is very nicely priced and also compatible with the Can-Am Commander Utility UTV, is UV-resistant and water-repellent for excellent protection, thanks to 600-denier polyester with official Can-Am branding. It secures quickly and easily using a set of velcro straps, and it's even compatible with Can-Am's Light Rack. And the best part? The light weight of the soft UTV roof doesn't substantially raise the Can-Am Maverick's mass or center-of-gravity, so performance is minimally affected.
6. SuperATV Dark Tinted UTV Roof
Let more sun in with a tinted polycarbonate UTV roof, like this option from SuperATV. SuperATV makes its dark tinted roof for the Polaris RZR, Can-Am Maverick, Kawasaki Teryx, Honda Pioneer, Polaris Ranger, Polaris General and more. This SuperATV roof upgrade blocks out rain and falling hazards with its durable, impact-resistant polycarbonate, without totally blocking out the sun. It's available with or without a spoiler designed into the trailing edge, so you can select the design that best suits your taste and know that either way, you're getting a strong, high-quality, rattle-free UTV roof.
7. ECOTRIC Black Aluminum Roof Top
If you need the utmost strength and protection but can't afford too much of a bump in weight, aluminum is the ticket. This aluminum UTV roof for two-seat models of the Polaris RZR 900 (2015-'19), RZR 1000 (2014-'19), and Turbo (2014-'19) makes our list because it offers all that at an outstanding price point, with strong 2mm-thick aluminum featuring a durable black powdercoat for protection against the elements. It also adds less to the overall height than a comparable plastic UTV roof, meaning you can retain your RZR's excellent roof clearance out on the trail, and an integrated spoiler gives your RZR a sharp, sporty appearance.
What is the best UTV roof material?
There is no shortage of different UTV roof materials available to consumers. Let's look at a few different options and talk about some pros and cons for each.
Pros: Very affordable. Blocks out the sun. Toolless installation.
Cons: Can rip or tear. Constant exposure to rain and heat can lead to the fabric breaking down.
Pros: Offers protection from the elements, but still lets some light in (depending on the level of tint applied).
Cons: Scratches and dirt will be very noticeable.
Pros: Great protection from the elements. Should last a lifetime.
Cons: Usually pretty boring/cheap looking.
Pros: Great looking roof and excellent protection.
Cons: More expensive. Heavier. Potential for rust/corrosion.
How hard is it to install a roof onto my UTV?
Regardless of which style of roof you get for your UTV, the installation process is usually pretty painless. Most solid roofs (plastic or aluminum) usually use some kind of clamp set up to secure them in place. If you choose to go the route of a soft/fabric roof, the most common method of securing them to the roll cage is through the use of a hook-and-loop (Velcro) strap system.
Can I just build a UTV roof?
That is going to depend largely on your skills. Most garage mechanics won't have the tools or know-how to build an ABS roof for their UTV, but making one out of metal might be doable. You just have to be able to make it it and be functional. But considering the reasonable cost of most UTV roof options, simply buying one seems like the better choice.
Can I mount a light bar to my UTV roof?
Depending on the roof you have, you should be able to add a light bar. Check with the manufacturer to see if their design allows for an accessory lightbar to be attached.
Recent Updates
06/02/2022: Updated product descriptions, Updated product links, added additional FAQ, and updated layout
May 18, 2021: Added information on the different types of roof materials, the QuadBoss Universal roof to our recommendations, and some FAQs.
Additional Resources
We are committed to finding, researching, and recommending the best products. We earn commissions from purchases you make using the retail links in our product reviews. Learn more about how this works.
Published September 2nd, 2020 10:54 AM
Top Brands
Popular Articles