33 Views
Best CFMOTO UFORCE 800 Accessories
June 25th, 2021 3:34 PM
Share
We're committed to finding, researching, and recommending the best products. We earn commissions from purchases you make using links in our articles. Learn more here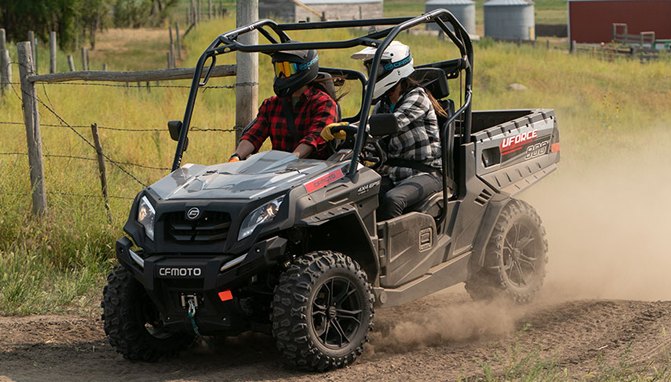 Take your CMMOTO UTV to the next level
The CFMOTO UFORCE 800 (yes, it's spelled with all-caps) sits squarely in the middle of the brand's workhorse range. Measuring 117 inches from tip to tail and standing 73 inches tall, it's just ever so slightly smaller than Polaris Ranger 1000. Given CFMOTO's price point, there are more than a few of them popping up on trails across the nation.
All of which explains why there is a burgeoning level of aftermarket equipment and accessories available for the CFMOTO UFORCE 800. Just like its better-known contemporaries from more established brands, owners have a propensity for adding all manner of custom touches to these things in a bid to create a machine which suits their needs to a T.
We've assembled a few options here, though we'd be remiss not to mention that since the CFMOTO brand is relatively new to the off-road arena, some of the items are universal in nature. In other words, check your application (and return policies) before ordering.
As CFMOTO vehicles typically cost less than those from the major ATV/UTV brands, we figured we would focus on budget-friendly accessories to help keep the costs down.
1. Editor's Choice: SuperATV Heavy Duty Half Windshield
A windshield might just be our favorite UTV accessory and SuperATV makes them for pretty much every model in the industry – including the CFMOTO UFORCE 800. This particular model is a half windshield, which is idea for keeping the cold air off your hands and deflecting the wind away from you. SuperATV made this half windshield out of 1/4" polycarbonate and it comes hard coated on both sides to prevent scratches. Installation is a snap and it works with both hard and soft top roofs.
2. Panoramic Rear View Mirror
Plenty of people scoff at the notion of adding a rear view mirror to their side-by-side. After all, they say, the thing is meant for off-road, so there's little need to check your six for cops on the freeway. However, your author knows the value of a wide-angle rear view mirror, as it makes navigating back through a trail or barn stall a heckuva lot easier than twisting one's head around like in The Exorcism movies. This CFMOTO UFORCE mirror is of the panoramic variety and give sa clear shot rearwards. Real-world customers claim it doesn't vibrate when installed properly and weighs less than two pounds.
3. Chikia Pair L+R Side View Mirrors
You know the bozos we mentioned above who make fun of rearview mirrors? They're likely to chuckle at sideview ones as well. What these lunkheads don't understand is that muscle memory is a real thing; given the fact that machines like the CFMOTO UTV is operated much like a small pickup truck, it's natural for drivers to glance to where they'd expect sideview mirrors to reside when backing their way out of (or into) a tight spot. The seller says these things are designed to fit the CFMOTO UFORCE 800, which surely saves a bundle of effort compared to adapting a pair to fit properly. The reflective surface is plenty big and they are adjustable for better viewing angles.
4. BOSS Audio Systems UTV Sound Bar
A side-by-side without tunes is like breakfast without bacon: totally missing something. This sound bar is rated IPX5 weatherproof, meaning it'll endure some moisture but don't expect it to function perfectly after an hour's dunking in the river. Built-in Bluetooth functionality automatically reconnects to the last device, so go ahead and stream your music library from a smartphone or MP3 player. Or, if you've a dose of cellular service and a good data plan, use apps such as Spotify and Pandora. There are lights in the bar to add a party atmosphere, plus there's a remote control so you can quickly change tunes if somebody decides to play a song by Luke Bryan.
5. Nilight 20-inch Spot/Flood Combo LED Light
If you're having trouble seeing in the dark while driving your CFMOTO UFORCE 800, you won't after installing this set of LED lights. The whole package is a doozy, including no fewer than four small cubes and a 20-inch bar. Its seller claims a 'super bright' lighting pattern and a life span of more than 30,000 hours. This theoretically means if you ride for five hours every single day, they'll be good for over fifteen years. If you buy these things, check back with us in 2036 to let us know if that number is accurate. The package comes with mounting brackets and hardware.
6. Classic Accessories QuadGear UTV Roll Cage Organizer
Depending on the rig, interior storage of UTVs can be at something of a premium. That's where aftermarket bags and organizers come in handy. This particular option mounts to the roll cage, putting it high out of the way and largely clear of that water hazard you decided to drive into without thinking. It has a heavy-duty fabric with water-resistant backing and exterior coating, a combination that should make for good weather and abrasion protection. There is also a padded pocket for items like binoculars or a camera.
Additional Resources
We are committed to finding, researching, and recommending the best products. We earn commissions from purchases you make using the retail links in our product reviews. Learn more about how this works.
How much can I haul in my CFMOTO UFORCE 800?
Think of the UFORCE line as an equivalent to the likes of a Polaris Ranger or Can-Am Defender and you've got the general idea. The 800 trim (there are also 1000 and a new 600 variants) have a V-Twin engine and a 600-pound capacity in its rear cargo box. The 800 gets two bucket seats instead of a bench, plus a 3500-pound winch up front for when things go sideways.
Does CFMOTO make good UTVs?
In the grand scheme of things, CFMOTO hasn't been around all that long, founded in 1989 and now distributed by a network of dealerships in about 70 different countries. They are aligned to some degree with KTM, an Austrian bike and sports car manufacturer. Assembly facilities for CFMOTO can be found in China, where the company got its beginnings in Hangzhou. Published June 25th, 2021 3:34 PM
Top Brands
Popular Articles