68 Views
Best CFMOTO ZFORCE 800 Accessories
August 10th, 2022 5:30 PM
Share
We're committed to finding, researching, and recommending the best products. We earn commissions from purchases you make using links in our articles. Learn more here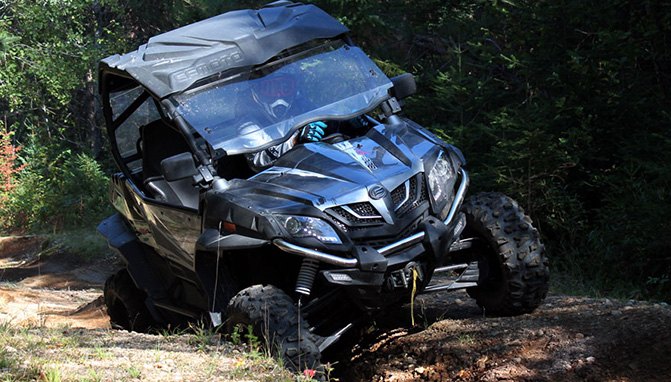 These accessories can take your CFMOTO ZFORCE to the next level
If you're looking around for the best CFMOTO ZFORCE 800 accessories on the market, you've come to the right place.
Here at ATV.com, we're obsessed with the ATV/UTV aftermarket. We make it our business to know the very best of what's available for any given popular model, and that includes the CFMOTO ZFORCE 800 Trail and CFMOTO ZFORCE 800 EX. From simple aesthetic upgrades to practical off-road protection, to handy work-oriented accessories you can use every day, we've seen it all.
Our expert staff of UTV enthusiasts rounded up our favorite, most recommended CFMOTO ZFORCE 800 accessories on the market today, from windshields to wheels and tires; from covers to cargo boxes. Wondering what to get for your CFMOTO ZFORCE 800 first? Wonder no more.
1. Editors Choice - SuperATV Rear Insulated Cargo Box
Made just for the larger CFMOTO ZFORCE 800 EX, as well as the range-topping ZFORCE 1000, SuperATV's water-resistant, insulated rear cargo box is one of the most practical CFMOTO ZFORCE 800 accessories you'll ever own. Whether you're using it as a mobile cooler to keep food and drinks chill on the trail, or using it to keep clothes and gear safe from rain and mud, this 30-liter cargo box can deliver, with a water-tight lid seal, heavy-duty rubber latches, up to 3 inches of insulation, and a perfect, trouble-free fit on the 2014+ ZFORCE 800 EX. It's the perfect high-volume cargo solution for your ZFORCE side-by-side.
2. Best Comfort Accessory - SuperATV Scratch-Resistant 3-in-1 Flip Windshield
If you've always wished your ZFORCE 800 offered a bit more protection from the wind and trail debris, this accessory is a no-brainer: SuperATV's scratch-resistant 3-in-1 flip windshield. Compatible with most soft or hard roofs, this windshield is built for serious off-road duty with 1/4" polycarbonate construction, 250 times stronger than glass, with an XR Optic hard coating to prevent scratching and clouding. There are other windshields out there, but we especially like this 3-in-1 flip design because it gives you the best of both worlds: a full windshield when you need it, and a half-windshield when you don't. And whether you drive CFMOTO's Trail model or the bigger CFMOTO ZFORCE 800 EX, it's compatible.
3. Best Replacement for OEM Tires - GBC Kanati Mongrel 27x9-14 Tires
The absolute quickest way to bolster the performance of any side-by-side is a new set of tires, and the GBC Kanati Mongrel is ready to rock with radial construction and an incredibly tough, die-hard 10-ply rating. It's a true do-it-all tire, with deep, sturdy tread blocks, a high void ratio for self-cleaning, and a wraparound tread design that gives the tire a rounded profile and plenty of side bite. Plus, its radial construction means that the GBC Kanati Mongrel is stable and predictable at speed, with good turn-in response and a smooth ride. Simply put, it's one of the best all-rounder all-terrain tires on the market today, and one of the best CFMOTO ZFORCE 800 accessories you can get.
4. Best Safety/Recovery Accessory Upgrade - QuadBoss 5000-Lb. UTV Recovery Winch
Even the best drivers get stuck sometimes. That's why an electric recovery winch is a must-have for any serious UTV owner – one like this 5,000-pound UTV winch from Quadboss. Yes, the ZFORCE 800 comes equipped with a winch from the factory, but with a pull rating of 3,000 pounds, it doesn't leave a lot of room overhead for cargo or trailer weight. This Quadboss unit, meanwhile, has overhead to spare, and while it's not the fanciest winch out there, it offers is quality construction and solid reliability with one of the best performance-per-dollar ratios around. With 50-feet of steel cable or synthetic rope, corded and wireless remote controls, a water-resistant housing, and automatic load-holding and self-locking-brake features, this Quadboss electric winch delivers, and at an excellent price.
5. SuperATV Heavy-Duty Nerf Bars
A staple component on any proper off-roading rig, nerf bars protect the side sills of your vehicle by intercepting rocks, stumps, and other obstacles you might get caught up on, and sliding right off. You can get the same protection for your CFMOTO ZFORCE 800 EX or ZFORCE 1000 from SuperATV. These nerf bars are constructed from 1.75" heavy-duty steel tubing with a UV-resistant protective powder coat that fights off nicks and scratches to prevent rust, and they're among the most eye-catching, appearance-enhancing CFMOTO ZFORCE 800 accessories around. With simple bolt-on mounting and a price tag that's not out to break any hearts, these nerf bars are a great addition to your arsenal.
6. Black Boar UTV Hitch Mount with Winch Strap Loop
Your CFMOTO ZFORCE 800 came from the factory with a 2" hitch receiver installed. Make the most of it with this Black Boar ball hitch mount. It's really a 3-in-1 tool, with a 2" ball, a winch strap loop, and a 5/8" pin hole for pulling all sorts of equipment, from light trailers to spreaders and other yard work tools. With durable all-steel construction and a protective powder coat finish to prevent corrosion, the Black Boar UTV hitch mount is a strong bit of kit, with a rating of up to 2,000 pounds of force for the ball, and up to 5,000 pounds for the winch strap loop. And best of all, this is one of the simplest, most inexpensive CFMOTO ZFORCE 800 accessories you can get your hands on.
7. Coverify Waterproof UTV Cover
Putting away your side-by-side for the season without a cover for protection is a recipe for heartache next spring. That's why this excellent waterproof UTV cover from Coverify makes our list of CFMOTO ZFORCE 800 accessories. It's made from strong 420D oxford fabric with a polyurethane coating, which is strong, tear-resistant, and waterproof. Each piece is double stitched to the adjoining piece for an extra-strong bond, with a waterproof backing to prevent any seepage. Any moisture that does make its way in should have no trouble evaporating right off, thanks to the fabric's breathable nature. Sure, there are cheaper UTV covers out there, but this is one ZFORCE 800 accessory you don't want to skimp on.
8. ITP Hurricane Matte Black Wheels
If you want to give your ZFORCE some instant pizzazz, and maybe a performance boost to match, a new set of wheels is the ticket. We recommend this design: the ITP Hurricane in matte black. It's available with a 14" diameter, just like the factory wheels, with the correct 4x110mm bolt pattern, so installation should require nothing more than unbolting the old wheels and bolting up these ones in their place. They look awesome, and they feature ITP's exclusive "Rock Armor" inner wheel lip to guard the sidewall from rocks and debris, but what really makes the ITP Hurricane one of the best CFMOTO ZFORCE 800 accessories is the lifetime structural warranty. Wheel bent or broken? ITP will replace it for you.
How Much Can The CFMOTO ZFORCE 800 Tow?
Those maximum towing capacity ratings put out by truck and ATV/UTV manufacturers are straightforward enough, but a lot goes into calculating them. More than just a reflection of the upper limits of what the powertrain and structure can handle without breaking something, any vehicle's tow rating is in fact a recommendation that takes into account everything from how readily the vehicle can accelerate, how safely it can manage the trailer weight at speed, how much extra load the cooling system can keep up with, and yes, how well the number compares to other vehicles in the same class. That said, max. tow ratings are never generated out of thin air; they're the product of extensive testing, and it's never a bad idea to abide by them.
So just what is the maximum recommended towing capacity of the CFMOTO ZFORCE 800? The manufacturer prominently displays the tow rating of the more work-oriented UFORCE 800 right on its website – 1,250 pounds – but CFMOTO isn't quite so forthright with the rating of the play-oriented ZFORCE 800, preferring to instead publish the figure on tow warning stickers or in the owner's manual.
As of the 2015 model year, the ZFORCE 800 Trail had a max. recommended tow rating of 125 kg – about 275 pounds – with a max. tongue weight of 110 pounds. By 2017/2018, the tow rating had crept up to 550 pounds, with the same 110-pound max. tongue weight.
However, many owners feel that these figures are far too conservative, and some have reported no issues towing as much as 1,300 pounds, reasoning that because of the mechanical similarities between the ZFORCE and UFORCE, the towing capabilities ought to be approximately the same. That's understandable, but we can't recommend it; towing more than the recommended weight puts extra strain on drivetrain components like the transmission belt, which can lead to early failure and major headaches. Ultimately, if you're uncertain of the towing capacity of your ZFORCE 800, we recommend going straight to the source, and either seeking it out in the owner's manual or asking CFMOTO directly.
Additional Resources
Recent Updates
August 10, 2022: Removed promoted product recommendation
September 8, 2021: Added a promoted product recommendation.
We are committed to finding, researching, and recommending the best products. We earn commissions from purchases you make using the retail links in our product reviews. Learn more about how this works. Aaron Brzozowski
Aaron is a freelance writer, videographer and car enthusiast based out of the Detroit area. He has a special affinity for the Porsche 944 series, and once owned a Volvo 240 sedan with a Weber carb in place of the factory EFI system. His work has appeared on AutoGuide, GM Authority, /Drive, and VW Vortex, among other sites.
More by Aaron Brzozowski
Published May 12th, 2021 6:56 PM
Top Brands
Popular Articles