1 View
Leatt GPX 5.5 Helmet – Everything You Need To Know
May 25th, 2021 11:59 AM
Share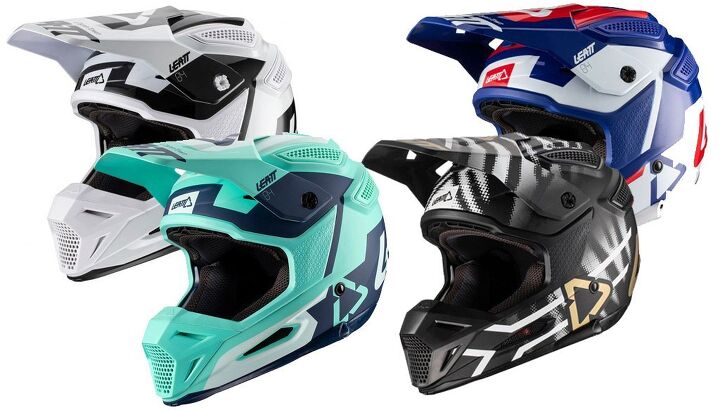 We look at the features, sizes, user reviews, and alternatives for this premium ATV helmet
The Leatt GPX 5.5 is one of the most popular ATV and UTV helmets available, so we decided to do a deep dive to arm you with as much information as possible before you buy.
Of all the pieces of powersports gear you ever own, we maintain that none is as potentially consequential as your helmet. That thing that sits perched atop your torso, with the eyes, ears, nose, and other sensory input bits, also contains your brain, and keeping that fragile mass of wrinkly gray matter safe and well-protected in the event of a crash is essential. Helmet shopping is actually kind of daunting, when you think about it. We're here to make it a bit less daunting with our "Everything You Need To Know" series, which aims to equip you with all the information necessary to locate and lock down exactly the right helmet for you. In this article, we take a look at the Leatt GPX 5.5 helmet, exploring its features, designs, available sizes, possible alternatives, and real-life owner reviews.
Table of Contents
1. Leatt GPX 5.5 Features
The Leatt GPX 5.5 helmet is one of the most advanced, feature-rich ATV helmets on the market, packing essentially all the same trustworthy protective features as Leatt's top-of-the-line GPX 6.5 Carbon, but with a composite shell instead of a carbon matrix one. It's available in two versions: one built to meet safety standards set forth by the Economic Commission for Europe, and one for the US Department of Transportation's more stringent helmet safety standards.
The Leatt GPX 5.5 helmet features a reduced outer shell for a significant reduction in rotational forces transferred to the neck, head, and brain. Molded directly to the shell, v-shaped impact foam helps disperse G-forces, while a clever 360-degree Turbine Technology consisting of multiple energy-absorbing moving discs helps accomplish two things: reducing head impact at the concussion level by up to 30%, and reducing rotational acceleration to the head and brain by up to 40%. A breakaway visor attachment system helps dissipate rotational energy in a crash, and the helmet is neck brace compatible.
Comfort in the GPX 5.5 is delivered by a breathable, moisture-wicking Dri-Lex inner liner that fights odors and works hard to keep things dry inside the helmet. It can be removed from the shell for a proper washing, and its operation is assisted by the GPX 5.5's plentiful ventilation, which is effective at getting air through the helmet even at low speeds. Serious riders will also be interested to know that the Leatt GPX 5.5 helmet is even hydration ready with an optional hands-free hydration kit.
The Leatt GPX 5.5 helmet offers a modest range of different color graphics options – not quite as expansive as many other helmets on the market, but varied enough that you'll almost certainly be able to find a design to suit your fashion sense. Four different, distinct colorways are currently available on the regular adult-sized motocross helmet, plus one design reserved for the GPX 5.5 Junior model aimed at younger riders, each with striking graphics that will fit right in with the rest of your racing apparel.
Simple white with sharply contrasting black geometric patterns and Leatt branding, the Leatt GPX 5.5 White mostly lets the helmet's complex, athletic design speak for itself. The LEATT name wraps around the back of the helmet, also adorning the visor top and sides, with the company's logo similarly prominent. It's the closest thing to "subtle" you'll find in the Leatt GPX 5.5 helmet lineup.
Leatt's Aqua colorway follows the same basic pattern as the White model, exchanging its white base color for a handsome shade of seafoam green, and its black geometric patterns for midnight blue. These are punctuated by splashes of white on the LEATT rear print and in patches on the helmet sides and visor top. It strikes a balance between bold and chill.
If you want something that says "patriotic Power Ranger," the Leatt GPX 5.5 Royal is your motocross helmet. Graphically similar to the White and Aqua helmets, the Royal's graphics are rendered in bold red, white, and blue, for a bit more of a punchy, attention-grabbing appearance than those helmets.
The busiest, most complex colorway in the Leatt GPX 5.5 helmet range, the Zebra features a wholly unique graphics pattern with rippling white stripes over a black base. The LEATT print and company logos, meanwhile, are all rendered in a rich shade of gold that really pops. The helmet sides and visor top feature unique arrow stripe graphics that don't appear on the aforementioned designs, making the Zebra far-and-away the most unique colorway in the range.
Leatt's junior GPX 5.5 for younger riders currently offers just one colorway, with striking white, aqua, and navy blue graphics over a racy red base color. It features dual-band colored stripes not found on the regular adult version of the helmet, and a spiffy multi-colored lightning bolt graphic spanning the visor and the top of the helmet.
3. Leatt GPX 5.5 Helmet Sizes
| | | |
| --- | --- | --- |
| Size | Head Circumference | Approx. Weight (lbs) – ECE / ECE+DOT |
| Junior M | 51-52 cm / 20 – 20 ½ in | 2.2 / 2.7 |
| Junior L | 53-54 cm / 20 ¾ – 21 ¼ in | 2.3 / 2.8 |
| XS | 53-54 cm / 20 ¾ – 21 ¼ in | 2.4 / 2.9 |
| S | 55-56 cm / 21 5/8 – 22 in | 2.4 / 2.9 |
| M | 57-58 cm / 22 ½ – 22 ¾ in | 2.5 / 3.0 |
| L | 59-60 cm / 23 1/4 – 23 5/8 in | 2.5 / 3.0 |
| XL | 61-62 cm / 24 – 24 ½ in | 2.6 / 3.1 |
| XXL | 63-64 cm / 24 3/4 – 25 ½ in | 2.6 / 3.1 |
For around the same price as the Leatt GPX 5.5 helmet, the Troy Lee Designs Polyacrylite SE4 is one viable alternative, with MIPS – or "Multi-Directional Impact Protection System" – technology to effectively displace rotational impact energy. It also features exceptional ventilation, with 16 intake ports and 6 exhaust vents around the helmet to keep your head dry, and the range of available colorways is far more expansive – and louder. However, the Troy Lee Designs Polyacrylite SE4 weighs significantly more than the Leatt GPX 5.5, so if you're looking for a lightweight helmet at that price point, the Troy Lee isn't it.
Another alternative, the Fox Racing V2 is a popular ATV helmet with MIPS technology, Fox's advanced magnetic visor release system, and excellent ventilation from 11 intake ports and 4 exhaust vents. It also has a unique dual-density Varizorb EPS liner to distribute crash forces over a wide area, and double the number of shell sizes as the Leatt GPX 5.5 and Troy Lee SE4 for a more precise fit. Add to that a vast array of available design patterns and colorways, not to mention Fox's reputation among serious powersports enthusiasts, and the Fox Racing V2 stands out as real competition for the Leatt GPX 5.5 helmet.
To get a sense of how the Leatt GPX 5.5 helmet holds its own in the real world, we scoured the internet for candid reviews from real-life owners, and found that it has garnered overwhelmingly positive reviews.
On the topic of comfort, GPX 5.5 owners raved about the helmet's supremely effective ventilation, with one reviewer calling it "no joke." Another called it perhaps the most comfortable helmet they've ever ridden with, showering praises on its super, light weight and generous padding.
In fact, the GPX 5.5 helmet's light weight was a common factor in many of the reviews we came across, with some owners going so far as to say that wearing it was almost like wearing nothing at all. One rider said it was the best helmet they've ever worn, with one exception: the GPX 6.5 Carbon, which is only marginally lighter.
Criticism of the Leatt GPX 5.5 helmet was very hard come by, although one review we came across criticized the lack of sizing precision after failing to find a size that fit quite right. Another reviewer alleged that Leatt's sizing seems to be inaccurate in general, although such complaints are squarely in the minority.
Overall, many might say the GPX 5.5 is in a class above the several ATV and UTV helmets sold at that same price point, with the sort of light weight and outstanding comfort that usually costs twice as much to secure.
We are committed to finding, researching, and recommending the best products. We earn commissions from purchases you make using the retail links in our product reviews. Learn more about how this works.
Published September 29th, 2020 2:14 PM
Top Brands
Popular Articles