42 Views
2018 Polaris Ranger XP 1000 vs. 2017 Polaris Ranger XP 1000: By the Numbers
August 14th, 2017 10:51 AM
Share
We're committed to finding, researching, and recommending the best products. We earn commissions from purchases you make using links in our articles. Learn more here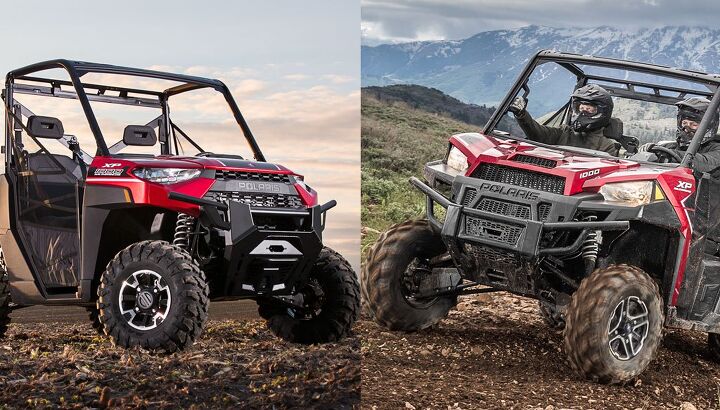 How does the new Ranger stack up against the old one?
In perhaps our most unique by the number comparision, we wanted to see how the 2018 Polaris Ranger XP 1000 compares to the 2017 Polaris Ranger XP 1000.
Yes, you're reading that right. It's not often that we compare two models from the same brand, but how about comparing the same model from the current and the upcoming model year? Why would we do that? It's not as crazy as it sounds actually. Last year the biggest Ranger was unveiled and was well received by everyone. So it took everyone by a bit of a surprise that Polaris would come out with an all-new version within a year. You may have seen the press release stating what was with the new Ranger, but let's compare them by the numbers.
| | | |
| --- | --- | --- |
| | 2018 Polaris Ranger XP 1000 | 2017 Polaris Ranger XP 1000 |
| Price | $16,299 | $15,999 |
| Engine | 999cc 4-Stroke Twin Cylinder DOHC | 999cc 4-Stroke Twin Cylinder DOHC |
| Horsepower | 82 | 80 |
| Driveline/Differential | On-Demand True AWD/2WD/VersaTrac Turf Mode | On-Demand True AWD/2WD/VersaTrac Turf Mode |
| Transmission | Automatic PVT H/L/N/R/P | Automatic PVT H/L/N/R/P |
| Wheelbase | 81 in | 81 in |
| Overall Dimensions | 120 x 62.5 x 77 in | 120 x 62.5 x 77 in |
| Weight | 1,565 lbs | 1,336 lbs |
| Front Tires | 27 x 9-12; Maxxis MU51 | 26 x 9-12 |
| Rear Tires | 27 x 11-12; Maxxis MU51 | 26 x 11-12 |
| Ground Clearance | 13 in | 12 in |
| Fuel Capacity | 11.6 gal | 10.0 gal |
| Front Suspension | Dual A-Arm / 11 in | Dual A-arm / 10 in |
| Rear Suspension | Dual A-Arm, IRS / 11.0 in | Dual A-arm, IRS / 10 in |
| Front /Rear Brakes | 4-Wheel Hydraulic Disc with Dual-Bore Front Calipers | 4-Wheel Hydraulic Disc with Dual-Bore Front Calipers |
| Bed/Rack Capacity | 1,000 lbs | 1,000 lbs |
| Payload Capacity | 1,250 lbs | 1,500 lbs |
| Towing Capacity | 2,500 lbs | 2,000 lbs |
How Bad Do You Want It?
Let's go ahead and address the white elephant in the room – why compare two of the same models when most everyone is interested in the new model? The answer is simple – money. The new 2018 Polaris Ranger XP 1000 has a starting MSRP of $16,299. The 2017 listed for $15,999 and will be going for much less as dealers clear out models at the end of the year to make way for the 2018s. The discounts, which are already going, might make you wonder if the newest machine is worth it. Are the improvements and new style enough to make you spend the extra?
Powerplants
Each Ranger has the same basic 999cc, fuel-injected, Twin-cylinder ProStar four-stroke DOHC engine. The 2017 version boasted 80 horsepower and was one of the smoothest running and quietest engines in the utility/rec category. For 2018, Polaris found two more horsepower hidden in a backroom. The increase in power comes from tuning, so the basic engine remains unchanged.
However, the 2018 Polaris Ranger XP 1000 does get an all-new clutching system and redesigned driveline. Polaris updated the air intakes, too. The driveline updates include a new belt and tweaks that reduce friction. This means you'll have longer belt life and an overall stronger driveline. It also takes a machine that was already quieter than most of the competition and makes it quieter-er.
Classy Chassis
The 2017 Ranger has a lot of what has made the big-bore Rangers a top selling unit for the Minnesota-based manufacturer. The Ranger can haul 1,000 pounds of cargo in the dump box and tow 2,000 pounds with relative ease. Total payload capacity is 1,250 pounds. It has 10 inches of suspension travel at all four corners and 12 inches of ground clearance.
The 2018 version started fresh with a new one-piece chassis for increased stiffness and a reduction in flex. A full-length skid plate rides under the new frame and suspension travel is bumped up to 11 inches at the corners. Ground clearance also goes up to 13 inches, probably because the tire size bumps up an inch to 27-inch rubber. The big news here is that the payload capacity jumps to 1,500 pounds and towing goes up to 2,500 pounds. The cargo bed capacity stays at 1,000 pounds.
It is important to note that only the XP 1000 gets the new updated chassis in the standard and some of the special editions. The High Lifter model remains the same as the 2017, and the XP 1000 Crew remains the same.
Conclusion
There are several other changes to the 2018 model, including the obvious cosmetic redesign. In the end, it comes down to you. If you like the current look and don't need the expanded capacity, there are some great deals to be had with the 2017 Ranger XP 1000 models. If you need the newest version and just gotta have it, head to your Polaris dealer today and see what they can do for you. Derrek Sigler
Derrek's love for all things ATV started when he was a mere 11 years old, growing up on his family farm. His mom gave him and his sister a choice - get a horse, or a three-wheeler. The sister wanted the horse, and Derrek wanted the ATV. Luckily he won out, and was soon burning up the trails on a Yamaha Tri-Moto 200. By the time he was 14, he had saved enough of his own money by working on the farm and in his folks restaurant to buy a new 4-wheeler. That happened the day he and his mom were driving past the dealership and saw 1987 Banshee. His mom had no idea what he was buying, and he never looked back. He's been riding ever since, and been writing professionally for many years. He has ridden all over North America and been behind the controls of just about every machine out there. And yes, he still has his 1987 Yamaha Banshee.
More by Derrek Sigler
Published August 14th, 2017 10:51 AM
Top Brands
Popular Articles