123 Views
2018 Mahindra Retriever 1000 vs. Polaris Ranger XP 1000: By the Numbers
February 9th, 2018 2:35 PM
Share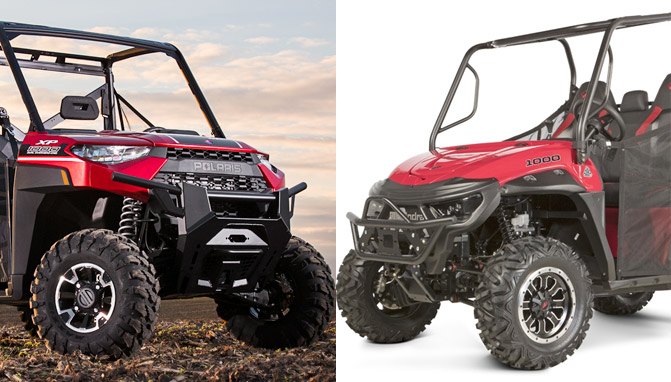 The 2018 Mahindra Retriever 1000 is a brand new Utility UTV with power and capabilities to challenge the Polaris Ranger XP 1000.
A new challenger for the mighty Polaris Ranger rises up from the agriculture world to vie for dominance in the 1000-class utility/recreation UTV category. Let's see how the 2018 Mahindra Retriever 1000 compares to the Ranger XP 1000 by the numbers.
If you go to any UTV dealership and ask which models sell the most, the answer might surprise you. While we all like the RZRs and Maverick X3s and give them lots of love in the press, the real star of the show are the utility/recreation machines. These are the Polaris Rangers and Can-Am Defenders – machines that are built to work and play. The line between a work machine and a play machine is getting blurred with each new model year.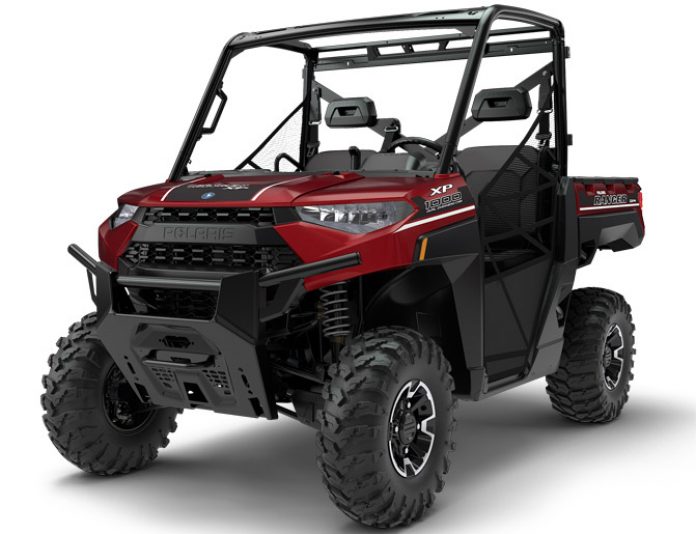 For 2018, Polaris completely upped the ante with the Ranger XP 1000. This complete redesign of the flagship model offers up more horsepower, improved capacity and capability, and new styling, setting it apart from previous models. It is the current king of the segment, and that makes it a target for the competition. While we expect to see challenges from Can-Am, Honda, Yamaha, Kawasaki and Textron, a quieter entry into the segment has arrived that looks to take on the champ.
Mahindra is widely known as a tractor manufacturer. Mahindra's mPact series of UTVs are serious work machines, but not exactly what you'd call challengers to the Ranger market share segment. That changes with the new Mahindra Retriever lineup, including the Retriever 1000. This machine has potential to take on the XP 1000. Don't believe me? Let's take a look.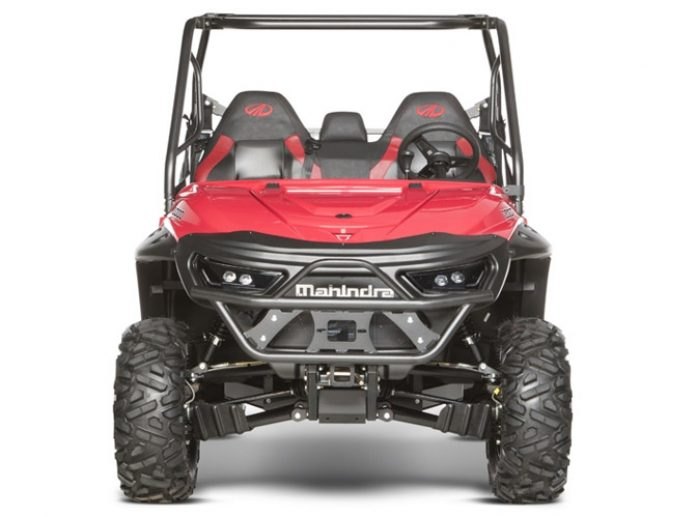 Power to the People
The Polaris Ranger XP 1000 has a 999cc twin-cylinder ProStar engine that produces 82 horsepower and plenty of torque. It scoots down the trail at speeds around 60 mph with ease and you can control that power delivery thanks to the three-mode digital drive-by-wire throttle assembly that Polaris uses. We all have a pretty good idea of the power of the Ranger. In fact, I didn't need to look any of that information up, thanks to writing about it so often.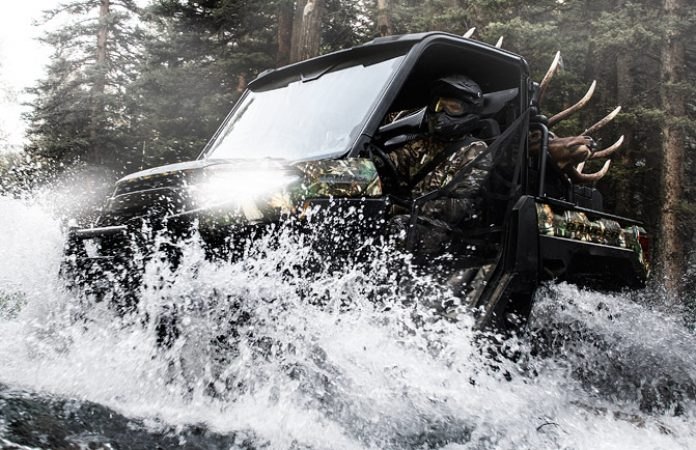 The 2018 Mahindra Retriever 1000 is a bit of a mystery. What we do know is that it has a 999cc twin cylinder engine that produces a claimed 83 horsepower. I can't help but think of Nigel Tuffnell from Spinal Tap talking about guitar amplifiers typically go to 10, but his goes to 11. "It's one more, isn't it?" The Retriever also boasts 67 lbs-ft of torque, which is impressive, and a top speed around 60 mph. Sounds interesting to me.
Cargoing and Going
The Ranger bumped it up to 1,500 pounds of cargo capacity this year. That's 300 better than the Retriever's 1,200 pounds, but the Mahindra has something the Ranger doesn't – a hydraulic dumping cargo box as standard equipment. Towing is dead even between the two with 2,500 pounds of towing capacity. Each has a two-inch receiver hitch standard.
The Mahindra Retriever 1000 rolls on 14-inch aluminum wheels that are very stylish. These are laced with 27-inch Maxxis Bighorn 2.0 tires. The Ranger rolls on 12-inch wheels with Maxxis MU51 tires. It's hard to beat Bighorns, but those new Ranger tires do look meaty. Both machines have 13 inches of ground clearance underneath.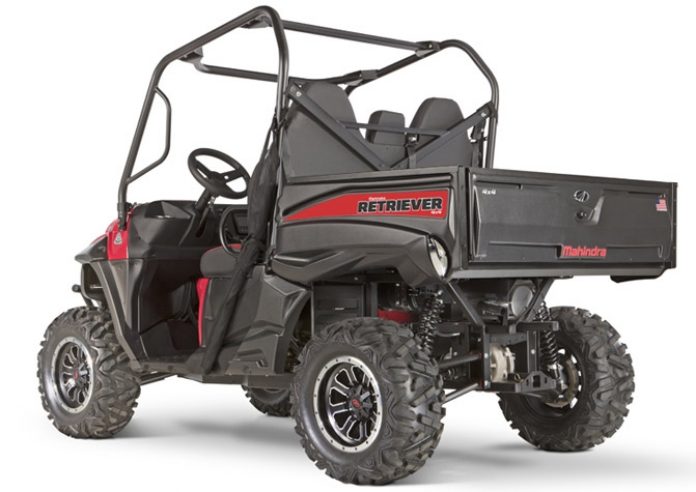 The interior of the Retriever is interesting. The seats are high-back style with lots of bolstering. They look great and comfortable too. Mahindra claims in its information that there is more room to get in and out of the Retriever than any of the competition. As soon as I can get them side-by-side for comparison, I'll let you know.
Little Things
The Polaris Ranger, as we all know, comes in several variations, with special editions and color options – the base model starts at $16,299. The Mahindra Retriever 1000 is offered in red, green or Realtree AP camo with prices starting at $16,899. You can, however, get it with Mahindra's Flexhauler cargo box, which is steel and offers several different options to configure it for your use. It is only $450 more for that option. You can also find the Retriever 1000 in a diesel version for only $100 more. That is unheard of if you're in the market for a diesel option. The Ranger comes with a 12-month warranty, while the Mahindra comes with a three-year warranty.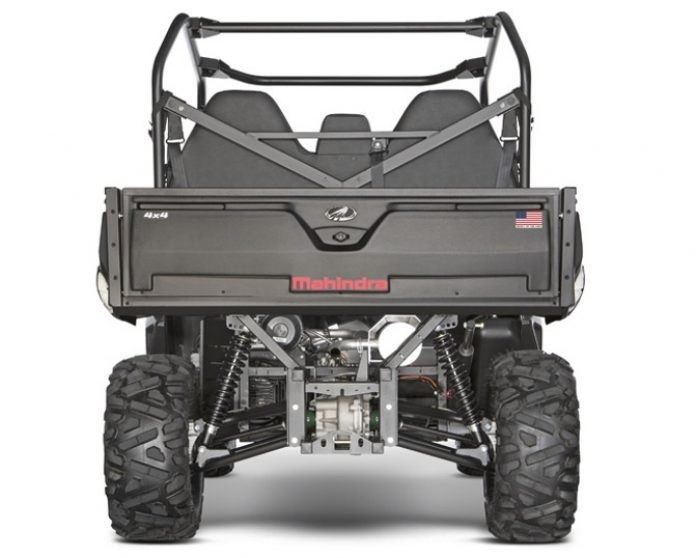 With that, does this mean there's a new sheriff in town? Who's to say, really. The steps that Mahindra has taken to enter the marketplace and compete with the biggest kid in the schoolyard shows promise and the health of the overall UTV industry. It'll be interesting to see how these machines compare in real world scenarios. Have you driven a Mahindra Retriever yet? Let us know what you think. We'll do the same. Derrek Sigler
Derrek's love for all things ATV started when he was a mere 11 years old, growing up on his family farm. His mom gave him and his sister a choice - get a horse, or a three-wheeler. The sister wanted the horse, and Derrek wanted the ATV. Luckily he won out, and was soon burning up the trails on a Yamaha Tri-Moto 200. By the time he was 14, he had saved enough of his own money by working on the farm and in his folks restaurant to buy a new 4-wheeler. That happened the day he and his mom were driving past the dealership and saw 1987 Banshee. His mom had no idea what he was buying, and he never looked back. He's been riding ever since, and been writing professionally for many years. He has ridden all over North America and been behind the controls of just about every machine out there. And yes, he still has his 1987 Yamaha Banshee.
More by Derrek Sigler
Published February 9th, 2018 2:35 PM
Top Brands
Popular Articles