1 View
2015 Rally on the Rocks Report
June 17th, 2015 11:43 AM
Share
We're committed to finding, researching, and recommending the best products. We earn commissions from purchases you make using links in our articles. Learn more here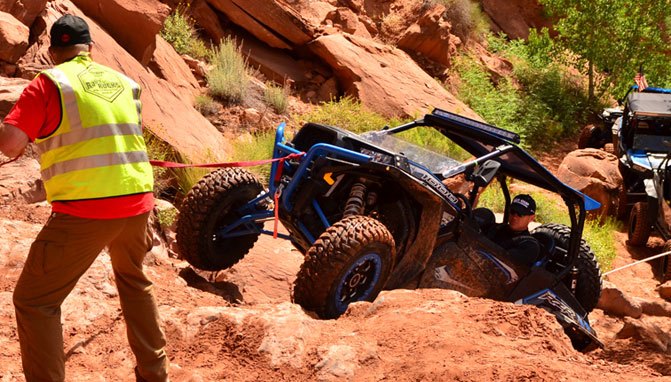 A Moab, Utah experience done righteously
It's a masterful four days-long event that brings nerdy UTV and SxS geeks together to climb rocks, puncture tires and test roll cage integrity. The Discount Tire Rally on the Rocks (ROTR) in Moab, Utah is the place where every May approximately 28 trails feed the nerds and geeks their daily appetite for SxS dust eating, rock climbing, and cliff hanging, and we were there to experience it.
ATV.com sent me, your humble evaluator, and seasoned guest test rider, Danny Stowell, to Moab to see what goes on in this sanctuary of rock crawling fun.
Discount Tire's Rally on the Rocks is a vendor-based event where SxS manufacturers (some, not all) and a gazillion aftermarket companies including tire and wheel builders, showcase to off-road enthusiasts their components, gadgets and wizardry that will transform their stock machines into safer and more capable trail machines that can handle gnarly rock climbs while pumping out loud music. Furthermore, at ROTR, whether drivers are skilled, novice or beginner, guides and instructors accompany every trail outing to assure drivers and passengers have safe passage throughout the many breathtaking excursions. This year's event took place from May 13 to May 16.
We were pleased to see that ROTR organizers have a zero tolerance policy on alcohol consumption while trail riding. They state, "Alcohol and SxSs don't mix, but create a deadly and illegal combination." Agreed.
Outside the rodeo arena, vendors occupy the race track and infield.
When registering for ROTR, the $110 to $120 covers four days of guided tours on any the 28 trails. This registration also covers all Bureau of Land Management, and School Lands and Trust fees, sales tax, and a catered dinner. Fifty percent of total raffle ticket sales go to Tread Lightly!, an organization that promotes off-roading as a low-impact sport. A worthy cause.
ROTR drivers can drive their SxS/UTV in Moab city proper as long as it is street legal: blinkers, horn, and mirrors; the vehicle must also be insured.
From 1 to 10
For this year's Rally, 28 trails were opened for the four-day event. Each trail is rated on a scale from 1 to 10 with some in-between ratings such as 7+ and 8+. Below is a description:
A Discount Tire pilot receives the rope off to keep his RZR balanced as he climbs some jagged rocks.
1) Dirt and gravel roads – simple.
2) Introduction to loose rock. A beginning to off-road enjoyment.
3) A way to get your feet wet without getting into trouble.
4) Driving skills recommended. A great trail to learn your abilities and how capable your machine can be.
5) Above average driving skills are desirable. Vehicle approach and departure angles are becoming important.
6) Challenging trail with some tough obstacles, most trails are passable. A good time to learn your rigs' upper limit abilities without high risk.
7) Body damage and rollovers are possible with less experienced drivers. Modified machines with skid plates and body protection recommended.
8) A winch and/or tow strap is desirable. Excellent driving skills are required. Rollover possibilities exist.
9) Extreme and beyond. Multiple large climbs, descents and off camber situations.
10) Let the carnage begin! Rollovers likely. Good spotting, experienced drivers with modified machines are required as even they will be tested.
From this rating system, from 7 on up, skill and confidence are required…and a little bit of luck. When taking on a 7 to 10 trail, a modified UTV/SxS is desired, to include (recommended) more ground clearance, sticky and fairly puncture-proof tires, robust skid plates and front A-arm protection (recommended).
Tire friction, placing a tire's sidewall against a rock's wall, is essential when climbing slick red rocks.
When we sat in an early morning driver's meetings, ROTR organizers recommended if on an 8+ and beyond trail, the UTV/SxS would benefit from having a better-than stock rollover protection system (ROPS). Thicker walled roll cages, some that also cradle the engine, were recommended – all in the name of safety. Furthermore, drivers were encouraged to have thick nylon ropes to "rope off." We'll add to this later.
If a rider chose to ignore these recommendations, then the chance for mishaps, injuries and vehicle damage increased. It was widely stressed drivers are wholly responsible for their safety, their passengers' safety and their vehicle's safety. In fact, Discount Tire and the ROTR organizers had drivers sign waivers stipulating they (the drivers) were responsible for their own safety as this event has inherit dangers. Additionally, if damage should occur to an UTV/SxS, the owner is responsible, not Discount Tire and ROTR – as it should. Also, having eye-popping and mind-blowing experiences – from the vistas and thrills – is the operator's responsibility. In our case, we assured we were responsible partakers; we became drunk on the thrill of rock climbing.
The Kawasaki Teryx, with its small tires and low ground clearance, scraped its way to the top. The driver was patient.
Cliff Hanger
Eric Van Brunt, Mortorsports and Event Logistics Coordinator for Discount Tire, threw me and Stowell into his group that chose to take on "Cliff Hanger," an 8+ trail. This is how Cliff Hanger is described on ROTR's website:
"The 8-rated Cliff Hanger trail lives up to its name. You will be hanging on a cliff, negotiating some formidable ledges with Jackson Hole several hundred feet below getting your attention.
"Splendid panoramic views of the Colorado River and beyond entertain those that successfully negotiate the 'cliff hanger' portion of trail hanging several hundred feet above.
Discount Tire's photographer cuts a corner near a 100-foot drop off. ROTR provides challenges for all skill levels.
"The trail begins with a crossing of Kane Creek which can be impassible just after a rain. It can also contain quick sand. Check carefully before driving in. The climb up out of the creek and the obstacles just after are difficult. The ledge obstacles along the cliff hanging section are the most attention-getting."
We were thrown into the deep end, wide eyed and fear speckled, but we hid it.
Being a travelling journalist in a truck and being ROTR-inexperienced, Stowell and I showed up naked, sort of. Meaning, we did not have an SxS to pilot. No worry though, Arctic Cat front man, Kale Wainer, who handles Cat's media relations, tossed us the keys to a fresh flat black Wildcat X two-seater, complete with a day's rationing of fuel. Nice. But what if we wreck? Fear again.
The panoramic views from atop the many hilltops in Moab are stunning. One can imagine seeing John Wayne in "The Searchers" when looking down into Jackson Hole.
We rolled into line and followed our police escort, Van Burton and several Discount Tire rock crawling aficionados, to Moab's northern end and out to Cliff Hanger. Prior to our departure, rain came down in droves, but broke as we hit the trail. Temps were in the 50s.
2015 High Lifter ATV Mud Nationals Report
Van Burton, just as we were about to descend a rocky staircase into Kane Creek, gave us the quick CliffsNotes to cliff hanging – pun on words. He described the acumen to "L" (transmission in Low), low throttle pulses and differential lock. With that, he being a true tire guy, dropped the Wildcat's tire pressure to 7.5 to 8 psi and told us to hang with the guides and rope crews. "Rope crews? What the heck are rope crews?" And off we went.
Minions
Like something out of "Despicable Me," at ROTR full grown Minions spilled out of the many Discount Tire UTVs when it came time to frog-hop a boulder or two, bounce down or crawl up a staircase, or when traversing a cliff on an off-camber and downward angle. These guides would cinch a rope to a rollbar and/or a bumper and guide the driver up over obstacles while hollering "driver wheel here, passenger wheel here." The ropes tied to the rigs were not to "heave-ho" an SxS up and over, but to keep an SxS flat, allowing its tries to grip the slick rock surfaces – to crawl and to scrub rock walls (tire friction is an your best friend in Moab). At times it was quite unnerving, but mesmerizing to watch as an SxS would begin to nose up or tip over and the guides, like hoisting up a tall sail on a Clipper ship, would pull on the ropes and bring the SxS down to Earth while coaching the driver to ease on up and over. It was magical.
ATV.com guest test rider Danny Stowell, in the Arctic Cat-loaned Wildcat X, began rolling the SxS on its side before the rope crew caught the rig and tied it off.
When Stowell and I finished our nine-mile loop, we felt a kinship with Butch Cassidy and the Sundance Kid, and too, to John Wayne. We rode into the sunset, SxS style.
Who Are These People
They came to Moab and ROTR wearing Wranglers, cowboy boots and cowboy hats. They looked like NASCAR fans, roadies, business men and business women, and loners with tattoos. But most were family oriented ladies and gentlemen. We witnessed ROTR filled with moms and dads, grandpas and grandmas who shared their SxS passion with the kids and grandkids. For us, it was sweet to see the gray hair crowd attracted to such danger, in a beautiful Moab way.
The massive trucks and trailers the event guests used to travel in and to tow their toys with were staggering. The SxS economy must be good.
Here, a driver named Connie had excellent skill and steely nerves. Notice the rear tire squish on a rock to gain traction.
Now, this is not an event where just men rule. Astute women drivers took on the nastiest rocks and steepest side hill crawls. As we watched these lady pilots, there mastery of throttle-and-brake was some of the best multitasking we have seen.
So, who are these people? Folk who dare to push it. Our kind of people.
For Next Year
Discount Tires' Rally on the Rocks is an event for all skill levels and brand loyalists. Vendors such as King Shocks, Z-Broz Racing, Starting Line Products, Arctic Cat, Yamaha, Kawasaki, KC Lites, Walker Evans Racing, Warn Winch, Camp Chef, and SXSPerformance.com, to name a few, are on hand to provide technical assistance, install a high-altitude clutch kit, slap some new meats on some new beadlock rims, or install lights, sound bars and roll cages. But for 2015, this event has come and gone.
When wandering the outside grounds, all one could do is dream and say "I want that one, and that one, and that one…"
Organizers announced that next year's event will expand into a fifth day. As with this year, drivers can access at least 28 trails. The event fills a large indoor rodeo arena and outdoor race track where RVers can park their tow vehicle and fire up the charcoal grill.
Motel rooms within Moab and small cabins outside the city book out quickly, as many Rocky Mountain and southwest vacationers fill the rooms. Go to http://www.rallyontherocks.com/ to learn more on next year's events.
Go to the Wild Wild West, as we did, to test your skill and see some of this nation's most splendid tall and deep red rock cliffs. This is therapy extraordinary, Moab, Utah and Discount Tire ROTR style. Yee-haw! Published May 21st, 2015 12:16 PM
Top Brands
Popular Articles