2 Views
2015 High Lifter ATV Mud Nationals Report
June 17th, 2015 12:00 PM
Share
We're committed to finding, researching, and recommending the best products. We earn commissions from purchases you make using links in our articles. Learn more here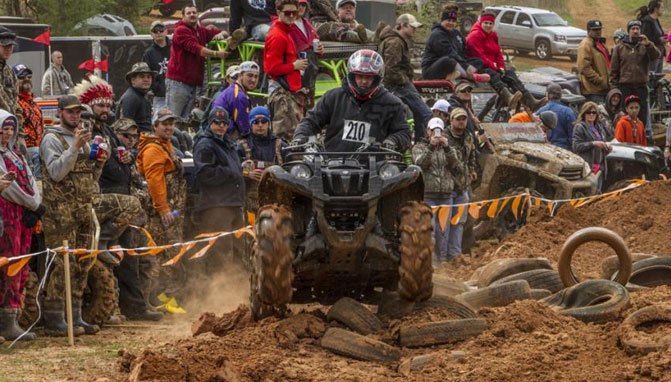 Fun in the Texas mud
For one week every year, thousands of mud riders come to the sleepy little town of Jacksonville, Texas for the annual High Lifter Mud Nationals. Our yearly trek to the piney woods region of east Texas is always filled with plenty of adventure, radical machines and great friends.
Scott Smith and his team put on the biggest ATV and SxS mud-riding event in the USA on the property of Mud Creek Off-Road Park and this year was no different. After a long drive from Georgia it was time to stroll the vendor area and get ready for a week of fun.
The upper vendor area near the entrance of the park is loaded with anything from clothing to massive amounts of huge tires. Vendors range from a small start up companies to big players and even OEM manufacturers bring their machines to show off at the HLMN. High Lifter also occupies a massive footprint in this area where you can buy many of the items it sells, from lifts to fluids and even a very innovative boot cleaner for just 20 bucks.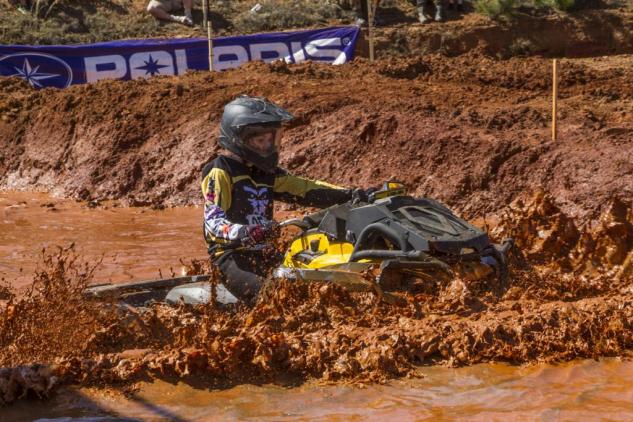 A visit to Mud Nationals means deep mud, awesome machines and a good time.
Food is also a big part of Mud Nationals. Upon arriving to the park, there was one stop I had to make; the big red enclosed trailer belonging to Uncle Ray and his incredible grilled treats. Uncle Ray has a massive steak sandwich that will make your mouth water just watching it sear on the grill. Bacon is, of course, a favorite food by itself, but Uncle Ray likes to wrap up delicious stuffed jalapeno peppers and shrimp in this treat and grill them to perfection. Right next to Ray's place was the Wild Bill's old fashioned soda fountain where you could get a stainless mug and some sarsaparilla to wash that big steak sandwich down.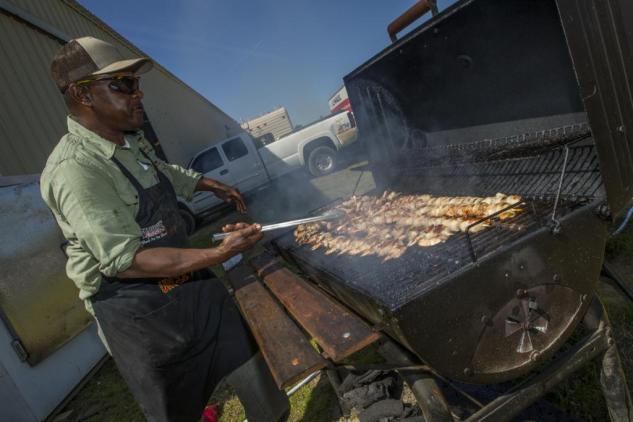 Uncle Ray grills up some tasty morsels. Bet you wish you could smell this.
Many aftermarket product manufacturers will wait until the HLMN to release brand new products. STI Tire and Wheel had a new wheel color that debuted here and I think it will be a hit. This translucent wheel coloring will set off any quad or SxS. STI even had its 34-inch Outback Max tires to roll the deep stuff in the bottom of the lower acres at Mud Creek.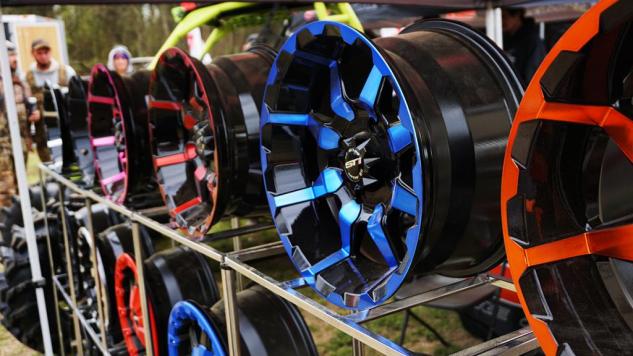 STI shows off its wheel colors on vendor row.
Many vendors cater to the racing crowd and Quad Shop Customs is no different. Building quality and durable clutching components is crucial for a ride in the deep stuff and Adam Schumaker has you covered. Gorilla Axle is best known for strong axles and big lifts, but lately it has been digging into the world of off-road lights. I took a first hand look at its new LED light bars and with most attendees riding into the early morning hours in pitch black conditions Gorilla Axle can now light the way. We cannot wait to get our own units and put them through the paces.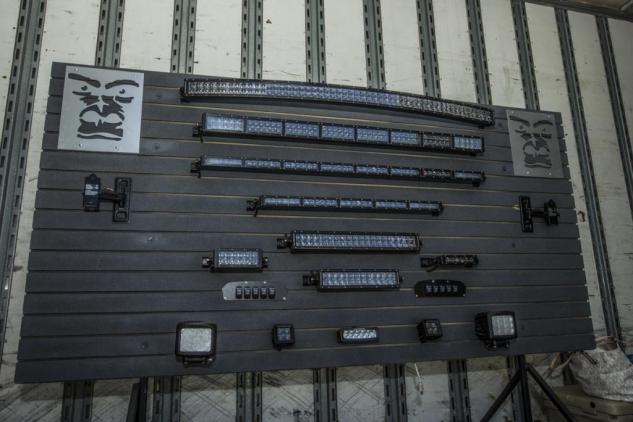 Gorilla Axle was pushing its new LED light bars.
If you drive back into the park just about a half mile there is yet another vendor area. This section had many great products, including a little rig called the Cooler Commander. It is a unique product that is simple and very functional if you like to haul your cooler around in the bed of your SxS and probably on the rear rack of your ATV. Very cool stuff. If you want to play in the mud but you do not really want to wear muddy clothes all weekend then you need some Gator Waders. These little gems not only keep you semi clean underneath but provide a thermal layer when the cooler temps of wind and water start to take hold.
The High Lifter Mud Nationals kick off with a custom car show of sorts. The Show and Shine has had some really radical builds over the years and several really impressive machines competed in this competition. One massive entry was a custom RZR XP4 and it was far from stock. This complete tube frame and engine made the biggest announcement when its owner started the high horsepower small block and blipped the throttle. Standing amazed I began to see the incredible craftsmanship and engineering that must have taken weeks to build. Another cool rig was this Kawasaki Teryx4 that had been lifted and dressed with custom parts.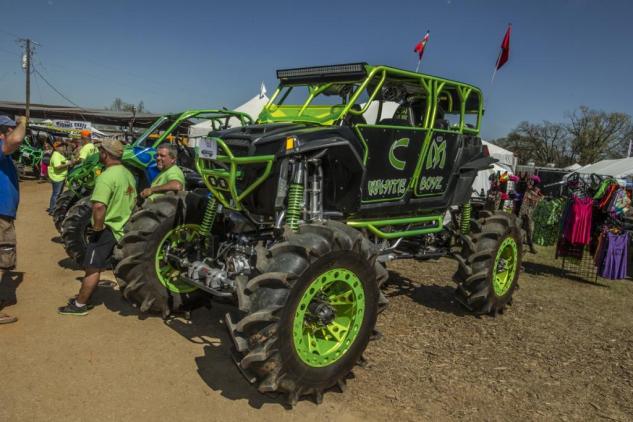 Somewhere underneath all this awesomeness is a RZR XP4.
Side-by-Side's were not the only custom entries, though, as a group ATV owners spent many hours and dollars in hopes to be the best of the show. High Lifter even had its radical Polaris ACE 1000 in the show. We had a chance to do our own photo shoot with this beast for an upcoming feature.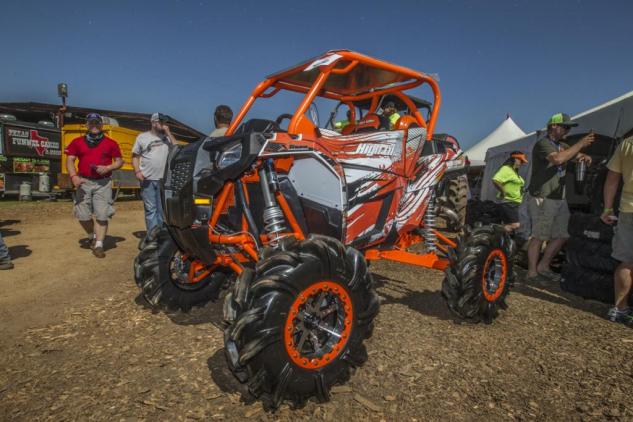 High Lifter's insane Polaris ACE 1000 project was one of the highlights of the show.
Just after the Show it was time to see if the massive stereos could produce the biggest sound in the Audio Formz Mud Jam. Testing the stereos with a decibel reader, each entrant chose to play any music of their choosing to make the biggest sound possible. I have to say that some were worthy and others needed to re-evaluate their stereos' ability, or lack thereof, as a few just made a lot of noise.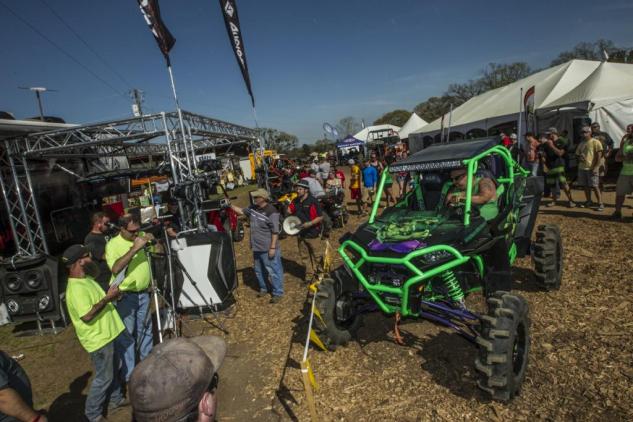 A decibel reader tests how loudly this green monster pumps out the jams.
My favorite thing to watch at Mud Nationals this year was the obstacle course races. This addition to the schedule has been well received by the spectators and seems to draw a huge crowd. With obstacles like massive rolled hay bails as well as rocks, tire gardens, crushed cars, and logs mixed in with a few high jumps, it was exciting for sure.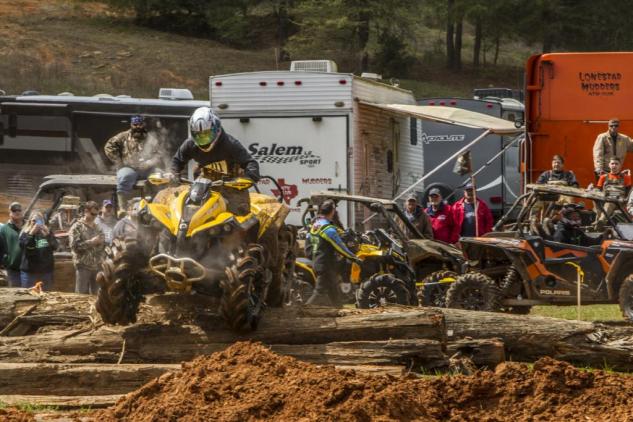 The obstacle course is a fun-to-watch test of man vs. machine.
As we made our way down to the Highline Friday morning, it was obvious that the water was flowing a lot different than in years past. Mud Creek had to add extra drainage piping to the road and tried to divert the water from the course, but it was coming in just as fast as it was going out. This race was even more challenging as the riders and their co-pilots had depths of up to eight feet to deal with in some areas. Argo brought its best and even though they were not the fastest, they did manage to stay dry for most of the race as the big six wheelers just floated along on the surface.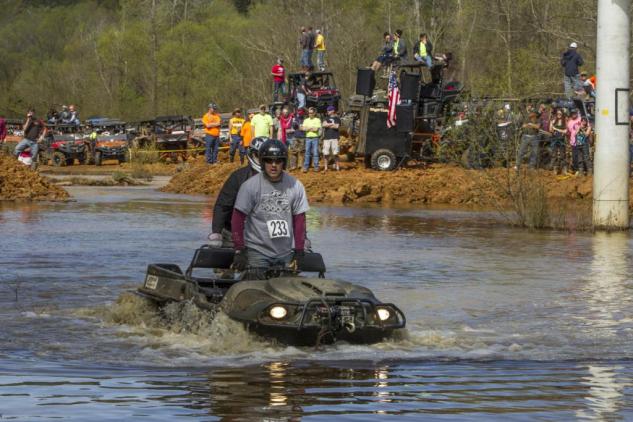 When the water is this deep, the six-wheeled Argo is the machine you want.
High Lifter took over the park a week in advance and this year's program had a few changes designed to attract an even more diverse crowd. The changes included the removal of the mud bog from the event schedule and the addition of the ATV MX exhibition event. Mud Creek had tagged just over four acres to be crafted into the professional level MX track. The practice sessions started at 3pm on Saturday and even though there might have been a couple of small issues, the first ever motocross exhibition race at the High Lifter Mud Nationals was a success. We can only hope that this will grow over the years and become a regular event.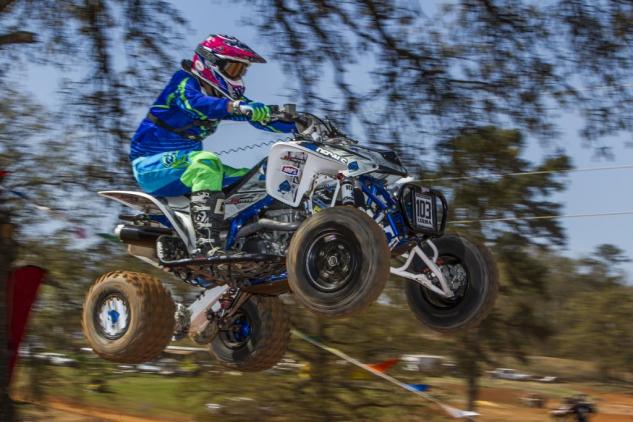 New for 2015 was an ATV motocross exhibition.
With temperatures in the mid to high 70s all week and the sun beaming down, it was perfect weather to be out riding on the huge property Mud Creek has to offer. The water was a bit higher than in previous years, but it seemed everyone still managed to have a great time.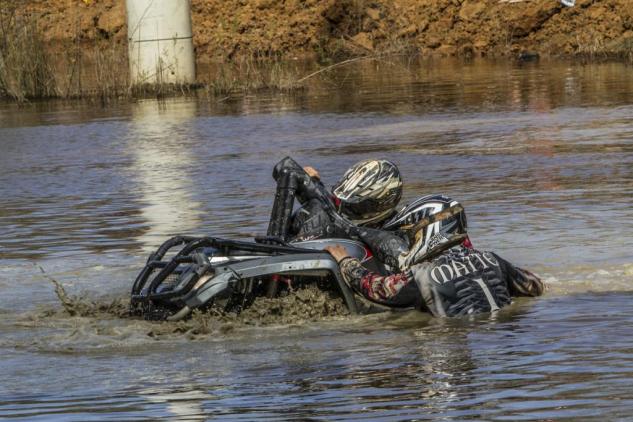 If you have not been to the High Lifter Mud Nationals it is something to ad to the bucket list. Just be sure to stop by Uncle Ray's for a little bit of culinary delight. You'll not be disappointed. Published April 1st, 2015 2:21 PM
Top Brands
Popular Articles