3 Views
2010 High Lifter Mud Nationals Report
April 8th, 2010 10:07 AM
Share
We're committed to finding, researching, and recommending the best products. We earn commissions from purchases you make using links in our articles. Learn more here
Going mud crazy in Texas
Every year around the beginning of spring in a sleepy little Texas town, a few guys come together for a week of mud racing, crawfish eatin', and good times. Keep in mind that this is Texas, so a few means more like 10,000 people visiting the mudding paradise known as Mud Creek Off-Road Park in Jacksonville, Tex. for the 2010 High Lifter Mud Nationals.
Attendance numbers are a conservative estimate – it has been sais that as many as 15,000 could walk through the gate by week's end. These guys are not your normal Utility mud riders, though. More like fierce competitors looking to become king of the Pit in an all-out brawl to be the best of the best in ATV mud racing. Starting on Wednesday evening the crowd begins to grow. By Saturday the park is like downtown New York at rush hour as it is filled with the sounds of four stroke thumpers roaring into the wooded acres of Mud Creek. This will continue into the night as well with lights and faint sounds of a cheering crowd echoing through the trees.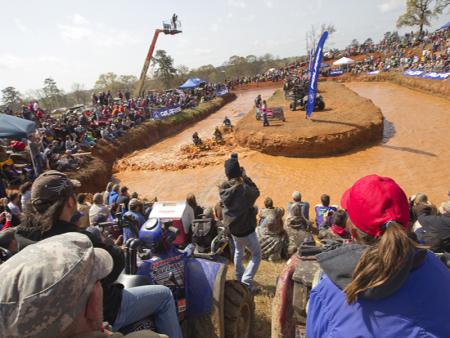 I arrived at the Dallas Fort Worth airport on Tuesday, March 23 not really knowing what I was about to get myself into. Could this be the largest ATV mud event in the USA? Only time would tell. For the first night I had planned out a trip to nearby Kaufman, Tex. to stay with the Pate family as the head of the household, Matthew, would be racing in the events during the week.
Matt had built a top-secret fire breathing drag machine and he was anxious to get some good photos of it before dunking it into the mire of Mud Creek. Matt's dad, Don had hidden it away in a shop near his home so none of the local spies could get to it. I have to say the shop this machine was stowed in was very interesting in itself. I spotted things I had only heard of as a child. I locked my eyes on one of the only Tin Lizzies I have every seen, as well as a collection of shop tools that could have made Goodyear what it is today. There was also the shop monkey watching over everyone and a Cushman scooter that was a surprise gift that Don claimed he would ship out to me right away. Isn't that right, Don?
Wednesday morning we headed off to Mud Creek to get our spot in a row of fine campers that had already been staged in the campground. You see, Mud Creek Off-Road Park has RV hook-ups with water and power as well. Once again Matt Pate had arranged for us to hang with him and his friends for the week. With the first camper full I had the opportunity to camp with Brian Jackson and his family along with the Sanders crew. We spent the evening planning the next few days and trying to figure out what we would do first. I knew that of my many chores I had to get as many pictures as I could and really investigate the claims I had been told of the crowds that would gather here.
Thursday morning I found the place called vendors row and man it was packed. Anything from tires and wheels to onboard stereo systems could be purchased there. The High Lifter crew had a huge tent set up with most anything you might need for the weekend.
Food and drink vendors were also plentiful and knowing that Jacksonville is really close to Louisiana I figured I could find some really interesting Cajun food. Fortunately, this wasn't hard to spot at all. From spicy bacon-wrapped jalapenos stuffed with grilled chicken to shrimp on a stick – it was all there. I did find one thing I let the locals keep for themselves – baskets of crawfish with lemon halves. I guess I just wasn't ready for those just yet.
The park was steadily filling up all day and it became hard to distinguish a direction of general flow. One thing for certain was that the Bad 2 da Bone competition was starting at center stage. Many exotic ATVs and side-by-side (SxS) builds found there way into the contest but only one would come out on top. Its crazy, but who would have known that the secret project of Matt Pate's, which is affectionately called "Renegade One", would take home top honors! There were many great rides on hand, but there can only be one winner!
I sat in the borrowed fold out chair in the center of our camp and as the night began to fall I could see literally thousands of lights roaming the hillsides and trails. I got wind of an event tradition and place that everyone goes to during the Mud Nationals for entertainment. It is affectionately known as the Highline. This is where High Lifter would hold the DynoJet sponsored "Buddy Run." The event takes place in a well-flooded and somewhat deep section near towering high-tension power lines. You take one ATV or SxS and with two people you race from one end and back for cash.
I knew when I woke up Friday morning I had to get to the Highline and check out the Buddy run for myself! As far as you could see down the 1.5 mile Highline people were lining the sides of the swampy pit. It seemed like so much fun and with the crowd cheering on their favorite teams or family members – it was very much a spectator sport. This is quite possibly something I will have to be involved in next year. Although it can be tough on your vehicle, it seemed the fun was worth the sacrifice.
Several other events were also happening on Friday, so I had to really plan my day so I could take it all in. From the straight line Mud Bog to the Warn Winch bogger hole, I had several things to see. The Polaris sponsored Mud Bog pits up to four riders and their mud racing machines in a straight-line heads up drag across a deep pit of watery muck. This was where we began to see the super fast and super expensive rigs lay it all on the line. From 28 to 32 inch tires, highly modified motors and even nitrous oxide, these machines weren't playing at all!
After all of the racing had ended it was time to get back to the camper to relax. At least that was the plan. I jumped into Gorilla-Axles highly lifted Polaris Ranger 6×6 and away we went into the night in search of the sand pit. The Highline was the place to be and like a cruise down Daytona Beach during spring break, it was bumper to bumper ATV and SxS traffic for 1.5 miles. I'll just say this, its nothing like you could ever imagine and more than I expected for sure. We had a blast cruising up high and mighty and thanks to Greg from Gorilla-Axle for getting us back to the camper safely as well as promptly at 2:30 AM. Yes it was then time to get some rest and prepare for Saturday's events!
The Mudda-Cross, held on Saturday, is a circle track that is flooded to about 3 or 4 feet deep. Each competitor will stage with usually two other racers and drag race the entire track twice. The catch is that there are hidden potholes that can be as big as the quads themselves. Experienced racers stand and watch the first few competitors go around to help locate the bad spots in the track. This was the final competition for the Mud Nationals and many went home with a fist full of the almost $30,000 given away during the week in cash!
I left Mud Creek early on Sunday and with a day or so to recover I couldn't stop thinking of the sheer magnitude of riders I had seen with my own eyes. I can tell you that this event is on the calendar for next year and with the growth that High Lifter has experienced at the event it is sure to be fun for everyone.
Related Reading
2009 Hatfield-McCoy TrailFest Report
2009 Rhino Rally at the Dune Tour Published April 8th, 2010 10:07 AM
Top Brands
Popular Articles