1 View
2009 Hatfield-McCoy TrailFest Report
June 24th, 2015 4:33 PM
Share
We're committed to finding, researching, and recommending the best products. We earn commissions from purchases you make using links in our articles. Learn more here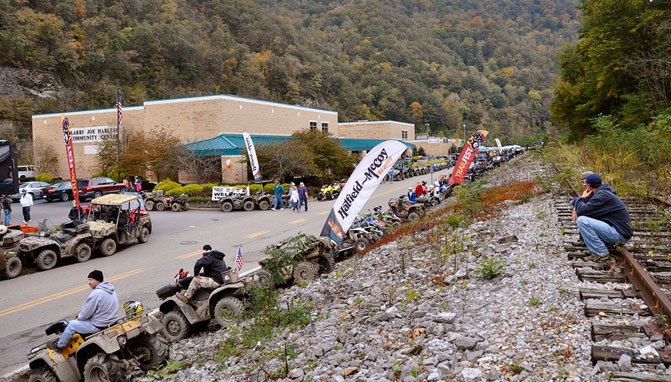 A slice of ATV heaven
We arrived in Gilbert, WV on Friday, Oct. 9 and were immediately impressed with how well they were organized. In a town with a general population of just over 200, they sure know how to make room for a couple of thousand ATVers.
Vendors and Demo Rides
The vendor area was already hopping with many different types of vendors such as Kenda ATV Tires, Tucker Rocky, Logan Motor Cycles Sales, Polaris, Kawasaki and many more. There were even demo rides available at the Yamaha, Can-Am and the KTM booths throughout the weekend.
Onsite Amenities
Onsite Amenities for Participation Pass holders included limited access to the Larry Joe Harless Community Center, which provided indoor restrooms, showers and locker rooms.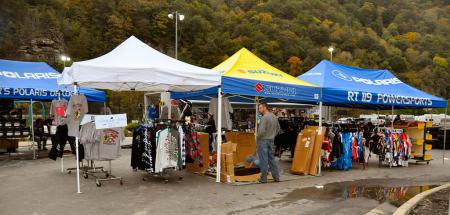 Whatever you're looking for, you'll likely find it in the vendor area.
TrailFest Events
We immediately looked over the schedule of events and started planning our weekend. TrailFest events this year included:
2009 TrailFest Events
• Poker and Dice Runs for Cash
• Factory Ride Demos
• ATV, UTV and Dirt Bike Costume Parade, where they continue to try and break the world record for longest ATV Parade (481 was the total for this year)
• Nightly Drag Racing and Mud Pit Action
• Saturday night Competition Mud Pit Run for Cash and Prizes
• Fireworks on Saturday night
• Casino Night with Roulette and then Live Auction for Prizes using HMTS money won in the Roulette
• Catered Meals on Friday, Saturday and Sunday (breakfast and dinner were complimentary to registered guests)
• Special Quests included Fisher's ATV World and others
To top off all the events, there were also many different kinds of entertainment and special events going on.
More TrailFest Fun
• Karaoke
• Music and Dancing ( Including some great Line Dancers)
• A Separate Autumn Festival inside the Larry Joe Harless Community Center
• Shopping. All sorts of HMTS merchandise was available inside the Community Center as well in the many different shops around town.
• There was even a Wedding that took place in the Mud Pit this year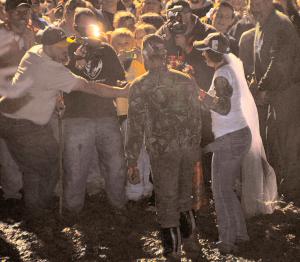 You can bet that nobody will forget about this wedding for a long time.
The Wedding
Richard Lafferty and Cindy Shriner were married in the mud pit just before the races on Saturday night. Not planned prior to the event, it was still a huge success in the end. That was the second wedding, according to my source, that has taken place at TrailFest. There was one last year as well. However, it took place out on the trail. I wonder if this is becoming a trend with TrailFest.
The Hatfield-McCoy Trail System
Of all the events and wonderful things going on, the trail system still seemed to top the list for the weekend. Besides, what is an ATV Trail Festival without awesome trails on which to ride? The Hatfield-McCoy Trail System definitely had that covered with some of the best off-road trails in America. I am not alone when I say they are some of my favorite trails on the east coast.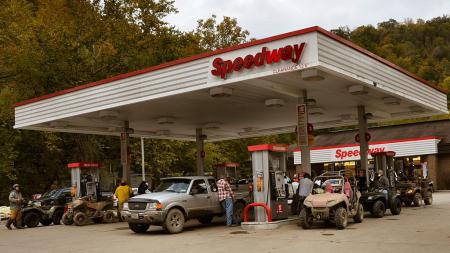 When you come to Hatfield-McCoy, fueling up is as easy as riding your ATV to the nearest gas station.
One of the reasons this place tops my list of favorite places to ride is because it is so ATV friendly. I love being able to pull into town, park my jeep and trailer, unload my RZR and ride it anywhere I want to go the rest of the time I am there. I can go get gas, get something to eat, do a little shopping and then head right back out on the trail without ever leaving my RZR behind.
Types of Trails
They have all kinds of trails for everyone from easy to difficult to suit every type of rider from beginner to extreme. They are all very well marked and can be followed easily even by the newest of riders. They had everything from single dirt bike tracks to open-share areas, which were open to everyone including jeeps, horses, hikers and others.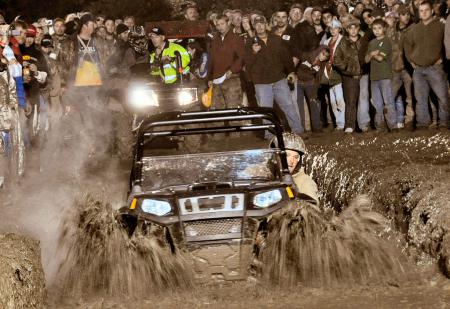 You don't have to far to find a place to get muddy.
The trails were very UTV-friendly as well. I met riders on everything from dirt bikes to sport quads, to utility ATVs and a wide variety of side-x-sides. We rode all the way from Gilbert to Man and never had any trouble whatsoever in our Polaris Ranger RZR.
Manners on the Trail
The rider etiquette I found with almost every group I met on the trail also impressed me. They were great about letting you know how many riders were following them all the way to the last one in the group.
ATV Friendliness
Not only are the local laws very ATV-friendly, so are the people. Everyone seems genuinely happy to have ATVers there. The Hatfield-McCoy Trail System has had a massive impact on the economy of Gilbert and nearby communities and topping that list is the Annual National TrailFest.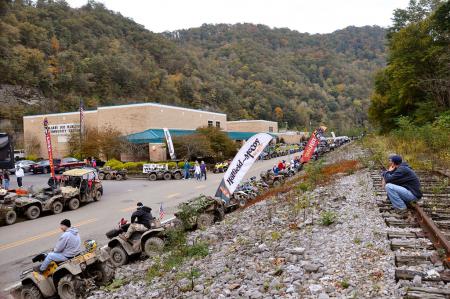 Nearly 500 ATVs and UTVs took place in the TrailFest parade this year.
This year was no exception. Even though it rained on and off Friday and Saturday, there were still over 2,000 people in attendance for the 9th Annual Hatfield-McCoy National TrailFest. Every one of them I asked about next year said they could not wait to come back again. Me either.
Gilbert, WV October 7-11, 2010
Start now making your plans and reservations for the 10th Anniversary of the Hatfield-McCoy Trail System and National TrailFest, which promises to be even better including all the things they had this year plus some great new ones.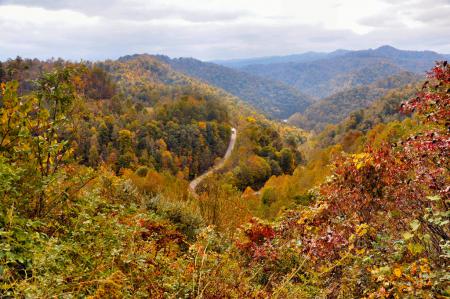 Views like this make you want to come back again and again.
To find out more about the 2009 and 2010 TrailFests, please visit the official Web site at TrailsHeaven.com.
Remember: Wherever you ride, always TREAD LIGHTLY, leaving the area the same or better than you found it. Published October 23rd, 2009 11:23 AM
Top Brands
Popular Articles